This post features some of the restaurants we visited in Playa del Carmen, but it is far from exhaustive. There are hundreds. Here are a few of the places we tried in our month in Playa. I hope you try a few of my favourites.
So, should I start with the more or less expensive? Let's go with the less. Although we might go to foodie restaurants once and a while at home as we love inventive, good food, we tend not to spend that kind of money often. In PDC, we wanted good Mexican food for the most part.
We didn't venture too far from our condo for meals so most of the restaurants are in the area of CTM (46 Calle Norte) and 5-30th Avenida Norte. If you haven't checked out this area of Playa, it is worth the walk.
EL RINCON CHILANGO
The first restaurant we went to was El Rincon Chilango. It is a small family-style restaurant with typical Mexico City fare at reasonable prices. We tried it when we first arrived because it was open later than many other restaurants in the area. It seems that many restaurants close early in Playa del Carmen unless you are right in the tourist core.
I had a chicken quesadilla, and John had his favourite, pozole - this was a pozole verde. I would have loved a margarita, but they didn't have a liquor license. The total for these two items with the tip was $150 MEX. ($9.25 CAD, $7.25 USD)
We enjoyed this place, both the food and the atmosphere and recommended it without reservation. (pun intended!)
Their hours are 1:00 pm - 10:00 pm and are located on 40 Calle Nte near 30 Avenida Nte.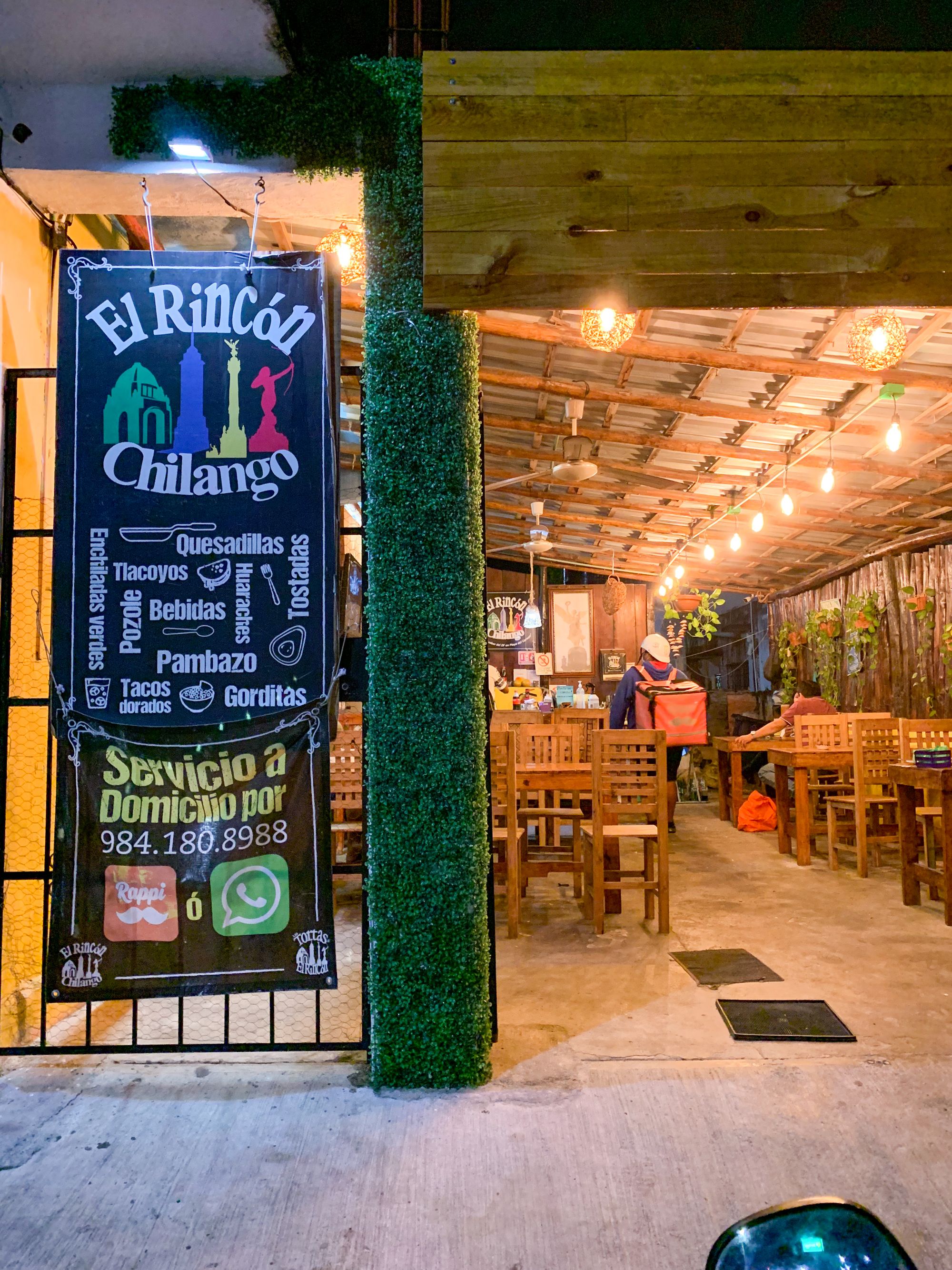 EL ARABE
Another establishment that we visited three times was El Arabe on CTM. We tried a few different things on the menu and found the food and the pricing quite reasonable.
We ordered the twelve Pastor tacos the first time - not knowing what to expect. We got twelve warm tortillas with a plate full of tasty pork to put in them. There are always four bottles of different salsas on the table, all great. We shared this, and it was plenty of food for the two of us. It came to $150 MEX with a tip and a large bottle of water. ($9.25 CAD, $7.25 USD.)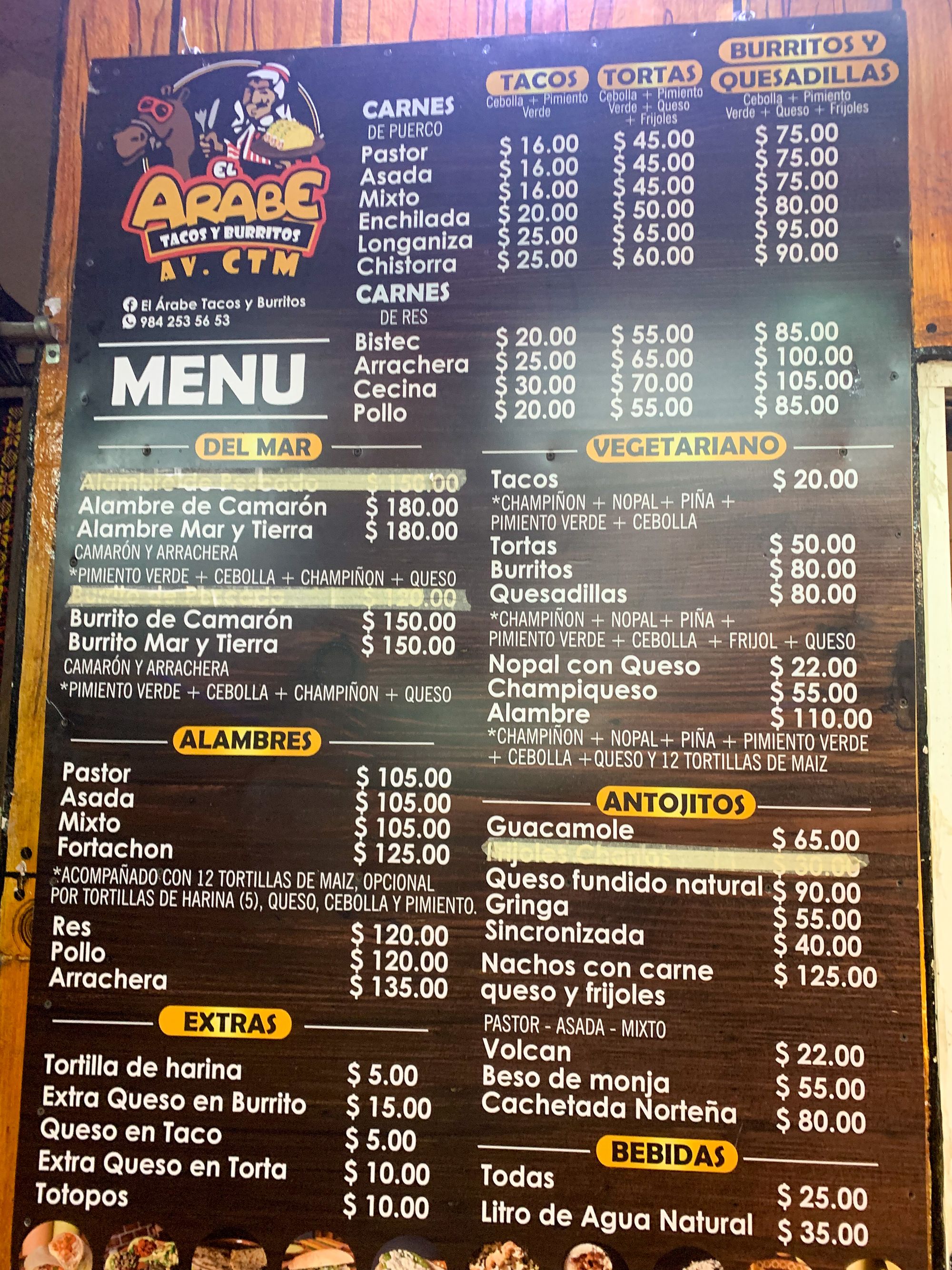 We had the Asada burrito, pastor burrito, guacamole, and the twelve pastor tacos again in subsequent dinners there. It totalled more with drinks and tip- between $200 MEX  ($12.35 CAD, $9.65 USD) and $380 MEX ($23.45 CAD, $18.37 USD). They have tasty horchata and jamaica (hibiscus) drinks, so give those a try. It was all consistently good.
They are open from 3:30 pm to 11:45 pm.  CTM, entre 15 Avenida Nte y 10 Avenida Nte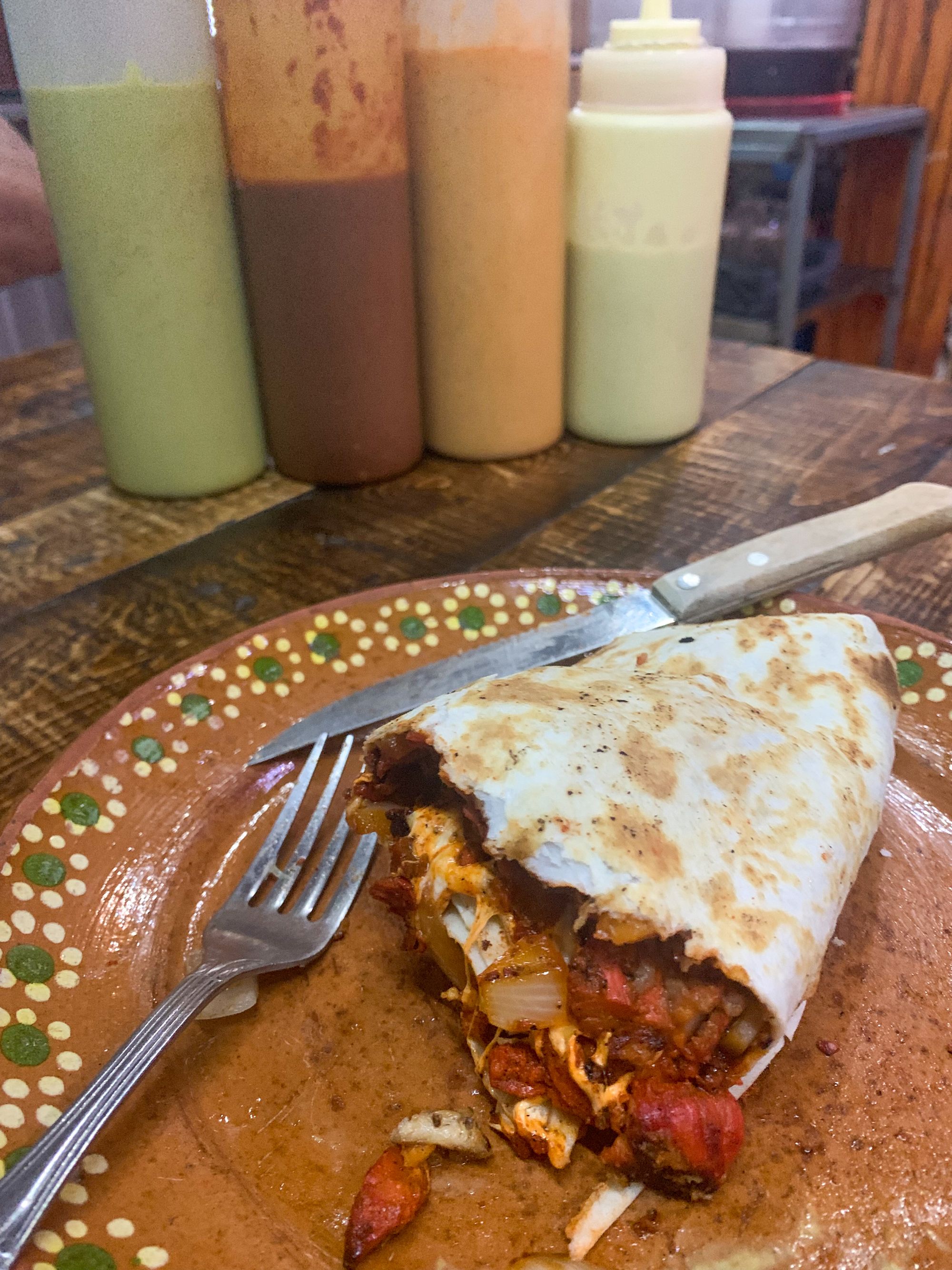 A big thank you to the chef who allowed me to tape her cooking. When I get my YouTube channel up and running, you'll get a chance to see that.
EL PECHUGON
El Pechugon is a chain chicken roastery, and we can only vouch for this location. I say that because we went to a different El Pechugon in Ajijic, and it was not nearly as good, so we're not sure about the consistency from location to location. We cooked at home some of the time, but on the days that John was working, as he is head chef, we would pick up either a whole or half a chicken to eat at home. It came with delicious potatoes roasted under the cooking chickens, a small bag of rice, tortillas, roasted jalapenos, salsa, and a macaroni salad. You have options as to which sides you like. We got a lot of potatoes the first time, not so many the next couple of times; we're not sure why. These chickens were big; a whole chicken gave us two meals.
Half a chicken was $110 MEX ( $6.20 CAD, $4.85 USD and a whole chicken was $200 MEX ($12.35 CAD, $9.65 USD). You can see that as we kept going back, we enjoyed them.
Open 9 am to 7 pm. Located on 30 Avenida Nte. Calle 50 Nte.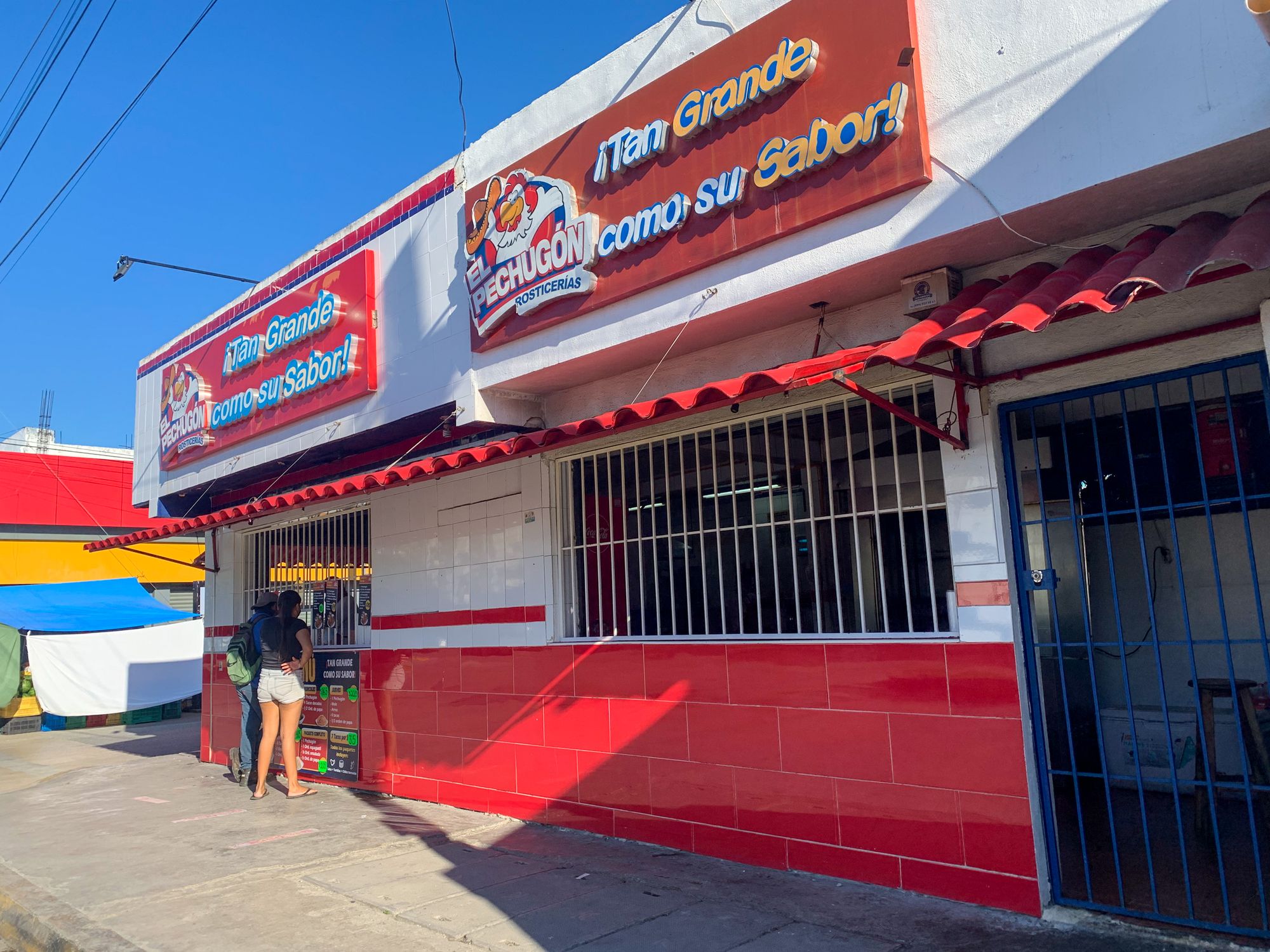 PAPA CHARLY
Next up was Papa Charly. It was a recommendation from Isobel of Cozumel Pearl Farm fame. She described it as a Comida Corrida; these restaurants provide a complete meal - main course, drinks, and dessert. Papa Charly's has a lunch menu, from 12:30 - 4:30 that is awesome. Yes, it is early for dinner - but well worth checking this out. Their menu, Italian, is generally reasonable at any time; however, the lunch menu is your best bet! The menu was extensive, offering assorted pasta, sandwiches, fish, chicken, salads, etc.
I had ribs, and mashed potatoes for our main, and John had chicken poblano. This was a lot of food.
I believe the combo lunches were $159 MEX each. ($9.85 CAD, $7.75 USD)
We enjoyed this meal, and we encourage you to give them a try, whether lunch or dinner.
Open 9:00 am - 11:00 pm. Located at Calle 30 Nte entre 25 Avenida Nte y 30 Avendia Nte.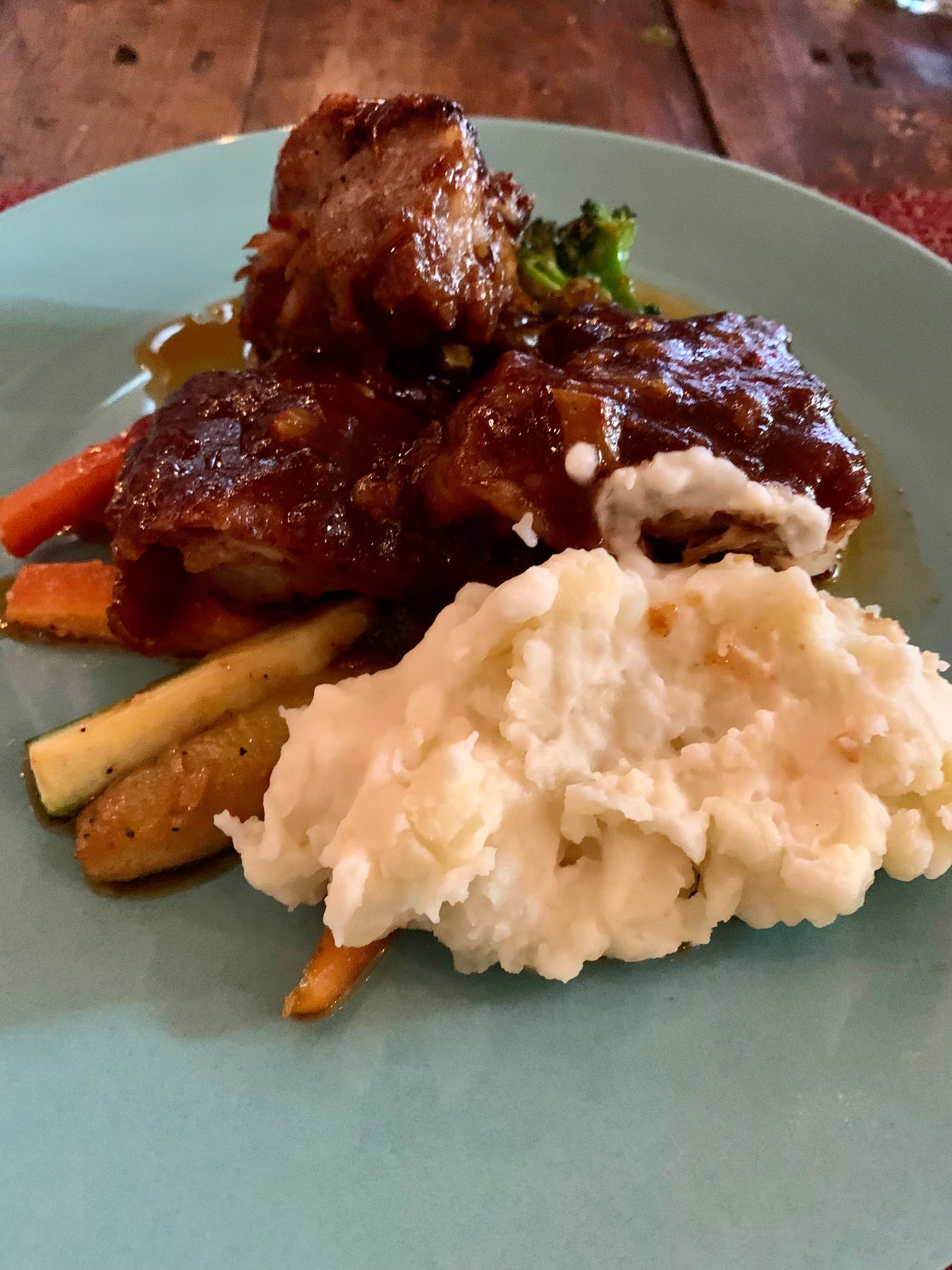 MI ABUELITA POZOLERIA RICA PANCITA MEXICAN FOOD
As I mentioned before, John loves pozole, and he wanted to try this restaurant, Pozoleria Mi Abuelita, on 30 Avenida. You'll want to come up to this area anyway because there are a couple of trees nearby where all the birds come to roost and make an enormous racket just before sundown. Quite beautiful to hear, but we wouldn't want to be staying nearby!
John ordered red pozole, and I had chicken soup. It arrived with all the accompaniments in delightful woven baskets. In the top were tortilla chips with warm tortillas in the bottom 1/2, and around the base were limes, chillies, lettuce and onions to add to the soups. You can see that John added all of them to his pozole. John enjoyed the red pozole, I was less blown away with my soup. The horchata in the beautiful glass was lovely.
It was an inexpensive meal. The two soups, horchata and jamaica drinks, with tip, cost $280  ($17.35 CAD, $13.70 USD).
Open 8:30 am to 9:00 pm. Located at 30 Avenida Norte entre Calles 20 y 22 Norte.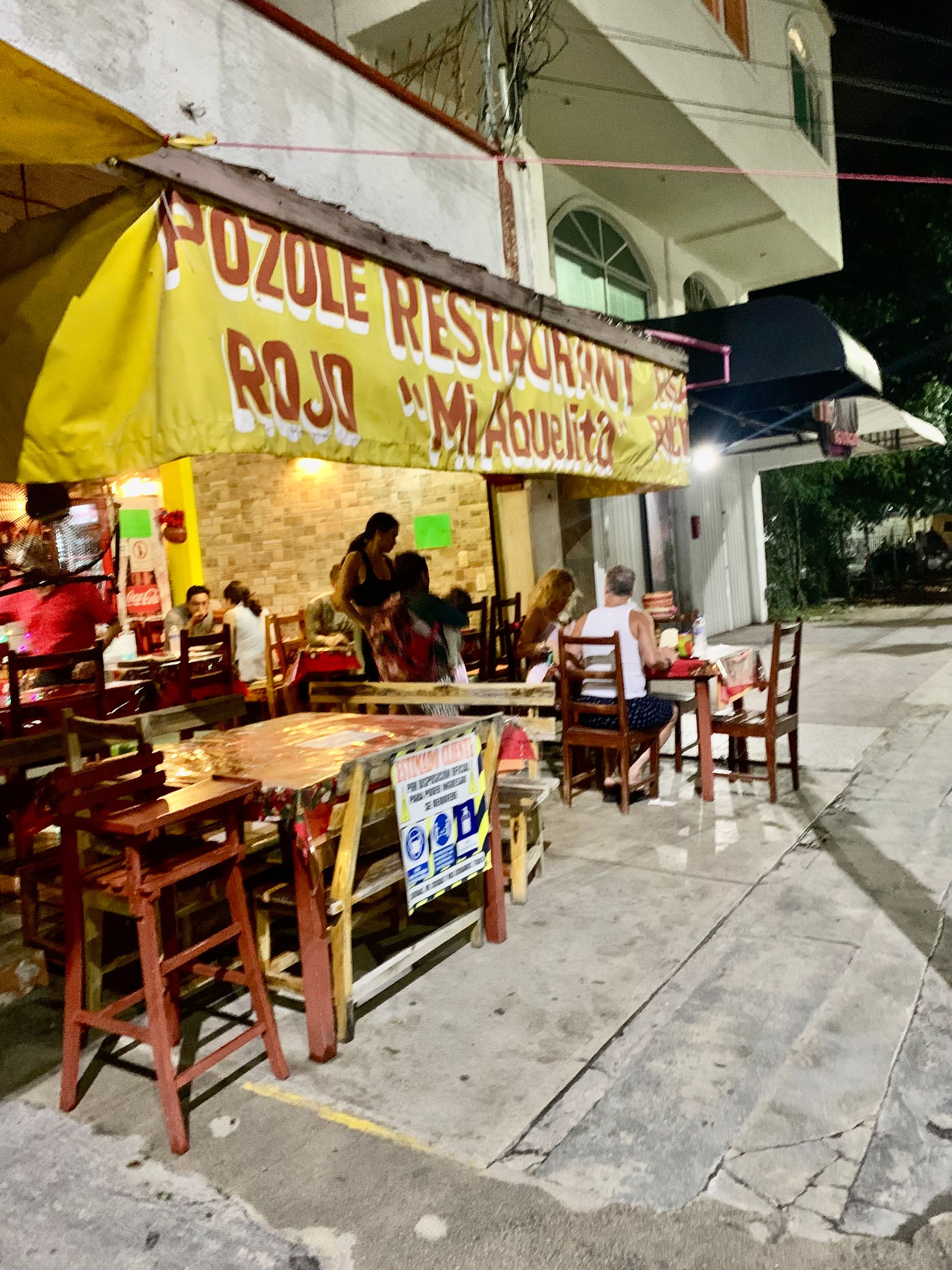 EL FOGON
One of the restaurant chains you will hear about when you research Playa Del Carmen is El Fogon, and everything you hear is true. It is definitely worth the visit. You will enjoy the exceptionally delicious food, at an extremely reasonable cost.
We got an al pastor quesadilla but we can't remember what John's meal was called. It was all delicious. With beer and water, it came to $250 MEX including tips. ($15.50 CAD, $12.15 USD)
There are three locations, and the one we attended was on 30 Avenida Norte near Calle 32 Norte. These locations can be busy, but people move through quickly. You will see locals and tourists alike.
They are open from 12:00 pm to 11:00 pm. This location was 30 Avenida Nte, Calle 32 Nte.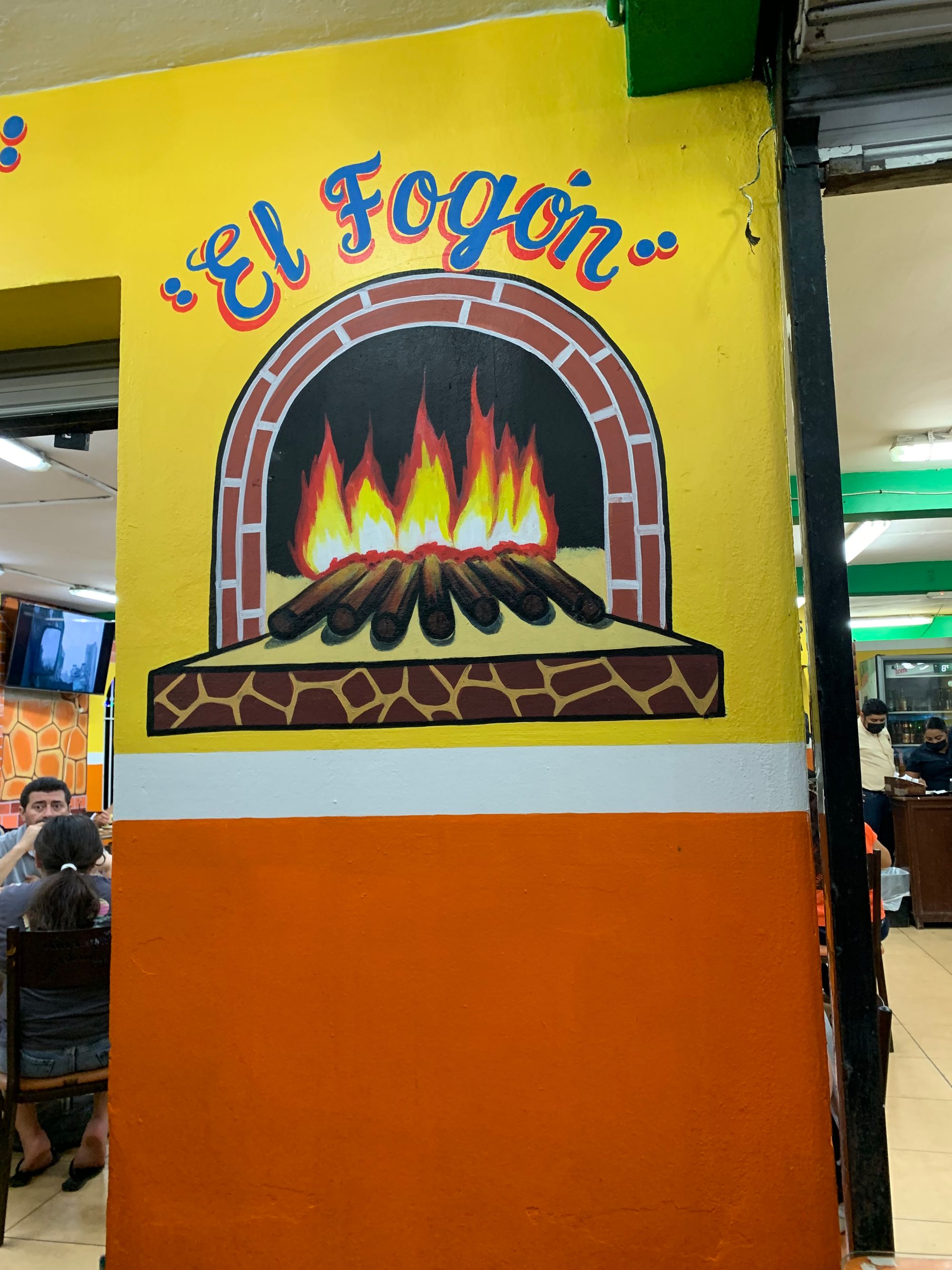 LA BAMBA JAROCHA
There are many restaurants along 30th Avenida, and the La Bamba Jarocha is one that we spotted when we first arrived. This restaurant is frequented by locals and has a extensive menu focusing on seafood. We went twice, once on our second night in Playa and the second time on our very last night.
It's a bit kitschy in decor, with bamboo curtains hanging down around the openings to the outside and painted murals on the inside, but it is charming and friendly. La Bamba is one of the many restaurants that take your temperature on arrival. Take note; they only take cash - not unusual in PDC; you should always be prepared to pay in cash when you go out to eat.
On our first visit, I was delighted to get my first margarita of the trip! I enjoyed them - yes, them. The first meal included a spicy shrimp diablo with rice and a seafood molcajete. This was way too much food, and John took home lunch for the next day.
The shrimp was good, but the molcajete was amazing, and why we went back the night before we left. We had to have it again. It comes in a traditional volanic rock bowl, and it is bubbling hot when it arrives. As you can see from the pictures, the molcajete was loaded with seafood of all kinds - crab, shrimp, mussels, and fish along with peppers, onions and gooey cheese. It is enough for two. I don't think I can adequately describe how good it was.
Located at Avenida 30 y Calle 34 Nte. Open 10 am - 10 pm. Or 11 am - 11 am or..... as with all of the restaurants listed here, I found different hours on different sites - so please do not rely simply on my blog. We also found restaurants were unexpectedly closed, so always have a plan B and a plan C. The same with the menus - just because it is on the menu does not mean that they have all the ingredients today - have a second and third item in mind.
Our first visit was expensive for us! $1300 MEX  ($80.55 CAD, $63.30 USD) - the most we spent anywhere. But this included the two dishes mentioned above, three margaritas, two beers, and a generous tip. The second time was only $520 MEX ($32.20 CAD - $25.30 USD) as we shared the molcajete, plus the drinks and the tip. (PS - not three margaritas!)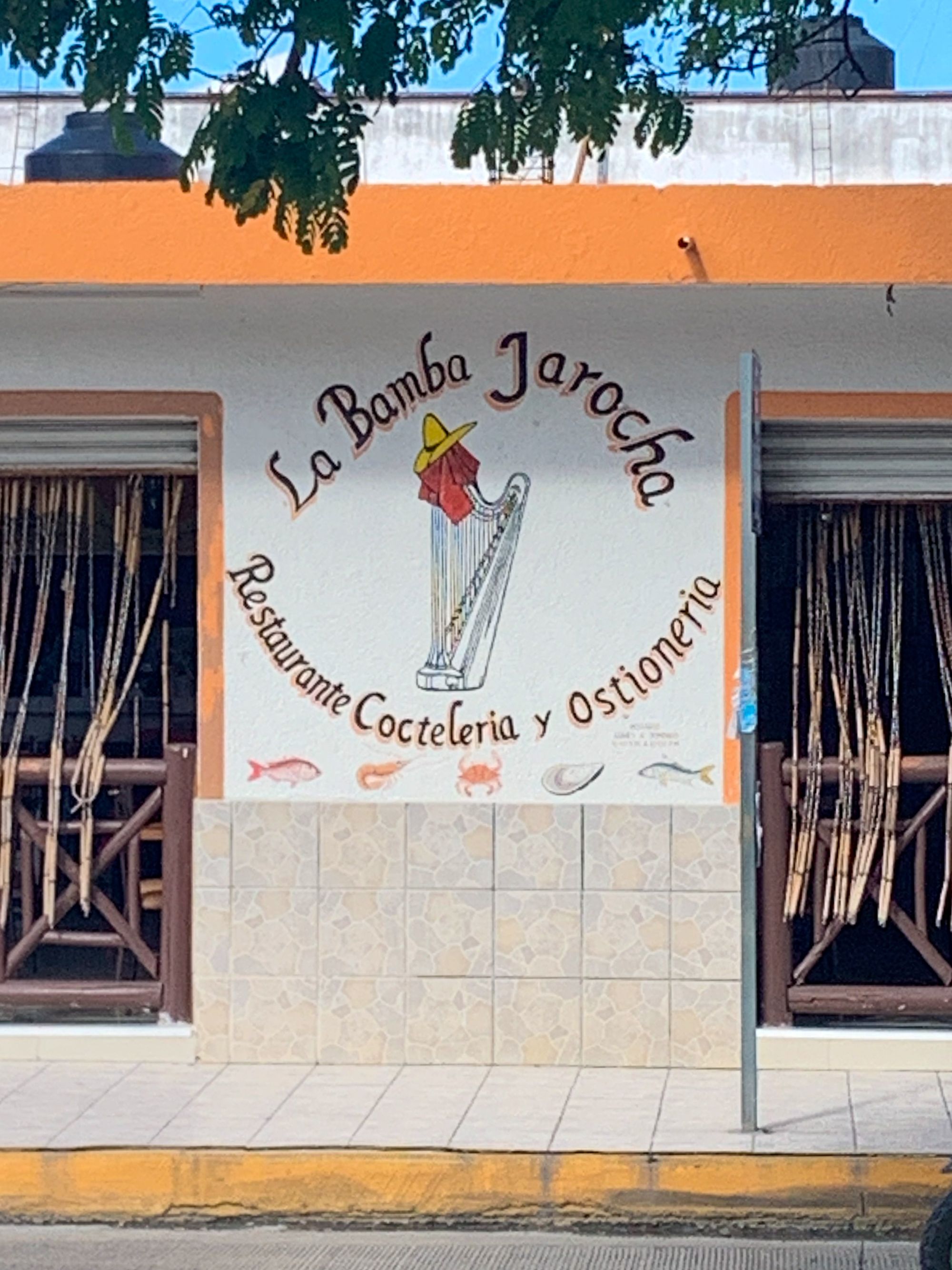 MU. BURGERHOUSE
Sometimes you crave a burger, and that is what Mu Burgerhouse is all about. These are gourmet burgers, and I raved that it was the best burger I had ever had!
I had the La Roja burger - 180 gr of beef, red fruit jam with chipotle, goat cheese croquette with bacon, truffle mayonnaise. John had the La Lolita - 180 grams of beef, blue cheese, arugula, caramelized onion, tomato. Both were awesome, though John said the blue cheese was slightly overwhelming - and he likes blue cheese. He was also able to get an excellent craft beer here, which seems to be a bit of a rarity in Playa. I had that very appealing drink in the picture, however, the cost was more than I thought. The waiter said something about mescal, and I guess I agreed - so there was a double charge on the drink that I didn't understand - but it was delicious.
We ended up there for Christmas dinner and that meal cost less. We had been at a beach club for the day, and I don't think we had drinks with dinner.
Open 1:30 pm - 11:00 pm. (saw elsewhere that they open at 5 pm) located at 10th Avenida and Calle 24.  $520 - $800 MEX  ($32.25 - $49.60 CAD, $25.30 - $38.95 USD)  for two burgers - and  beer and drinks the first time. We always tip - so there is always a tip included.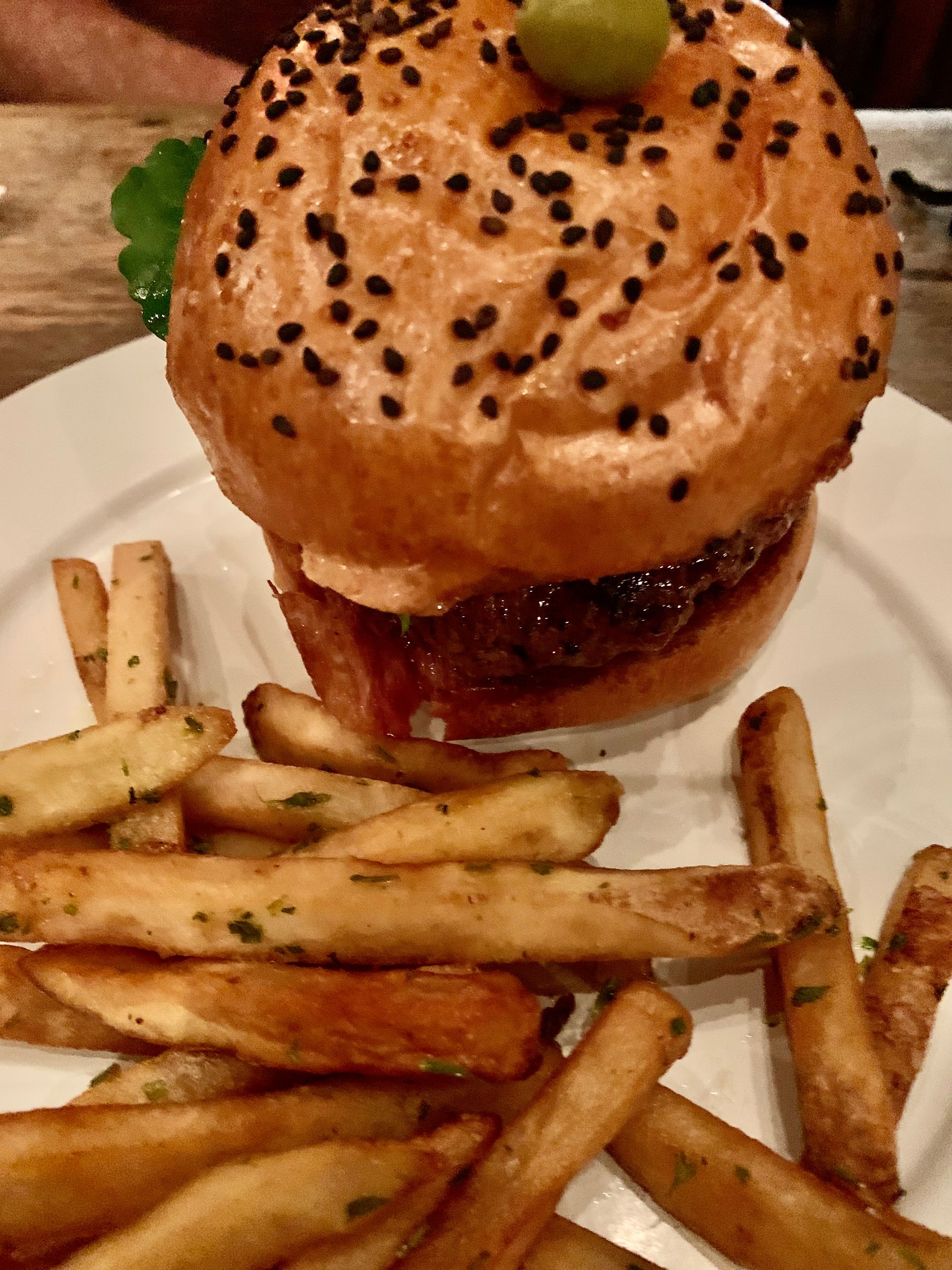 CASSA CEVICHE
And finally, the last of our favourites - Cassa Ceviche, a small Peruvian restaurant!
One of our best-loved restaurants in Vancouver was Peruvian - WAS, as it was demolished to make way for our transit system. We miss it, so we decided to try out this restaurant, and we were not sorry.
It is a very romantic setting, especially at the back of the restaurant, where there are shimmering white lights. The mango margarita with rosemary started the night off well. We had the Octopus Causa, the Mayan Ceviche, Choritos A La Chalaca ( a mussel dish), and Chicken Aji. All of these dishes were mouth-watering and worth every cent we spent.
We decided we wanted to have Christmas dinner here and we made a reservation on the spot. We knew there was a good chance that they would actually be closed Christmas day, so on the 24th we walked by to check. Unfortunately, they were not going to be open. We were disappointed but not surprised, as it had been early in December when we asked.
You'll be missing out on a special meal if you don't give Cassa Ceviche a try. Especially if you need a change from Mexican food!
Open 1:30 pm - 10:00 pm, located at Calle 24 Nte #7 Entre 30 y 25  Avenida Nte
$1235 MEX ( $76.60 CAD, $60.10 USD) 2 Beer, ,2 Mango margaritas and the above mentioned dishes.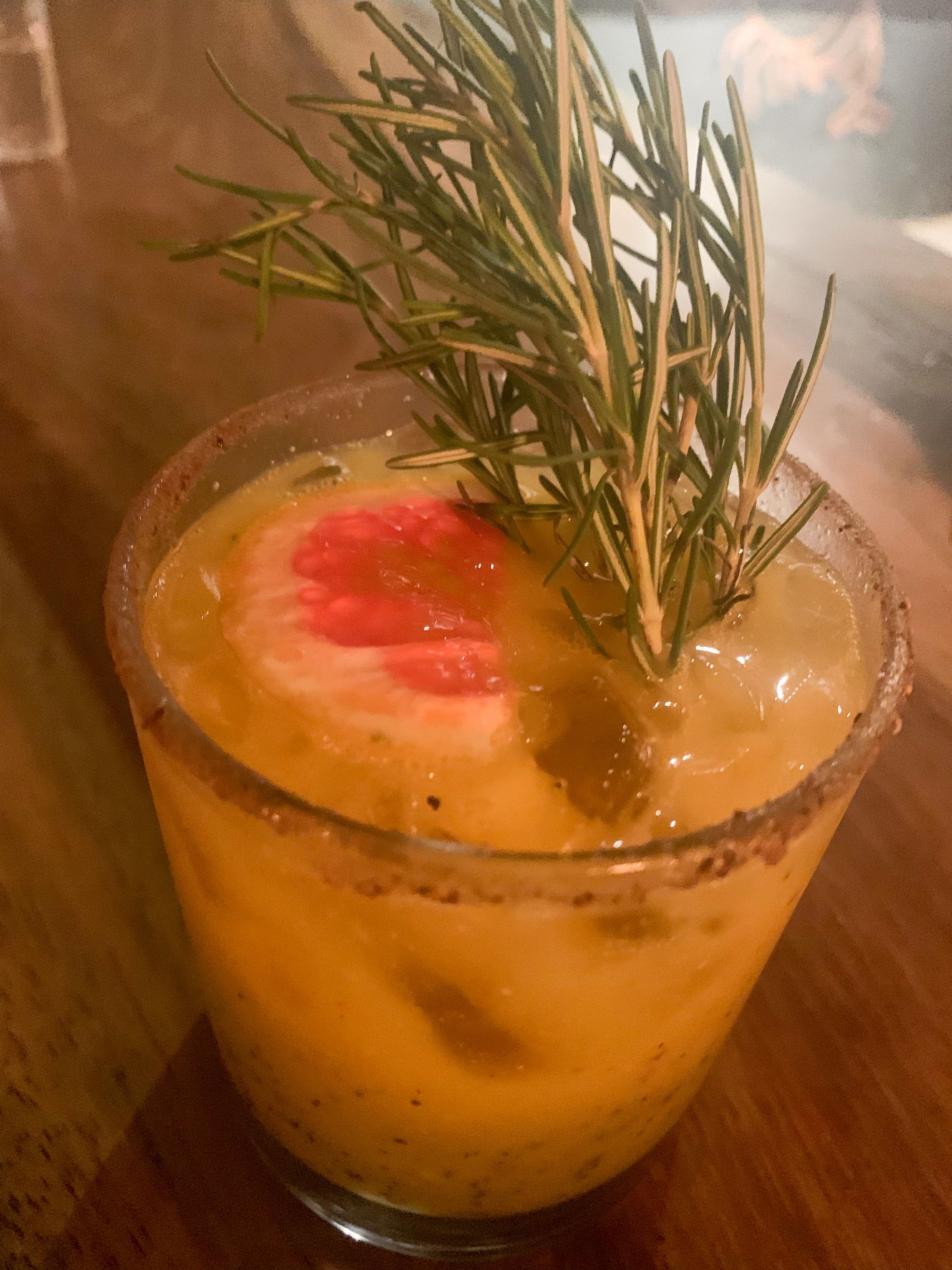 Ok, I promised to tell you a couple of places that don't rate on our go-to again list!
The first was El Popeye on CTM. I had a hamburger and chips and John had an enchilada. Just not enjoyable in any way. It looks like it's ranks in the middle of the PDC restaurants on Tripadvisor. We can't figure out why.
The other restaurant I want to mention is PikNik on 10 Avenida Nte. Now, we only had guacamole and chips as a snack here, so it's probably not fair to say it's not good. But the guac was definitely sub-standard and the prices were higher as it is only one block off 5th Avenida. I am especially spoilt as John makes really, really good guac and this was nowhere in the ballpark of what it should be like. It didn't make us want to go back and try anything else.
Note - I found that some of the maps on the restaurant websites were incorrect. We have tried to ensure that the maps provided here are correct.
And there you have it. I would love to know if you like any of the above restaurants?  Also others that you try.  So drop me a line.  And as always, please subscribe!
Next up? Need to work while you travel? Are you a digital nomad? I visited three co-work spaces in Playa del Carmen. Check my next post to see what I thought of each.
Until next time.........