We did some incredible things while we were in Playa del Carmen. We wanted to be like the locals, but we also wanted to see some tourist sites - locals don't do tourist sites...except the cenotes and the beach.
So in the spirit of being locals, we decided to try public transportation to see how well we could get around independently while visiting the tourist sites we wanted to see. At least, we were trying.
#1 - TULUM RUINS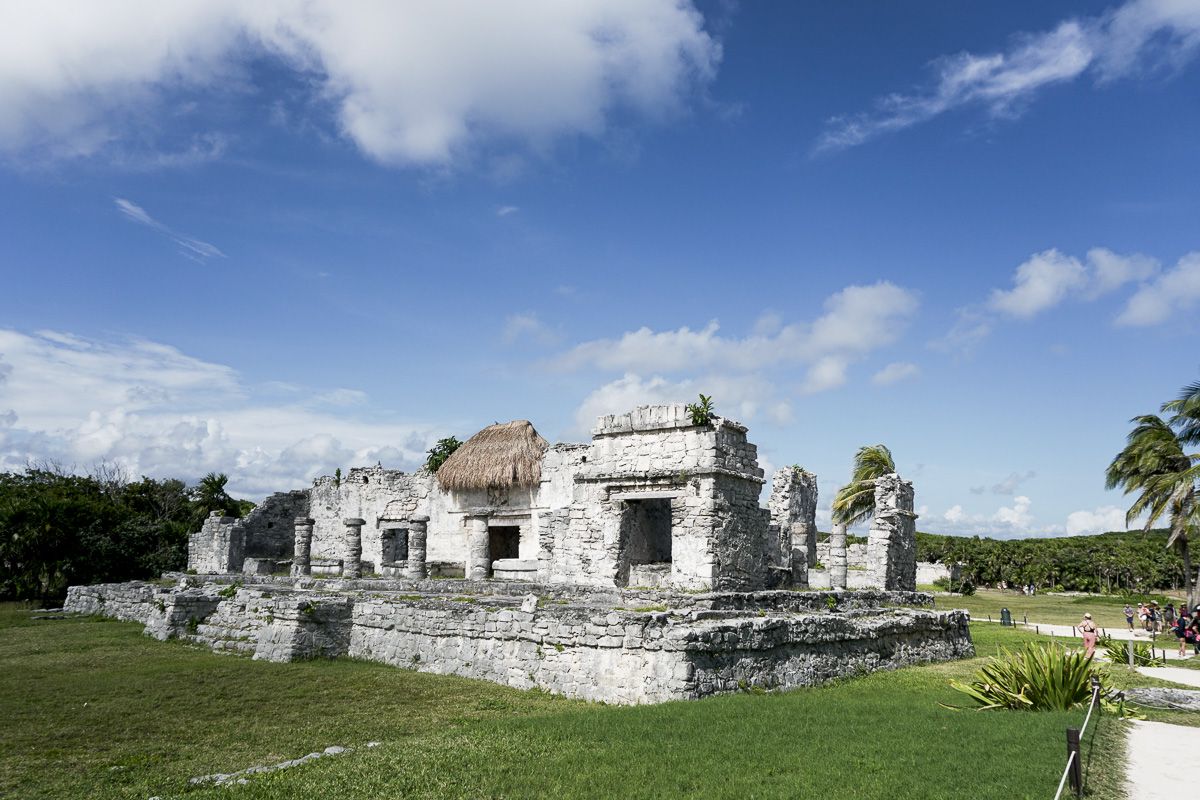 Many years ago, we spent a fantastic day at Chichen Itza with our kids. So we headed to the Tulum Ruins, wondering if it compared in any way.
The Ruins are 62 kilometres south of Playa del Carmen and a short distance north of the town of Tulum.
To get there, we went to the ADO terminal on 5th Avenue and bought our tickets to the Tulum Archaeological Zone for $100 MEX each ($6.15 CAD, $4.85 USD). Then we waited and waited and waited for the bus to go. It didn't leave anywhere close to the time on the ticket; no big surprise in Mexico.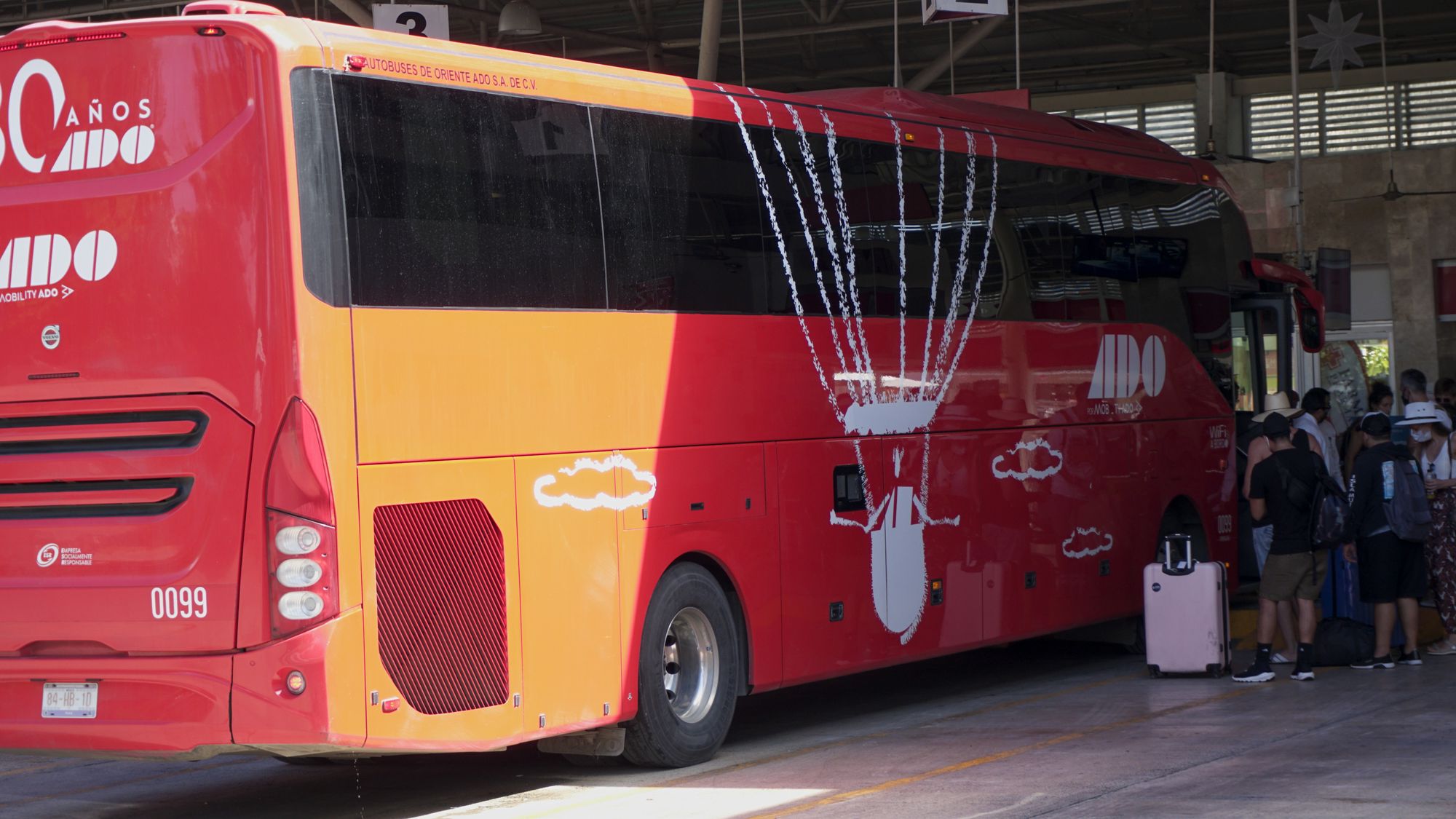 We almost missed it, as the terminal was jam-packed, and it was not clear where each bus was headed. Luckily, we kept asking questions and finally located the right bus, although we were the last people to get on!
ADO buses have an entertainment system in the ceiling with televisions every few seats. You can't always see the action well, but you can always hear it! By the time we arrived at the ruins, I had a headache from the blasting fight movie.
We almost didn't get off, as we weren't sure we had arrived, and there was no announcement. The bus was continuing to Tulum, and apparently, most of the passengers were too, as no one else got off at the ruins. So, I suggest telling the driver that you would appreciate knowing when you arrive at the Ruins.
We jumped off and walked down to the information centre on the left end of the road. John had been reading up and decided that it would be a good idea to have a guide to provide some history and context. So we hired Luis, a Mayan guide, there. The information centre has a team of multi-lingual guides available, sanctioned by the site. There are a lot of tour package options, we decided to take the little "train" that takes you right to the ruins from the road as it was a bit of a walk, and we were starting to overheat out in the midday sun. In total, with a tip, we paid $1960 MEX ($121 CAD, $95 USD) for our guide Luis, the entry fees, the train and two small bottles of water. I'm not sure how that compares to the door-to-door tours, but we had Luis to ourselves.
The Tulum Ruins are the "last great city constructed and lived in by the Mayan people between the thirteenth and the fifteenth centuries." It was the only Mayan fortified city, with walls on three sides and, to the east, a cliff down to the ocean. At one time, 1,000 - 1,600 Mayans lived on this site which "was an important centre trading in such typical barter goods of the period as cotton, foodstuffs, copper, bells, axes, and cacao beans."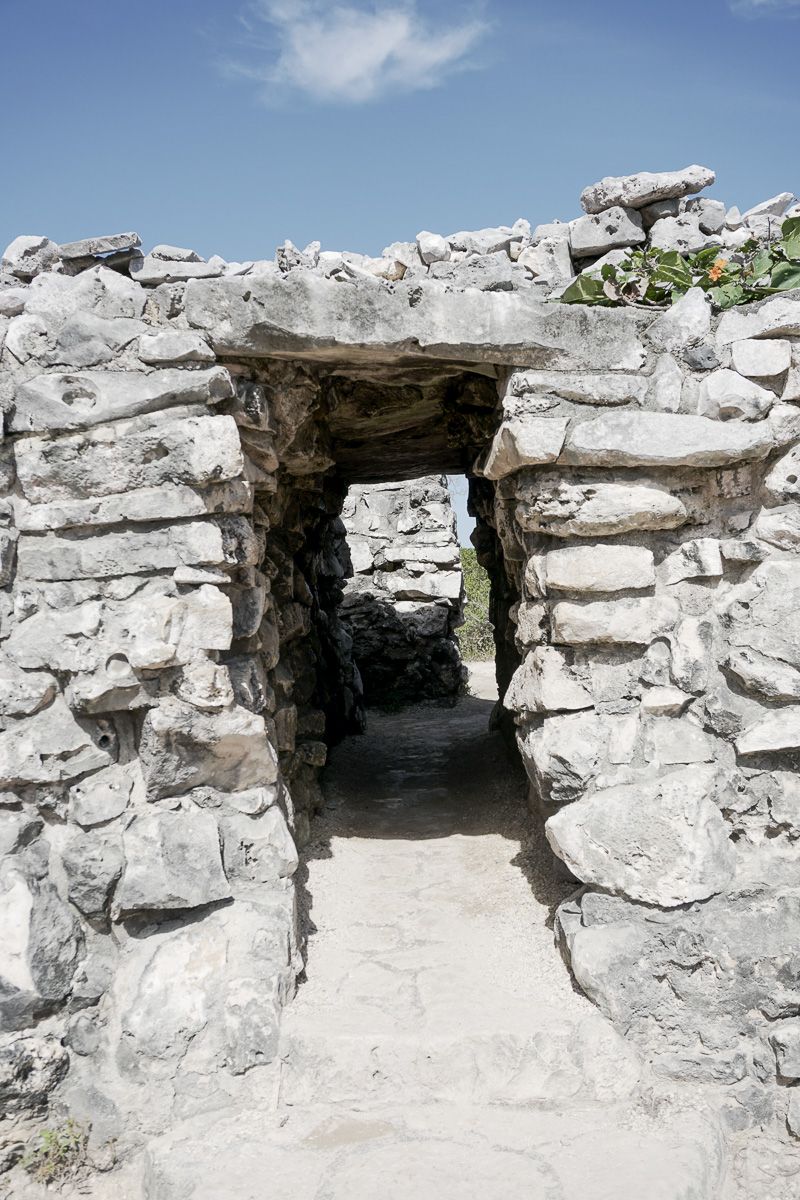 We wandered around the site with Luis providing us with the history of the area and the Mayan people.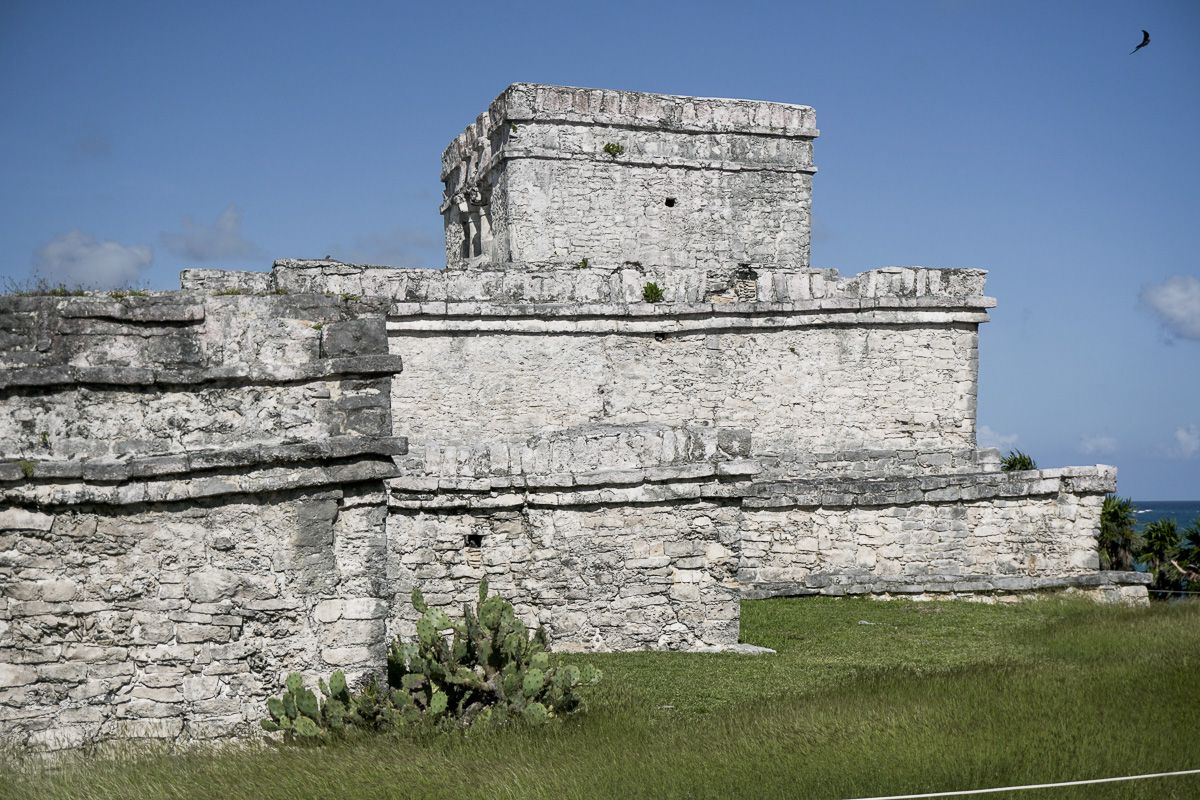 It was a sweltering day, but Luis appeared to know the few shady areas to stop and explain the legends of the ruins to us. Thank you, Luis!
After seeing the few remaining structures and then walking to the cliffs and looking at the magnificently turquoise ocean, it was time to go. It would have been brilliant to go down to the beach there, but the wooden staircase was closed off. A boat tour was the only way to access it.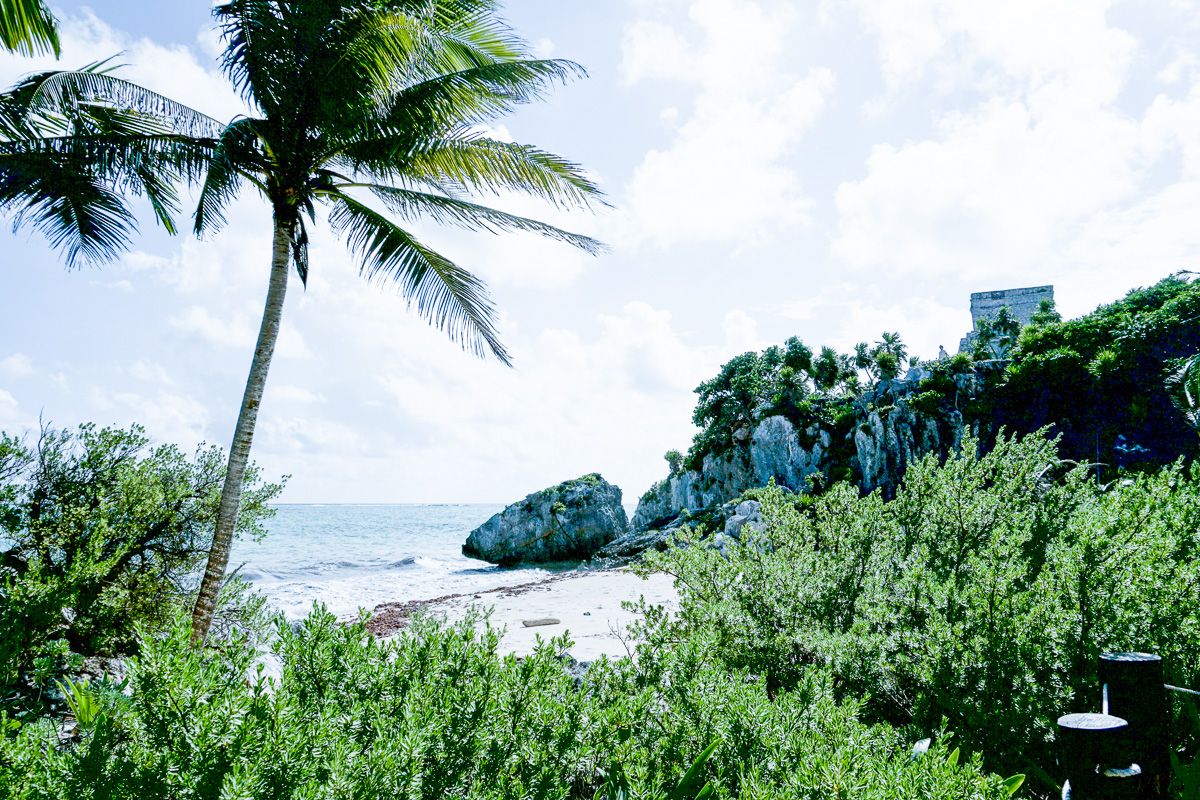 We decided to head into Tulum City for something to eat and a wander around. Luis directed us back to the highway, where we flagged down a Colectivo for $60 MEX ($3.70 CAD, $2.90 USD) for the two of us.
We had no idea what to do once we arrived in Tulum or which way to go. We hadn't done enough research! We didn't venture too far from the highway, so we didn't see the beach area. After an unremarkable lunch, we wandered around town. I took some great pictures of street art, which led us into the local cemetery as there were paintings around the inside and the outside. walls. We have found that cemeteries worldwide can be beautiful places, and this was no exception.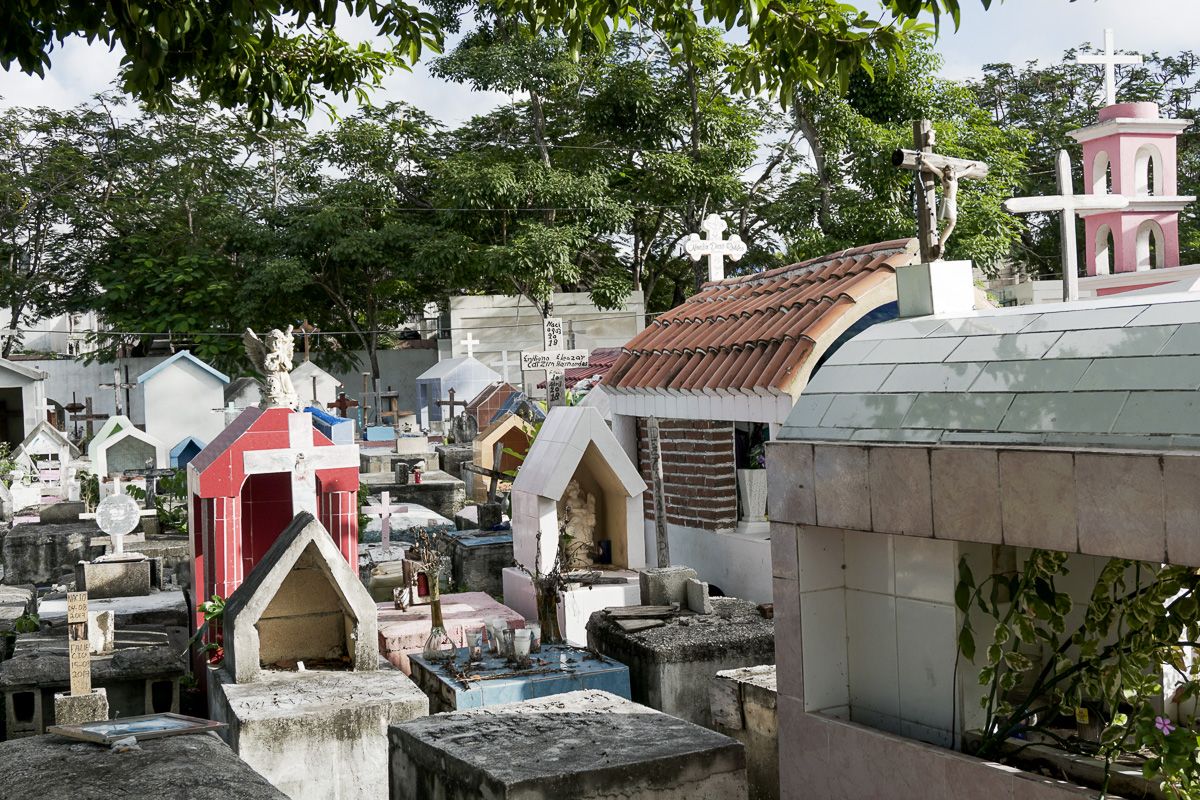 We were hot and tired, and it was getting late in the day, so we decided to head back to Playa. We walked back to the highway and caught a Colectivo back for $100 MEX ($6.15 CAD, $4.85 USD). It dropped us back in Centro at the drop-off point on Avenida Benito Juárez.
I found that I preferred the Colectivo to the ADO bus. It was much quieter with fewer people and catered to the locals more than the tourists. For good information about Colectivos, read this older post.
As for the Tutum Ruins? It was an enjoyable hour and a half, Luis gave us a lot more insight into the Mayan culture, and the location is incredible! Does it compare to Chichen Itza? It is much smaller! It does have a connection to Chichen Itza though. Luis told us that the sun shines through a portal in El Castillo at Tulum twice a year and lights up the snakes on a structure in Chichen Itza.
I suggest you go early in the day and then go to the beach either at the Ruins or in Tulum itself after.
#2 - COZUMEL PEARL FARM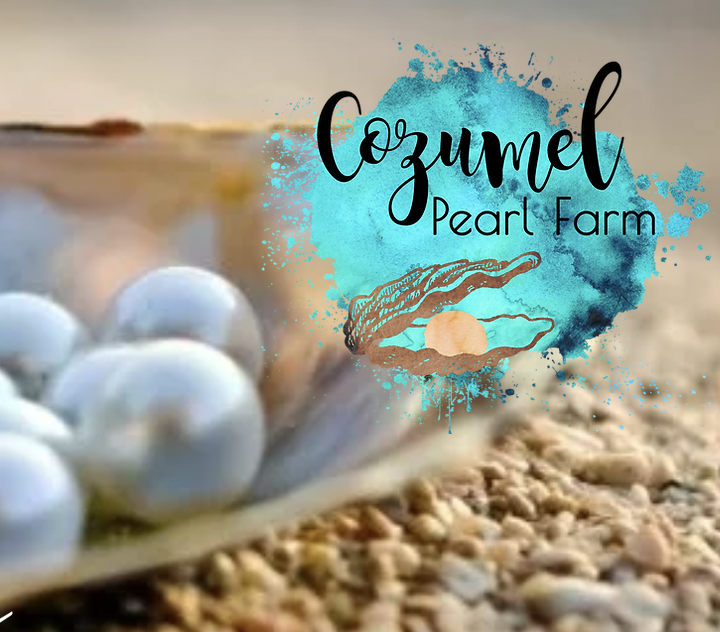 Our next adventure was a trip to the Cozumel Pearl Farm. $2,268 MEX ( $140 CAD $110 USD) It sounded like an excellent, different day, and the reviews were fantastic, so we decided to give it a try.
First, we had to get to Cozumel Island to meet the boat taking us to the farm, which meant an early 8:00 am ferry from Playa Del Carmen. You can read more about getting the ferry in a previous post.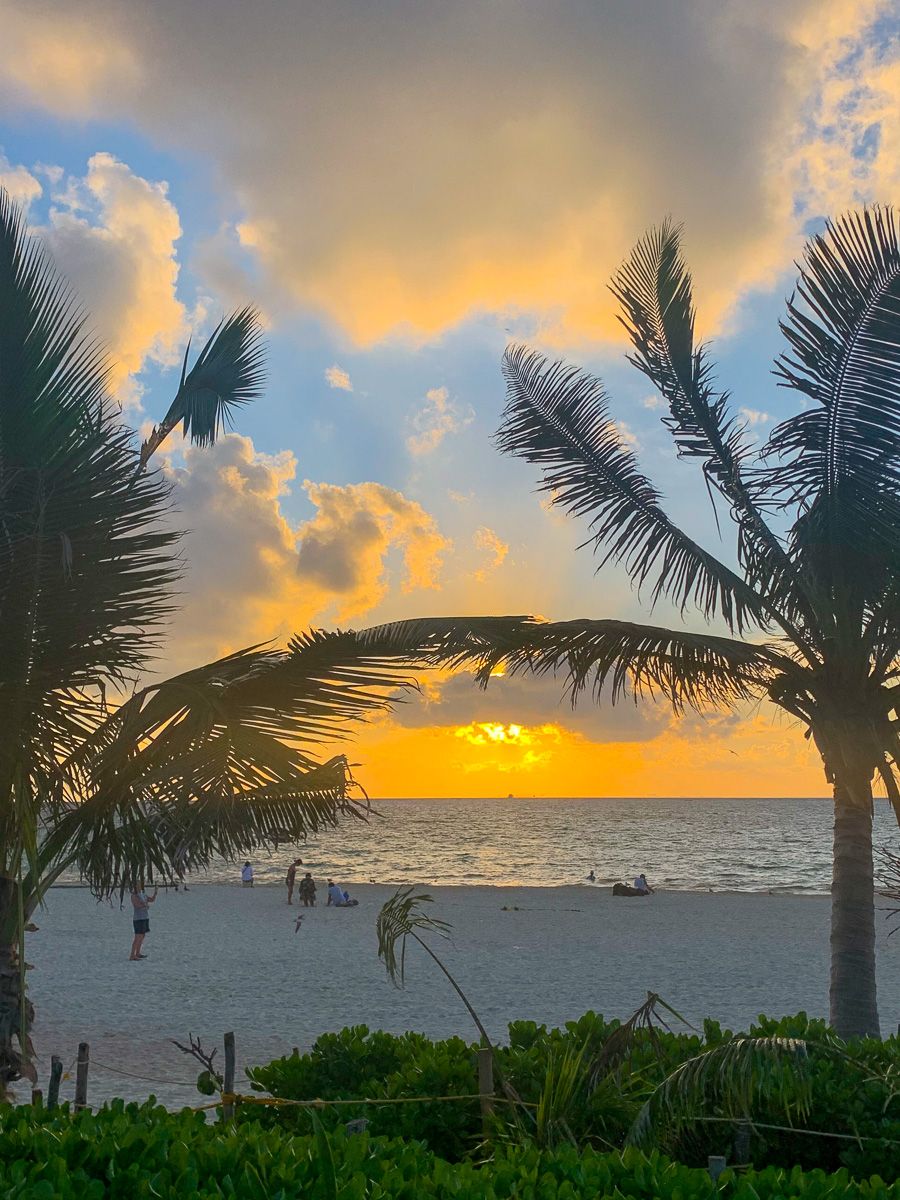 Once in Cozumel, we grabbed a little breakfast at Sucre/Sale Cafe then caught a taxi to the marina near the lighthouse, costing $90 MEX ($5.50 CAD, $4.35 USD).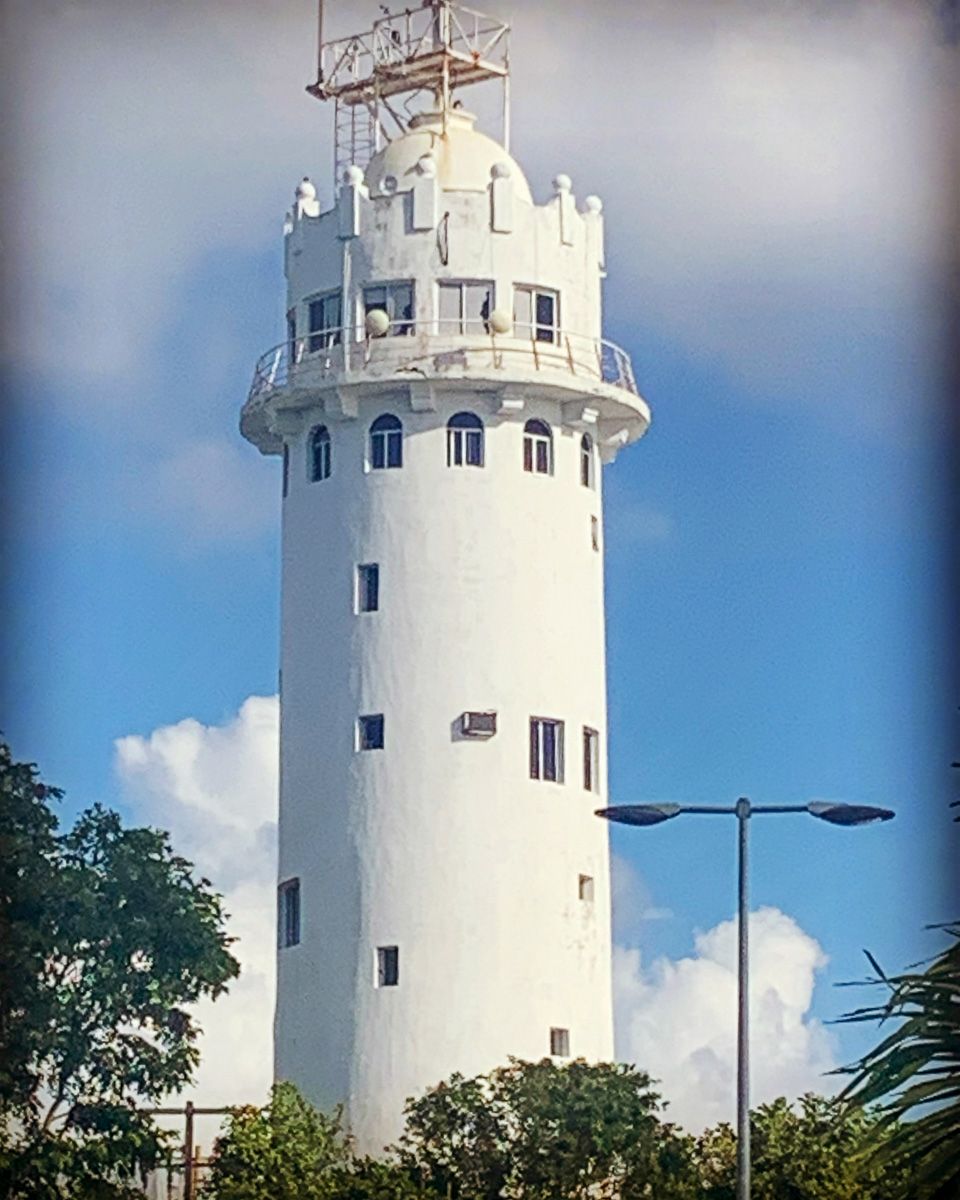 We saw the dogs in the boat first and then the couple taking the tour with us. Isobel and Pancho were there too, so we headed off to the north end of the island's east side. There are never more than eight people on the tour, but we were fortunate to only have one other couple with us.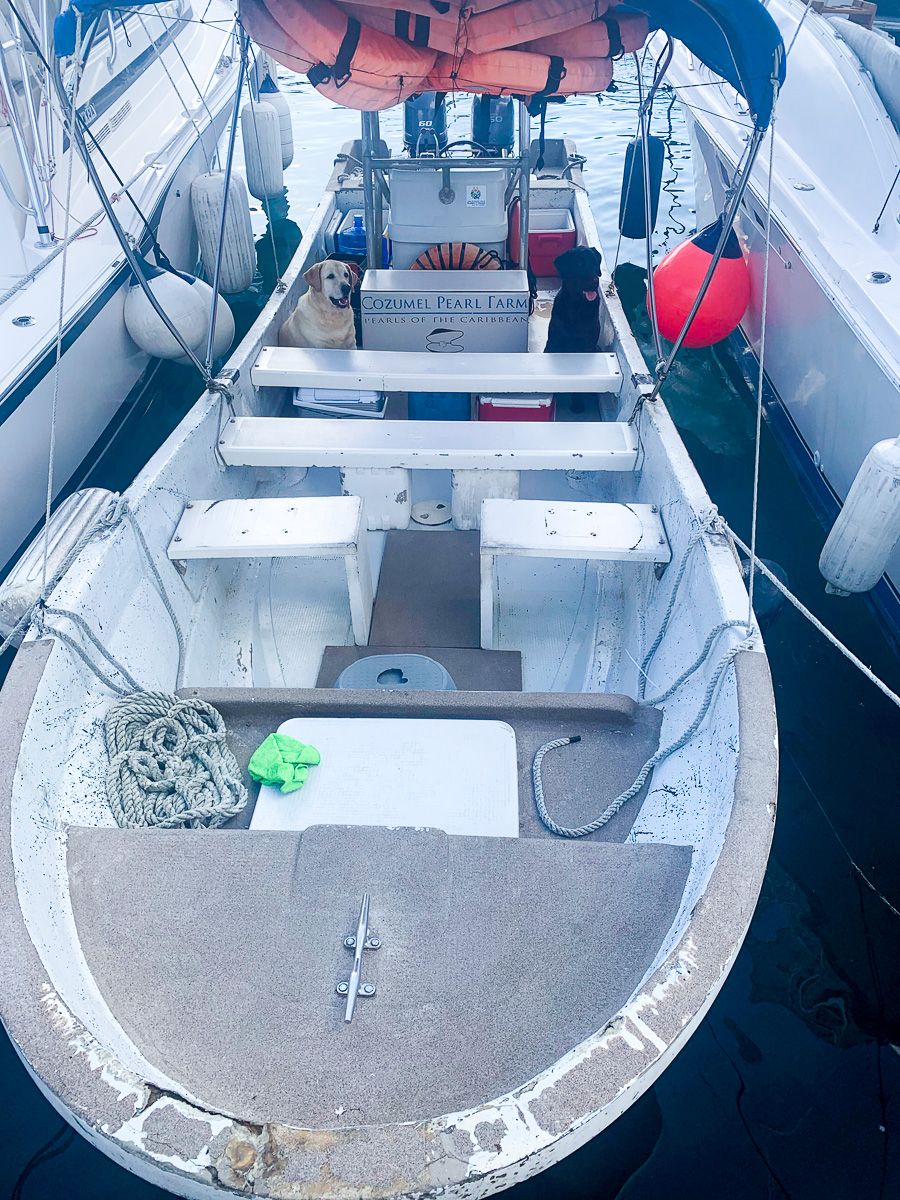 It took about forty-five minutes to get to the farm, and the ride did get a little bumpy. As someone who suffers from some lower back pain, the ride back was better for me when I could lean back against a part of the boat. Fair warning, my fellow sufferers - find somewhere to lean.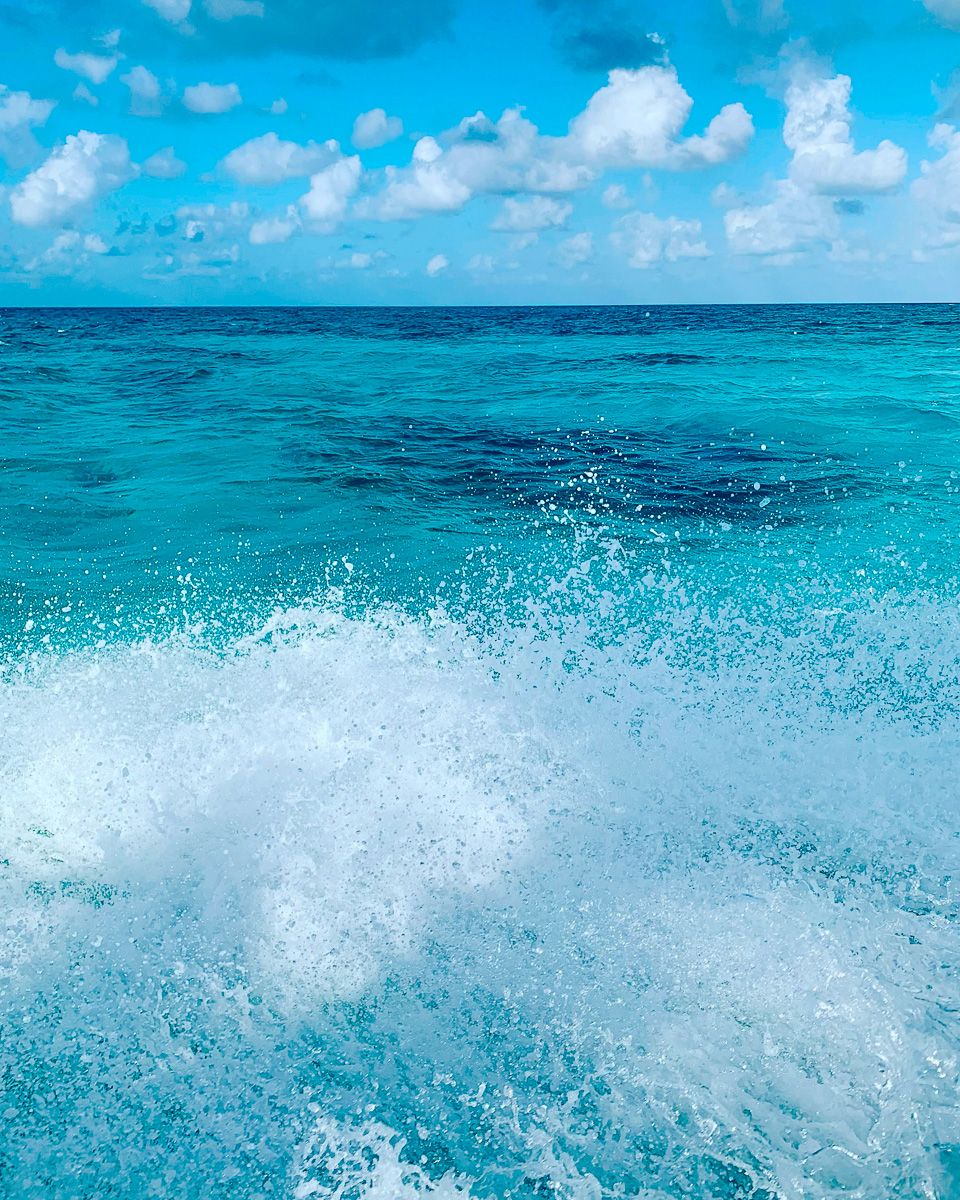 The dogs, Ganesh and Goliat, had no problem at all. They clambered all over the speedboat and had us all in hysterics.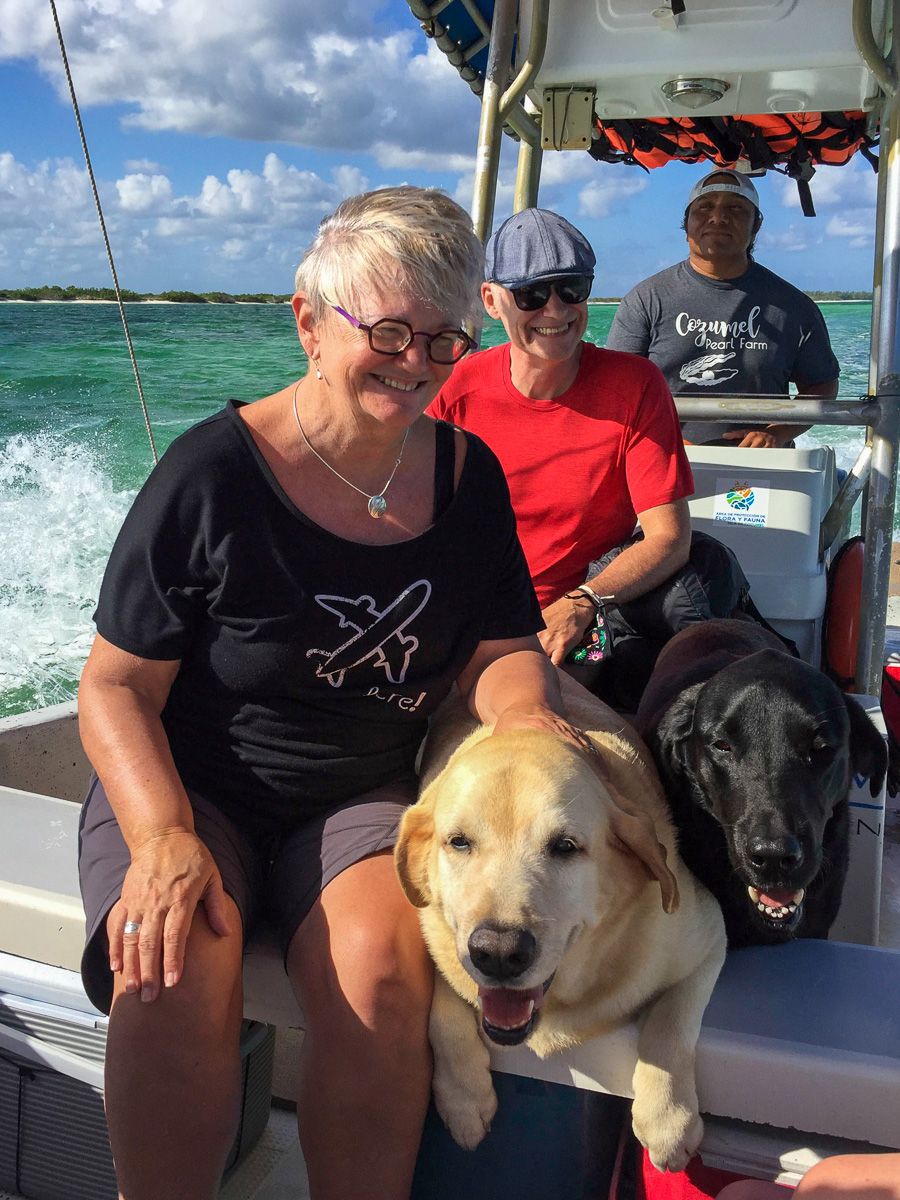 After forty minutes or so, we arrived at the little piece of heaven known as the Cozumel Pearl Farm. It is hard to put into words how serene it feels there. Everything slows down.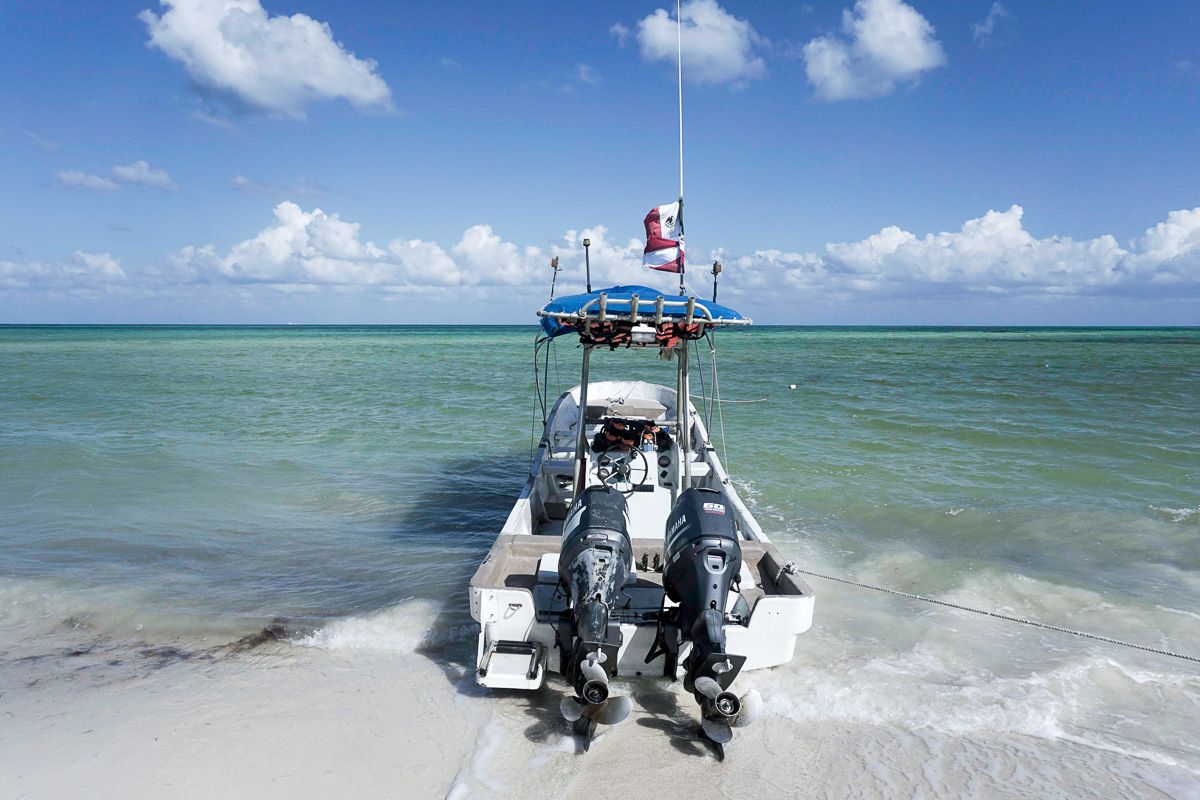 We did some exploring along the beach to stretch our legs and then sat under a hurricane-damaged palapa as Isobel explained the farm's history and how they built it. Her father, an engineer, developed the idea of pearl farming off the Cozumel coast in 2002. Pancho, her brother and also an engineer, joined him in the family business, and Isobel headed off to school to become a marine biologist. Not satisfied with a bachelor's degree, she was determined to get her master's, which she did! Then Isobel headed to Bali and Australia to work with other pearl experts and learn her trade.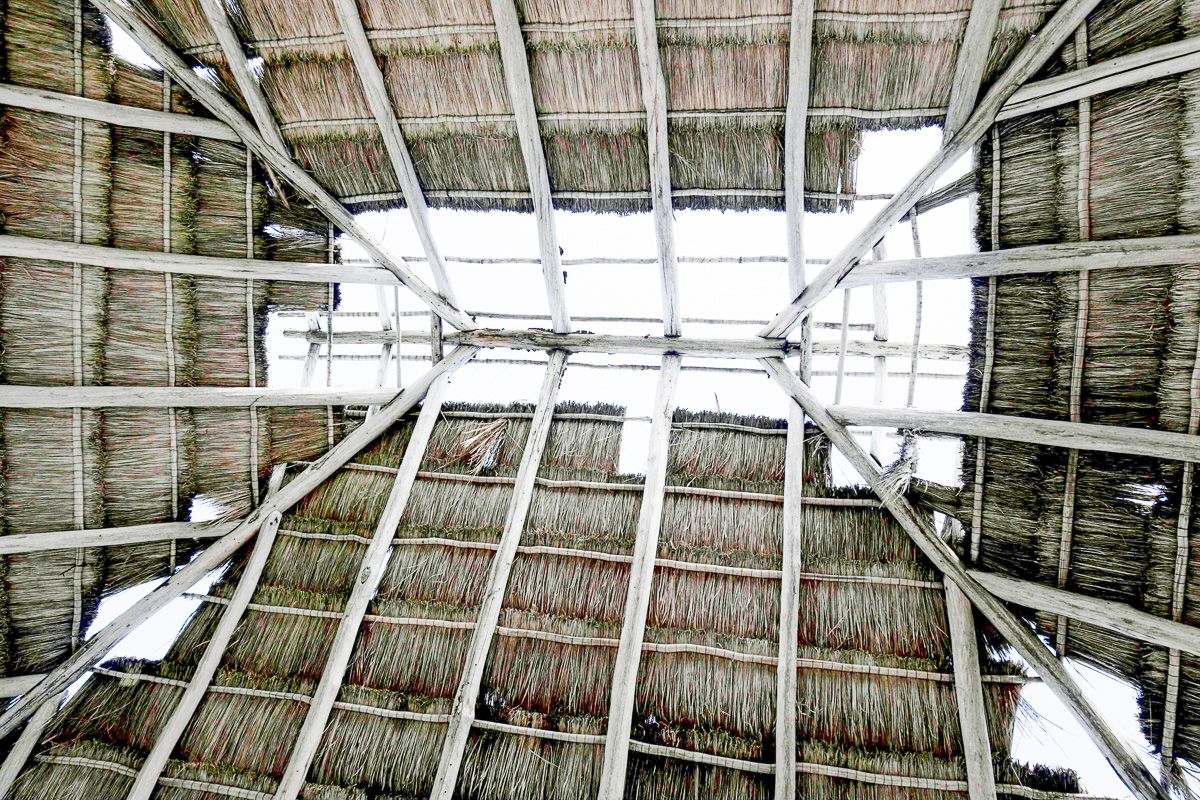 They were just getting the farm established when Hurricane Wilma came along and quickly taught them that they would have to do things differently to pearl farm successfully in the Caribbean. But you'll have to go on the tour to learn all about that - it is truly a story of ingenuity and perseverance.
Isobel took us into her workshop, where she explained the long and tedious work of seeding and harvesting pearls. Of course, we got to see some beautiful pearls! Unfortunately, all their jewelry for sale was in Mexico City, so we did not see any samples. You can see that on their website though, and buy them there.
Fun fact - Pearls are the only gemstone to come from a living creature!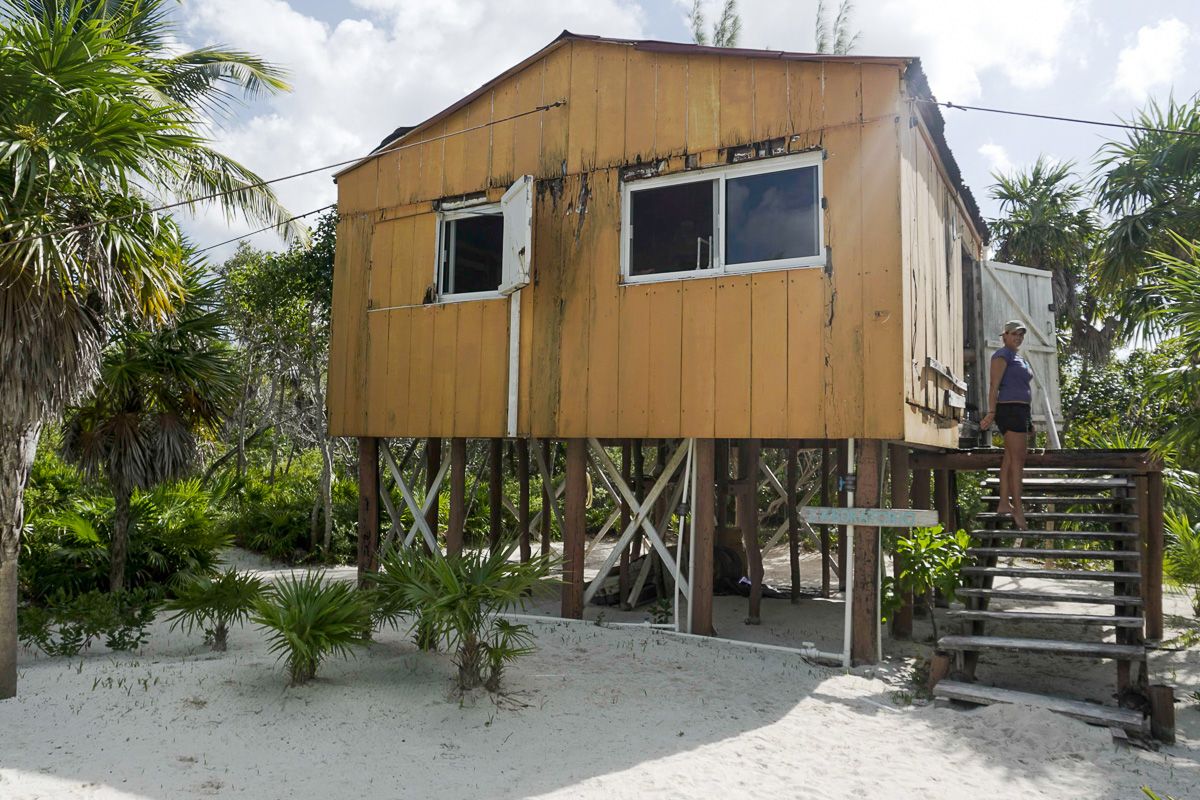 Back to the beach, and the famous Pineapple-Cheese Burgers were ready! I'm not sure if it was the air, the sea, or the romantic setting, but those burgers were amazing.
The sea was not cooperating that day, and it was not calm enough for us to go out to the actual harvest site and snorkel, so we will have to do that another time. Instead, we went swimming in the crystal clear water off the deserted beach with Ganesh and Goliat. Then we came back and left our marks on a conch shell (a Cozumel Pearl Farm tradition).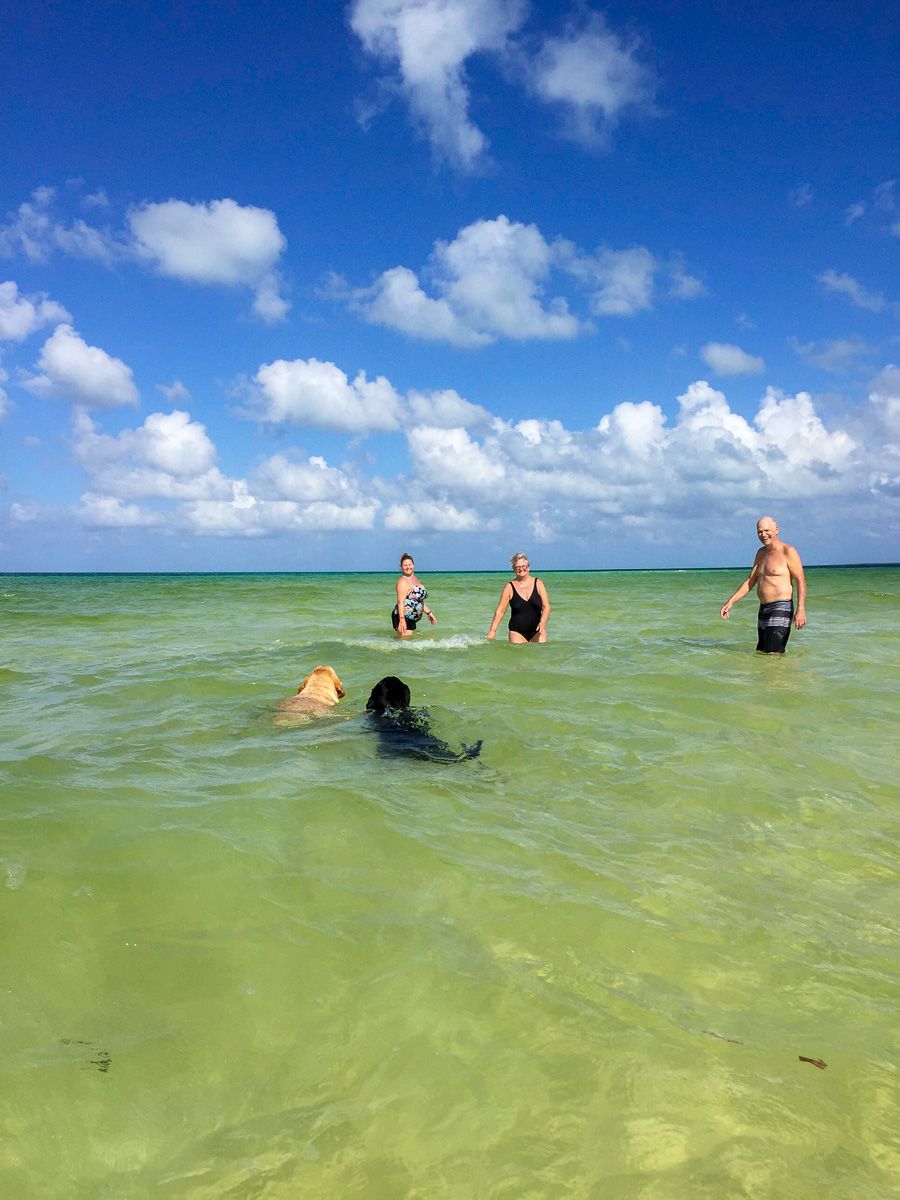 After a calm, lovely afternoon, we took the boat back to Cozumel and a taxi into San Miguel, where we had fabulous tacos at Guisados. Blue corn tacos - which we love! And the mole....yummmm. An excellent finish to our Cozumel experience.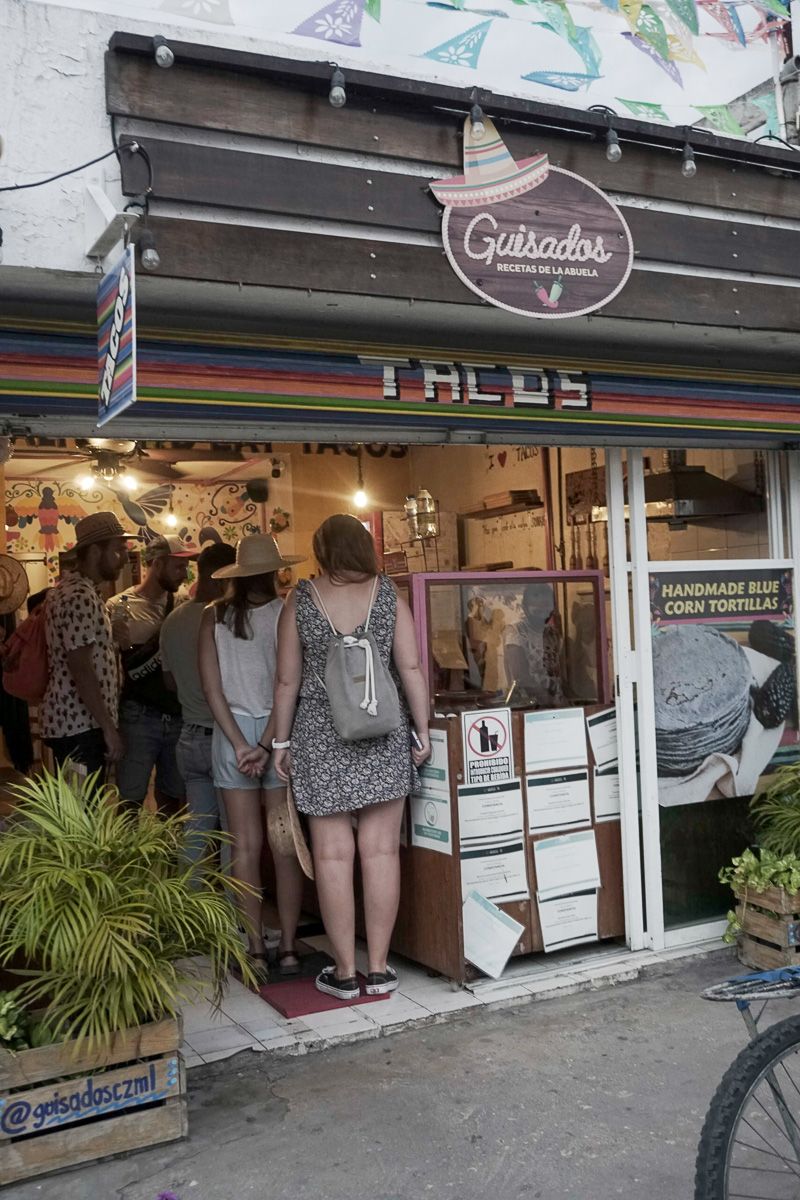 Then we boarded the ferry back to Playa del Carmen.
It was a magical day. I don't know if it was the company, Isobel, Pancho or the dogs or........that it's just a mystical place.
Side note here - I loved Isobel's shirt and asked her about merch. She tried to order it for me but could not get one before we were leaving PDC, so she literally sold me the shirt off her back! Thanks, Isobel!
#3 - CO.COS CULINARY SCHOOL AND CATERING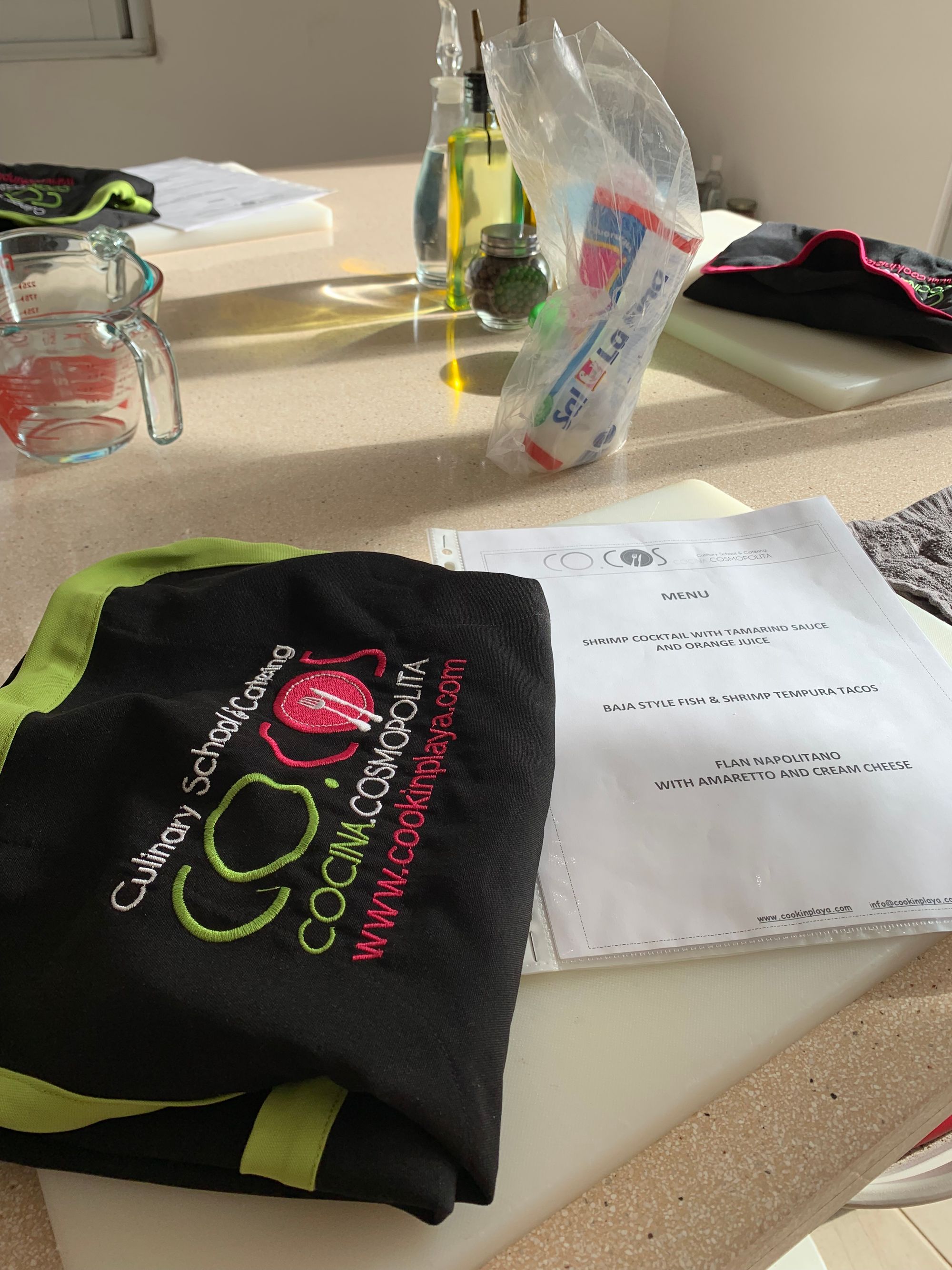 Who doesn't love food? Especially Mexican food? John is an excellent cook and was eager to learn more about cooking with readily available ingredients. We researched and reached out to Chef Coty at Co.Cos Culinary School for an evening of cooking and eating. We arrived at 4:00 pm and were there until almost 9:00 pm.
Her school is in her home and is set up to accommodate many students in her fabulous red kitchen.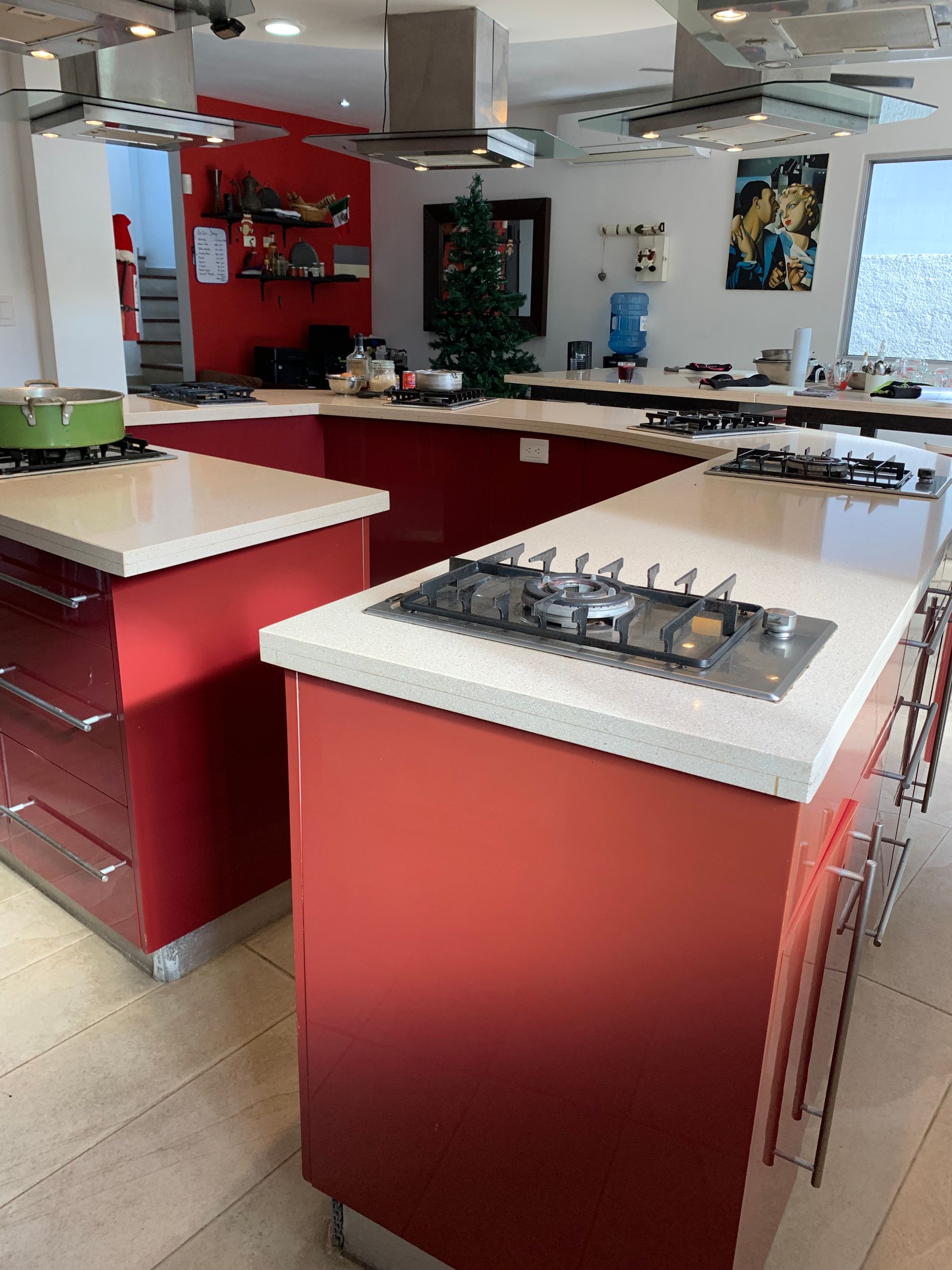 On the night we took the class, we were there with a family of four, with two kids, four and six. Chef Coty was very good with the children and had them help prepare our meal.
We all participated. I have lost any skills I had in the kitchen, as I had trouble breaking the eggs - those were some tough shells! Then I almost put the shrimp in the wrong bowl! The kids had no problems at all; they were definitely paying closer attention than I was.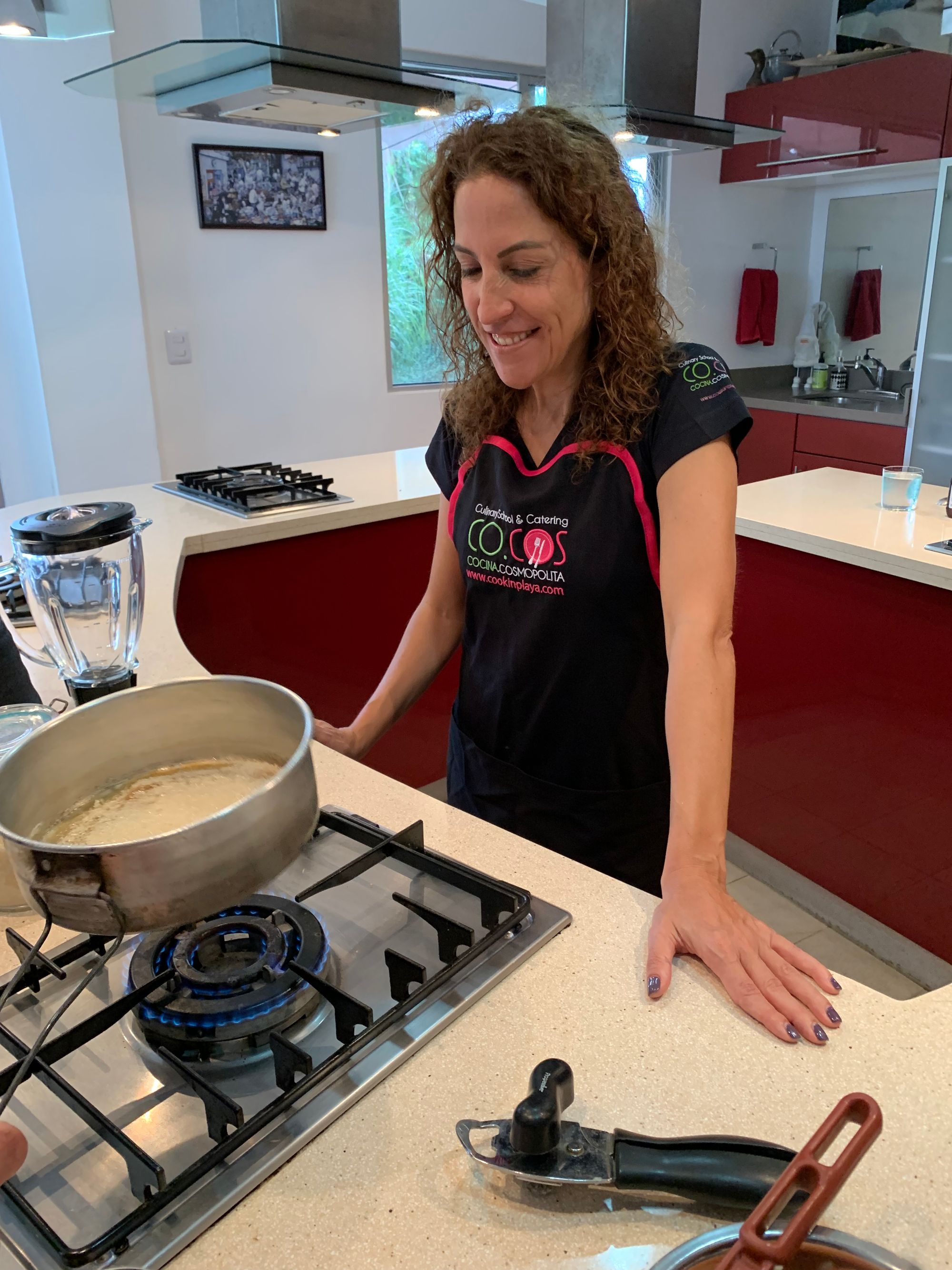 Chef Coty had prepared a menu that included Shrimp Cocktail with Tamarind sauce and orange juice, Baja Style Fish and Shrimp Tempura Tacos with Green and Chipotle sauces, and Flan Napolitano.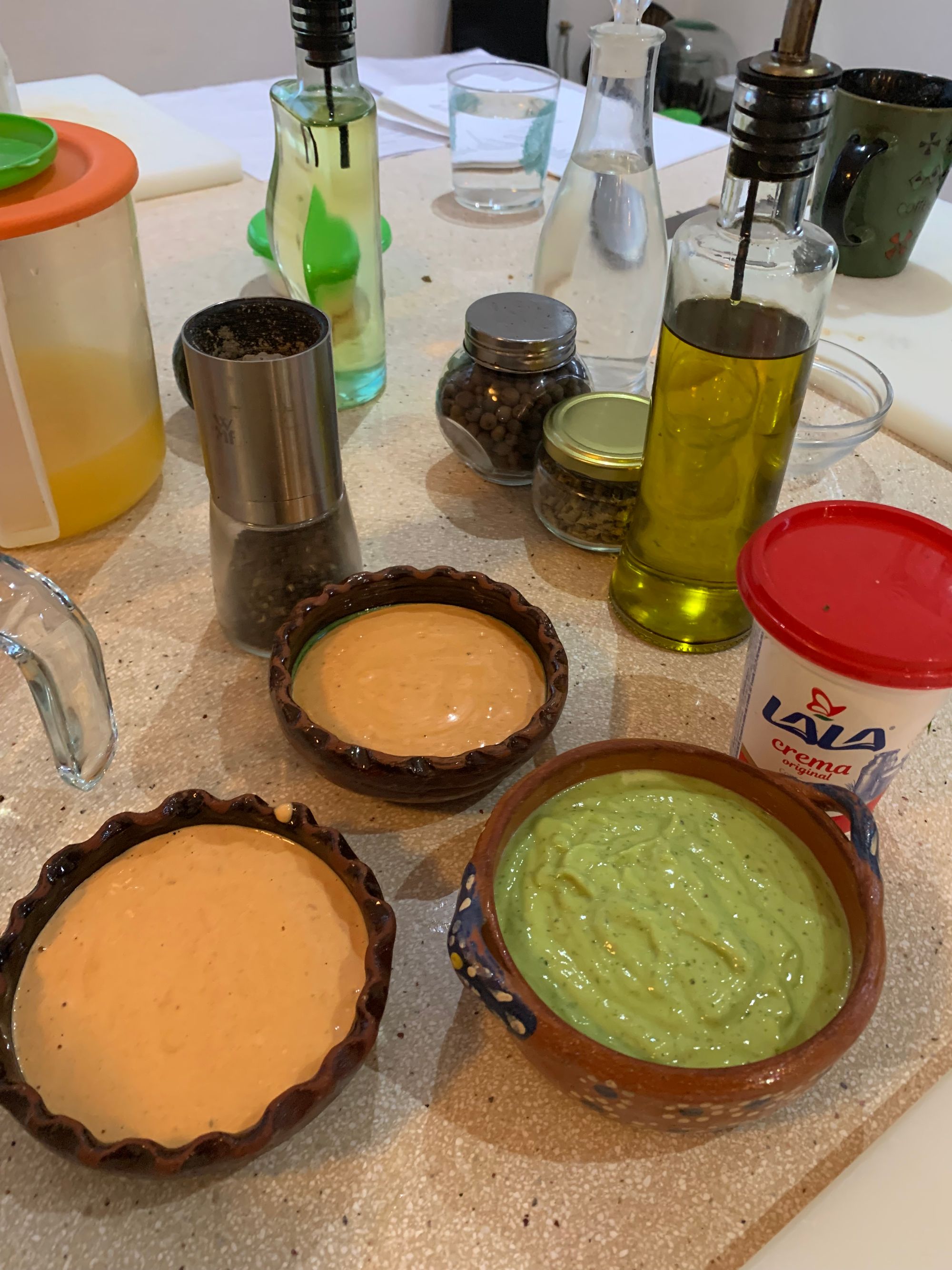 We also learned about the various peppers used in cooking in Mexico and the difference between Tequila and Mezcal.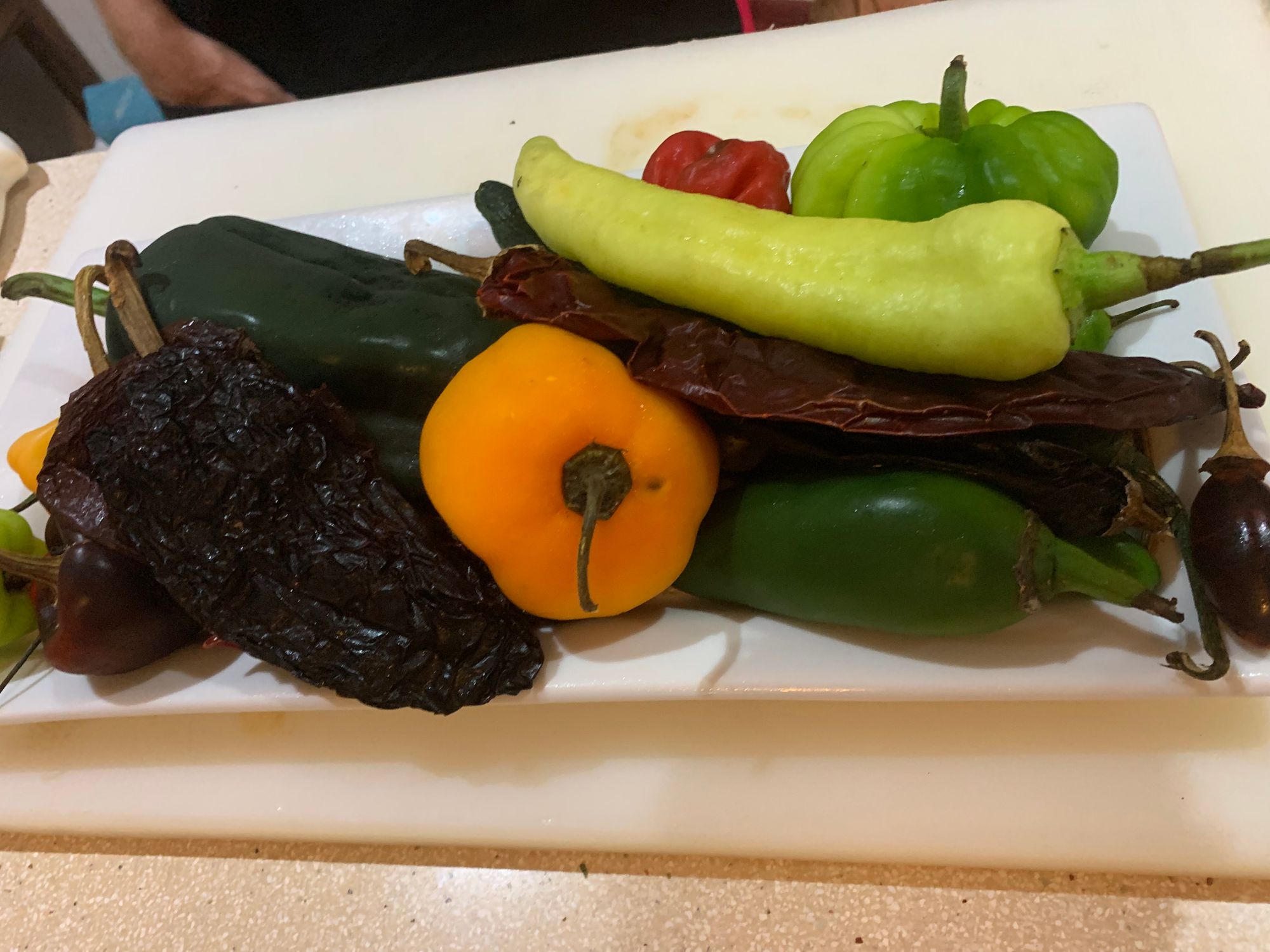 It was an entire evening of good food, exciting learning and entertaining company, which everyone, including the children, enjoyed. It was a long time for the kids, so the parents having an iPad didn't hurt at all.
John was thrilled to learn how to make the green sauce he loves!
We recommend this as a fun learning activity.
As Chef Coty's residence was not directly in Playa, it was necessary to take a taxi there. The cost for the taxi was $150 MEX ( $9.25 CAD, $7.25 USD). Due to the fluctuating peso, many tours in Mexico are quoted in American dollars. The class was $120 USD each. ($153 CAD).
#4 - RESERVA DE LA BIOSPHERE SIAN KA'AN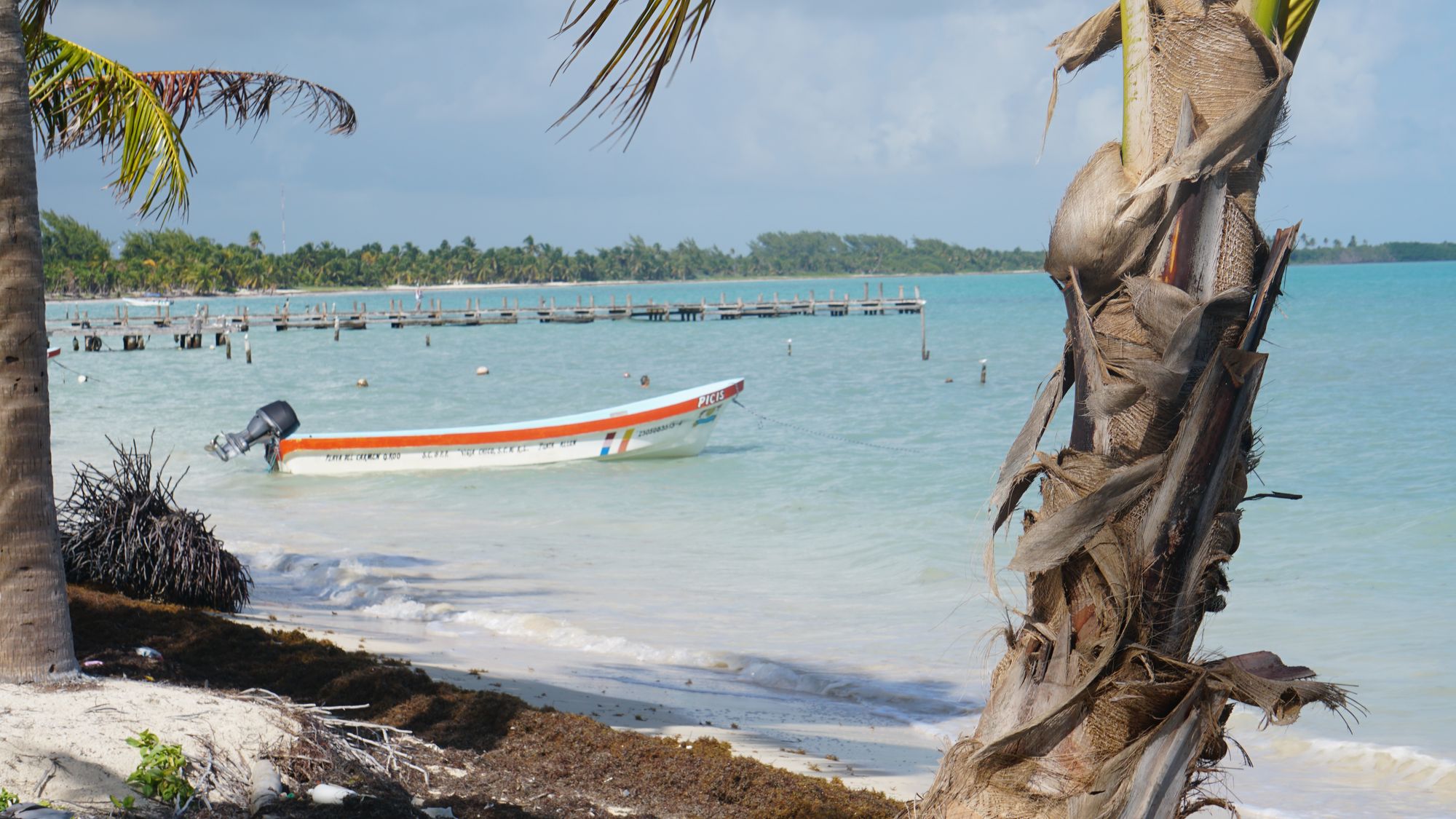 Ah, Sian Ka'an, "the place where heaven begins". We wanted to explore and see if it was as heavenly as described. "What exactly is a Biosphere Reserve? Basically, UNESCO created a world network of Biosphere Reserves to recognize ecologically diverse sites around the world. Biosphere Reserves are securely protected land, coastal, or marine ecosystems."
Sounds incredible, so we made arrangements for a 6:30 am pick-up to head to the biosphere reserve south of Playa del Carmen with Pixan Ka'an for $150 USD each ($191 CAD). Pixan Ka'an advertises that you avoid a four-hour ride on a bumpy road by going with them.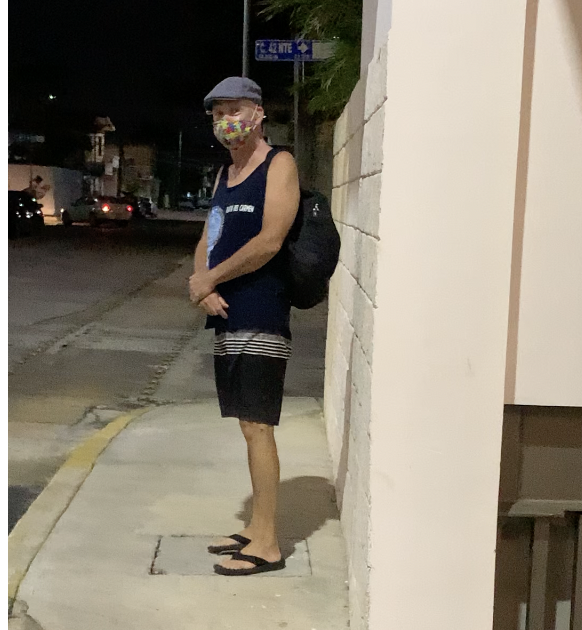 We were the first people picked up in the van, and another couple joined us in Playa, then we headed south to get more people. All told, we had twelve people in the van, and it was 9:35 am before we reached the boats. Pixan Ka'an said to us that there would be six people on the tour, but that was only on the boat portion, as it turned out.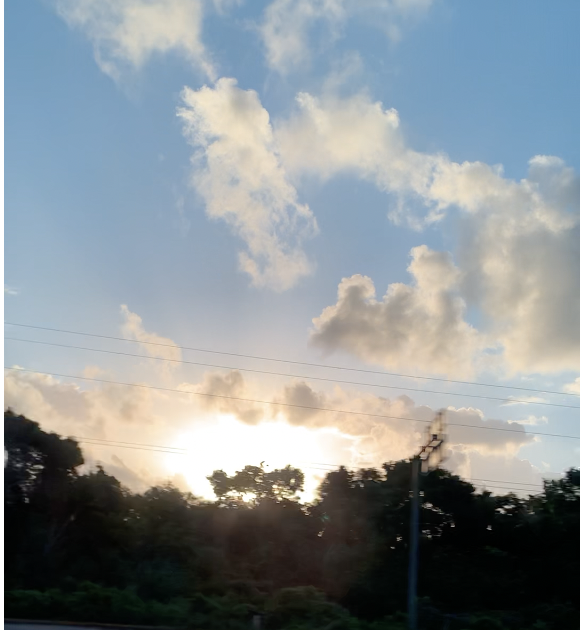 We did encounter a very pothole-ridden, bumpy road that the guide referred to as a Mayan massage. We were well massaged by the time we reached the boats! They do warn people who have back problems, probably because of both the road and the ride in the boat. I did pay a little for it afterwards.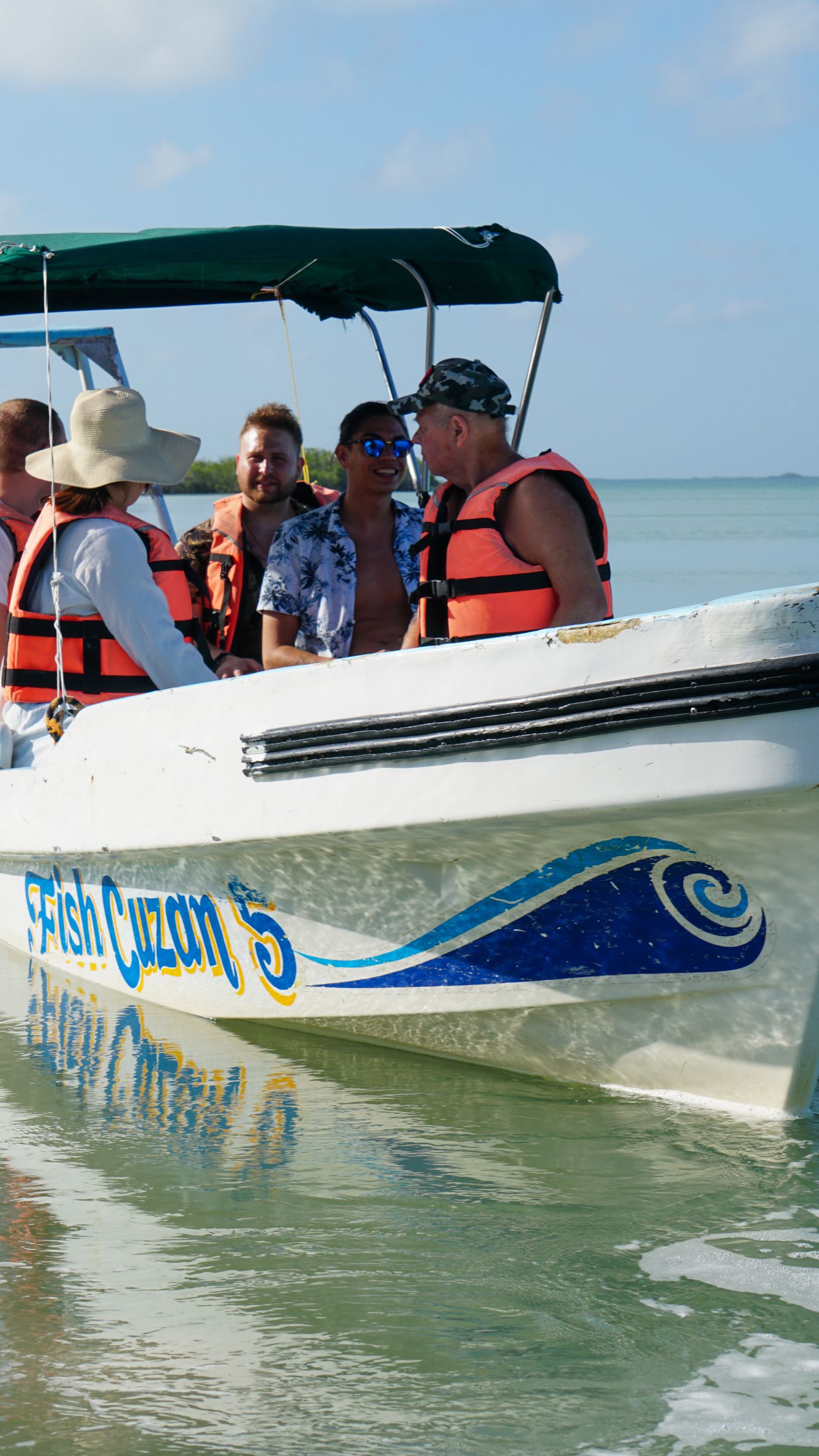 We boarded the boats and took off through the mangroves for another bumpy ride, searching for crocodiles. We did see two, but they were far from the boat and hard to see.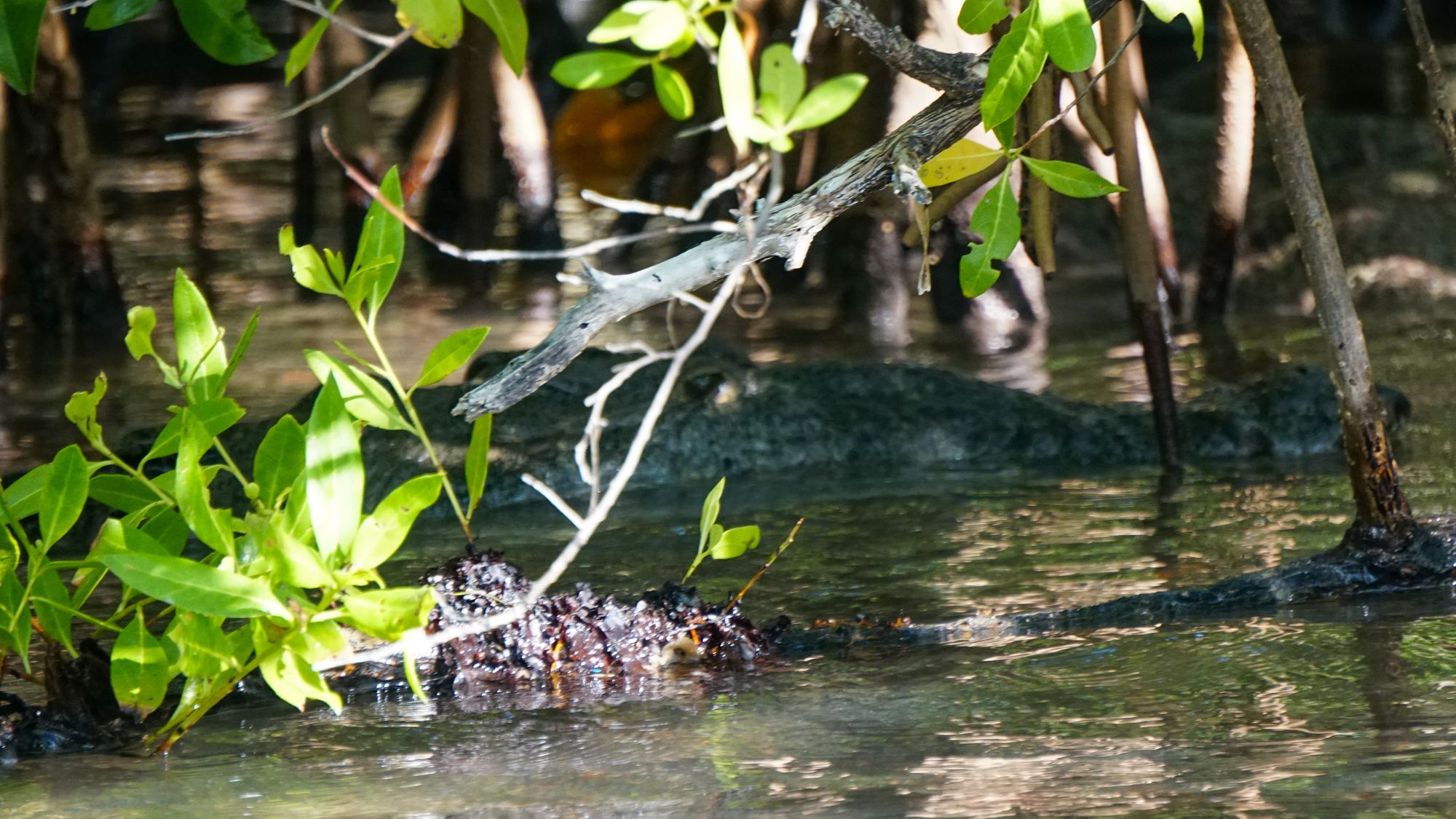 After going through the mangroves, the boat headed to Isla de Pajaros, a small island covered in Pelicans, Frigates and Boobies. We boated most of the way around it. It was mating season, and these birds were BUSY.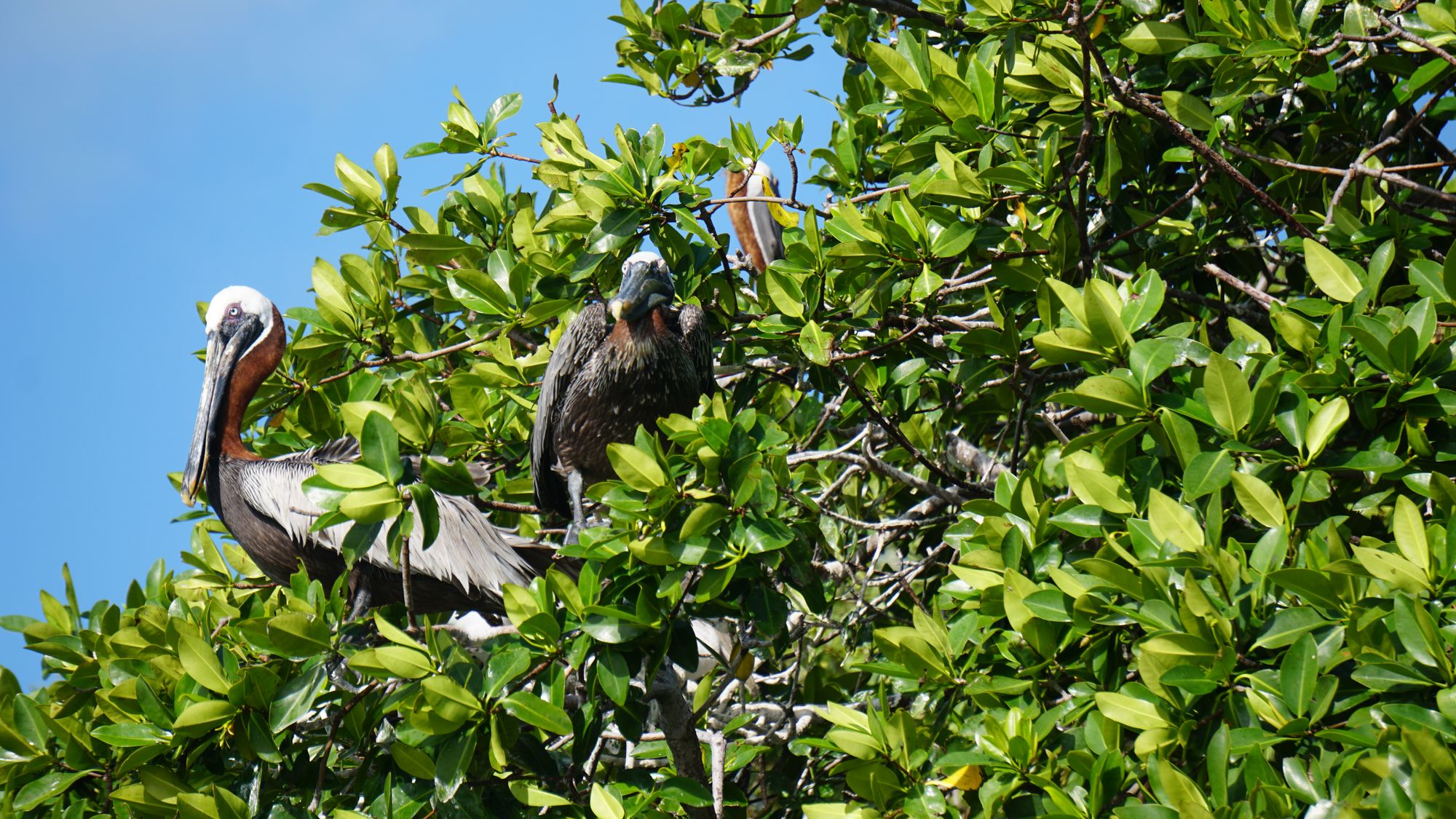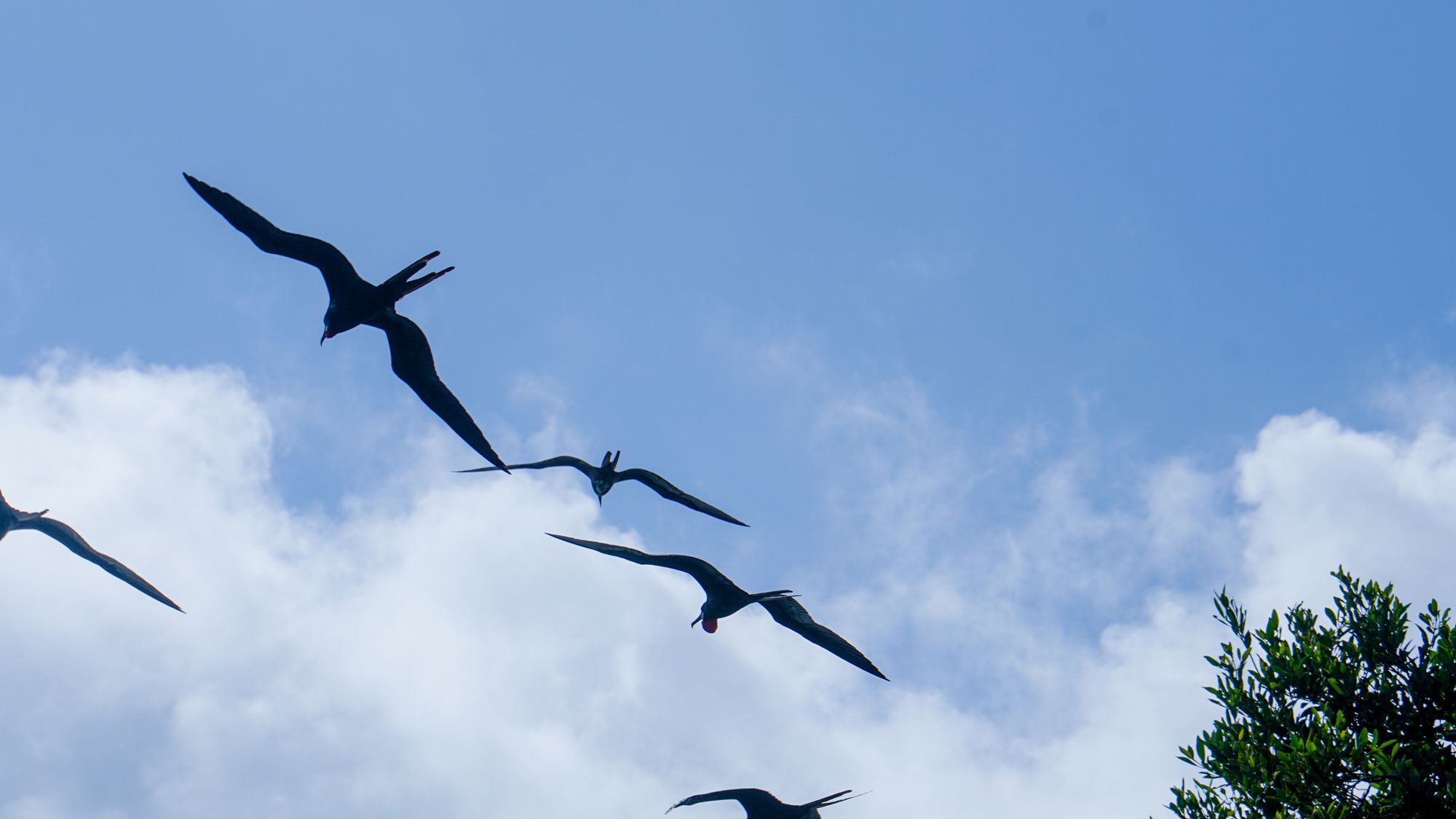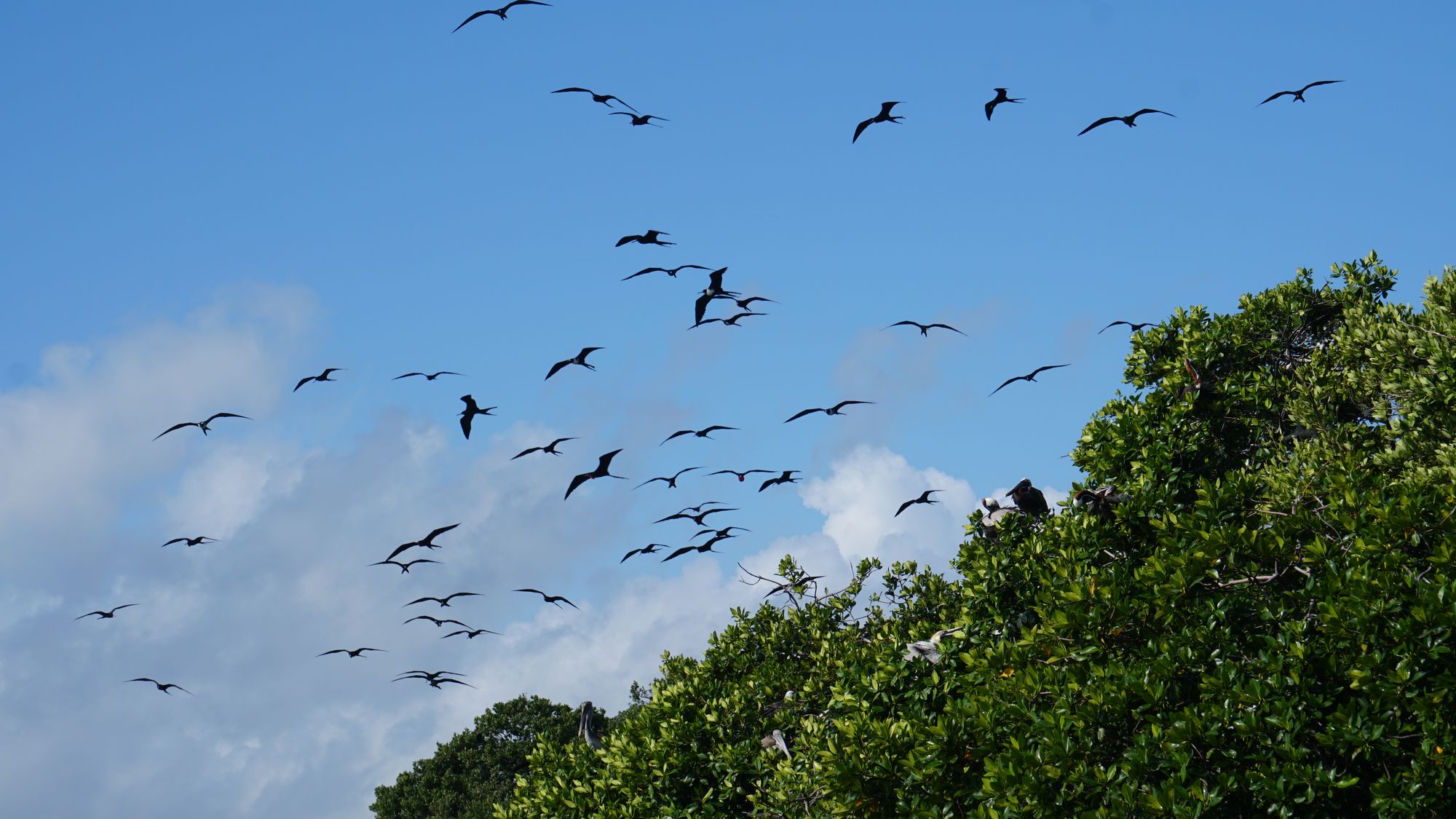 Next was the search for dolphins and turtles. We could see other boats gathering further out, so we knew dolphins were ahead. It was beautiful to see them in their natural habitat.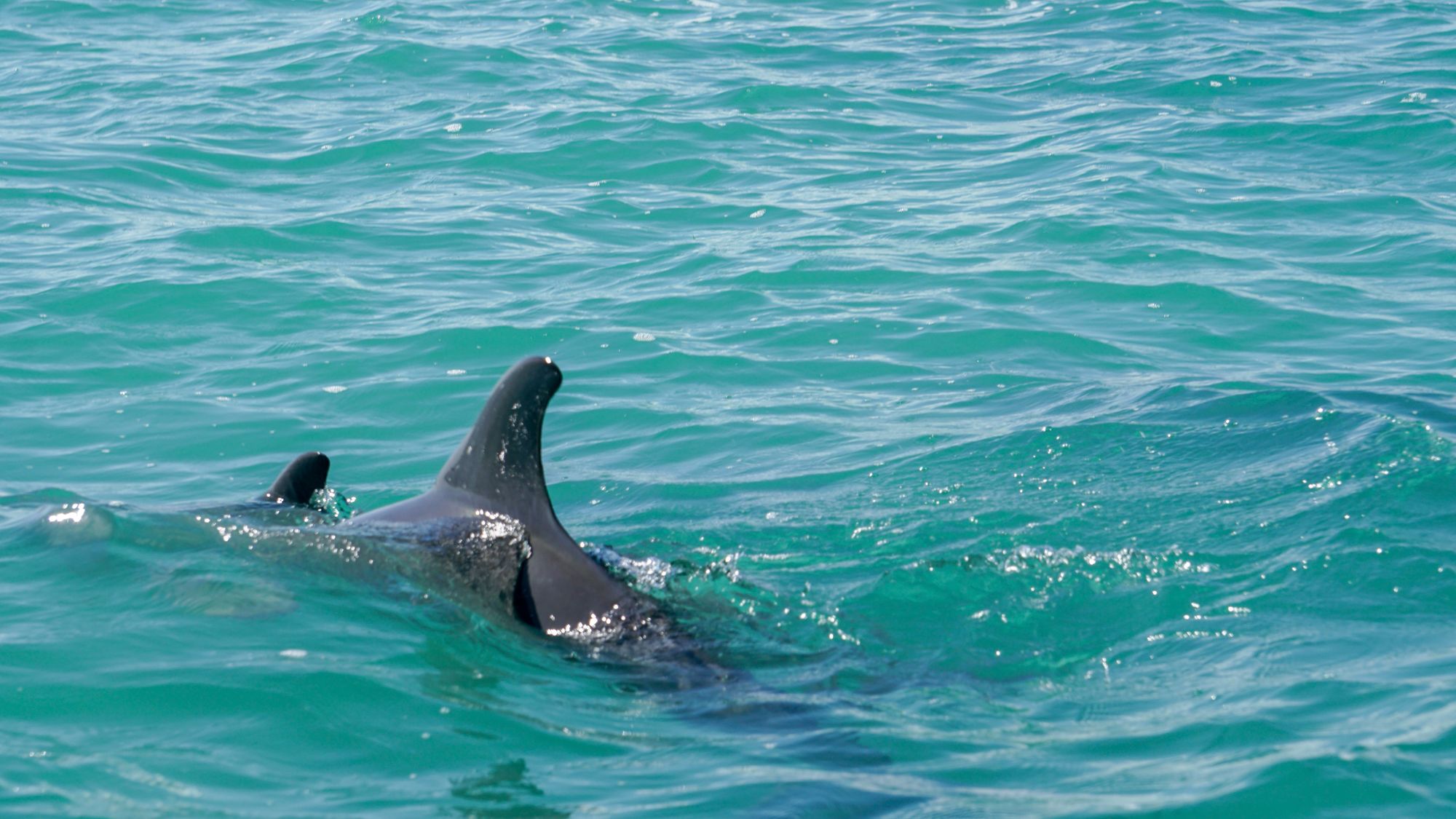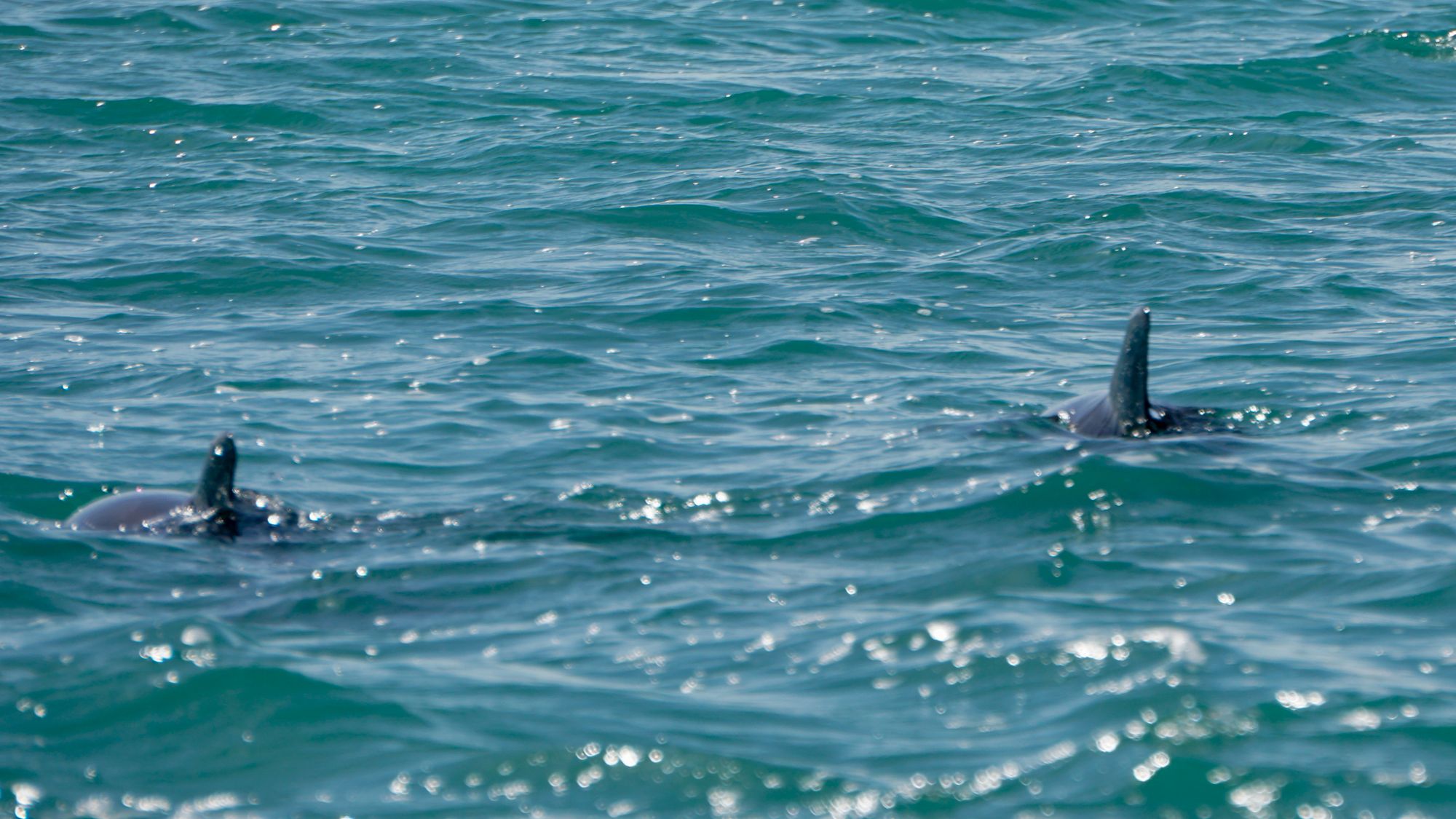 We also found one sea turtle that surfaced for a brief moment. I genuinely love turtles and would have loved to jump in the water and follow it, as I did in Bali (that's a whole other story!) - but that was not allowed here!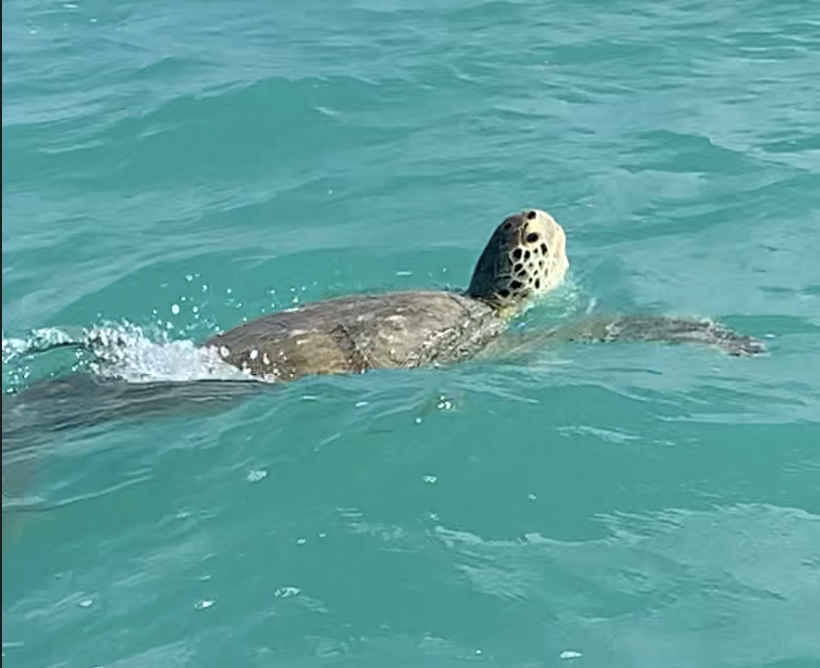 We were supposed to go snorkelling at the Mesoamerican Barrier Reef, the most extensive barrier reef system in the Western Hemisphere; however, the weather issue continued to plague us, so we didn't snorkel that day either.
Instead, we headed into shallower, calmer waters, and we were able to jump into that brilliant turquoise ocean and swim around. The water was extremely salty, and my eyes hurt, but it was awesome!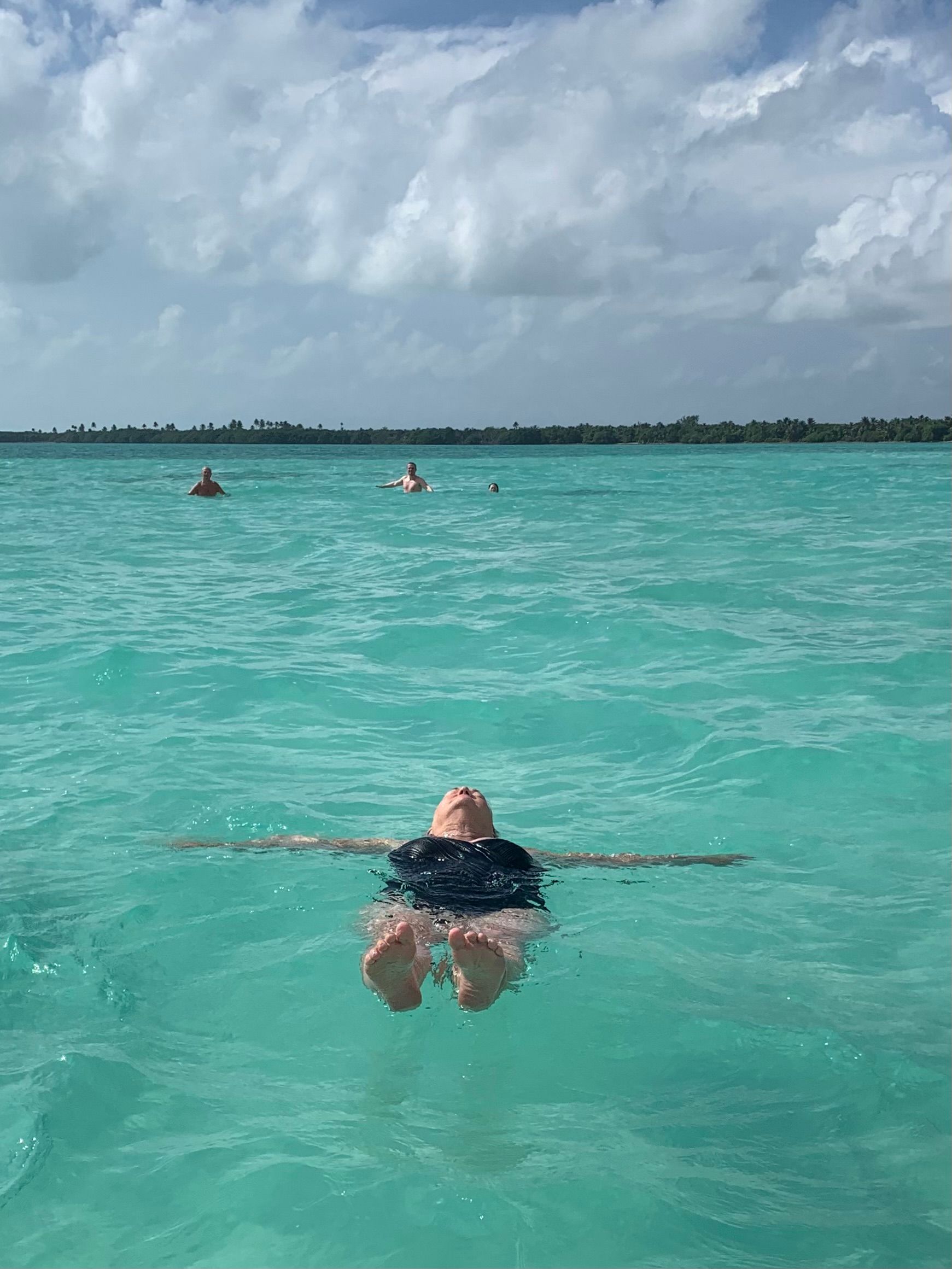 Then it was time to go to the "fishing village" of Punta Allen for lunch. It didn't seem like an authentic Mexican village - but the lunch was surprisingly good. So often, on tours like this, you are given something mediocre. And it was another fabulous beach.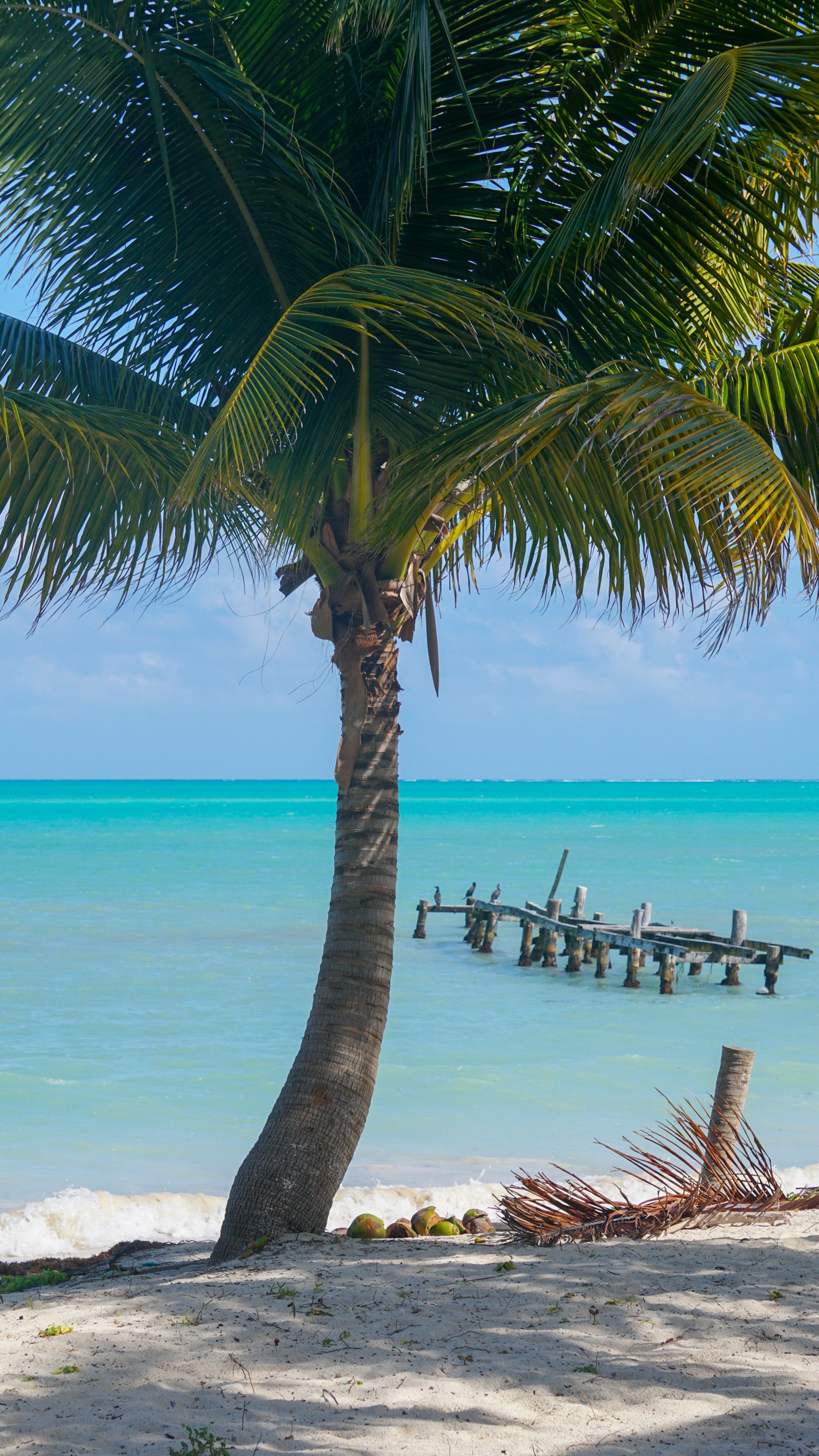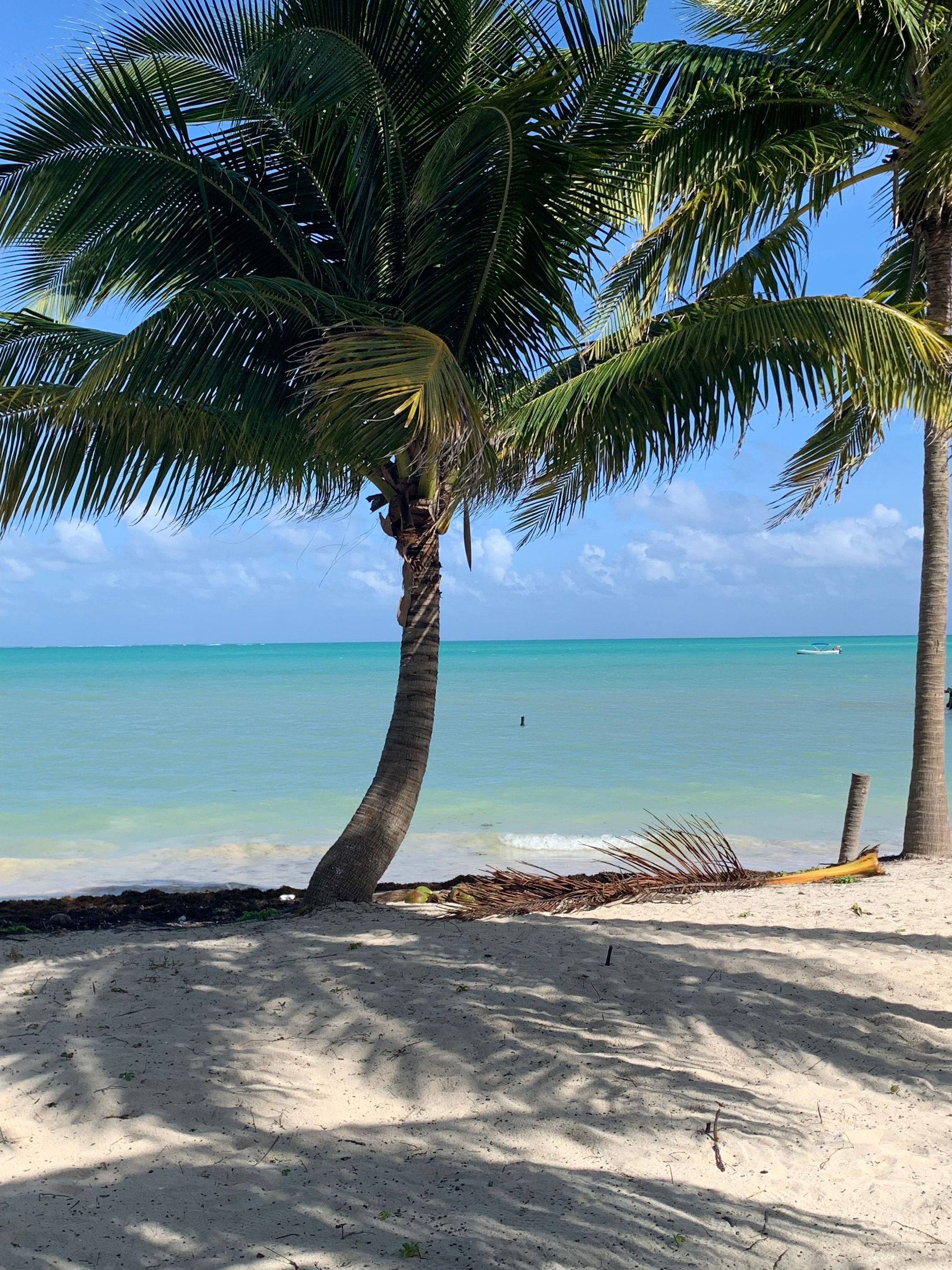 After spending time there, we all climbed back into the boats and headed back to the tour's home dock for the very long van ride home.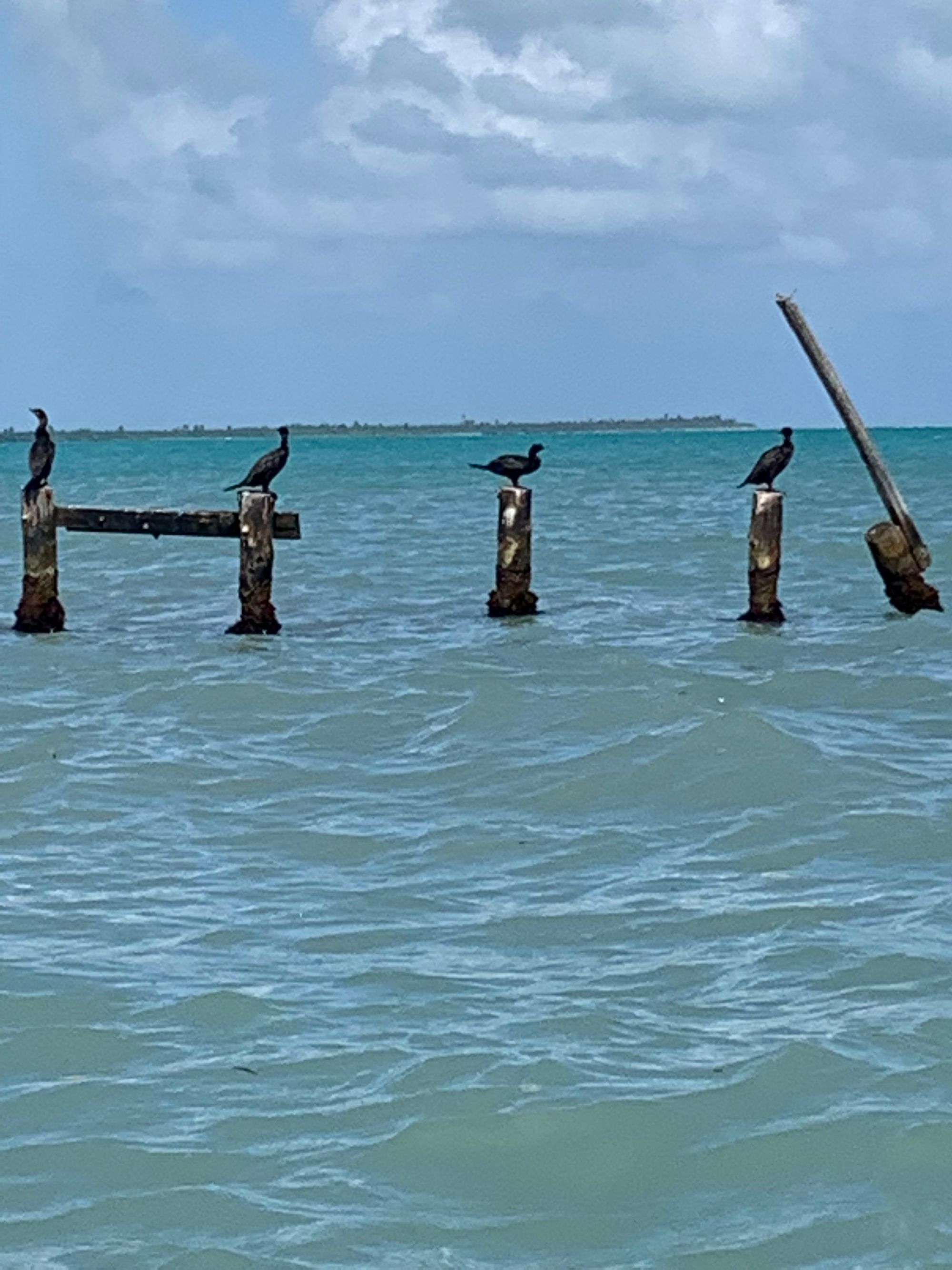 I do have a couple of suggestions for Pixan Ka'an, though. While Covid is still an issue, I would suggest only half the people in the van - twelve was too many. We also had a group who were not inclined to wear masks and questioned the need.
It also made for an extremely long day to drive from Playa, picking up four other groups along the way. It would have been nice to split us into two vans as we ended up in two separate boats anyway.
Even with that, all in all, a delightful day!
#5 - FIVE CE NOTES JUNGLE TOUR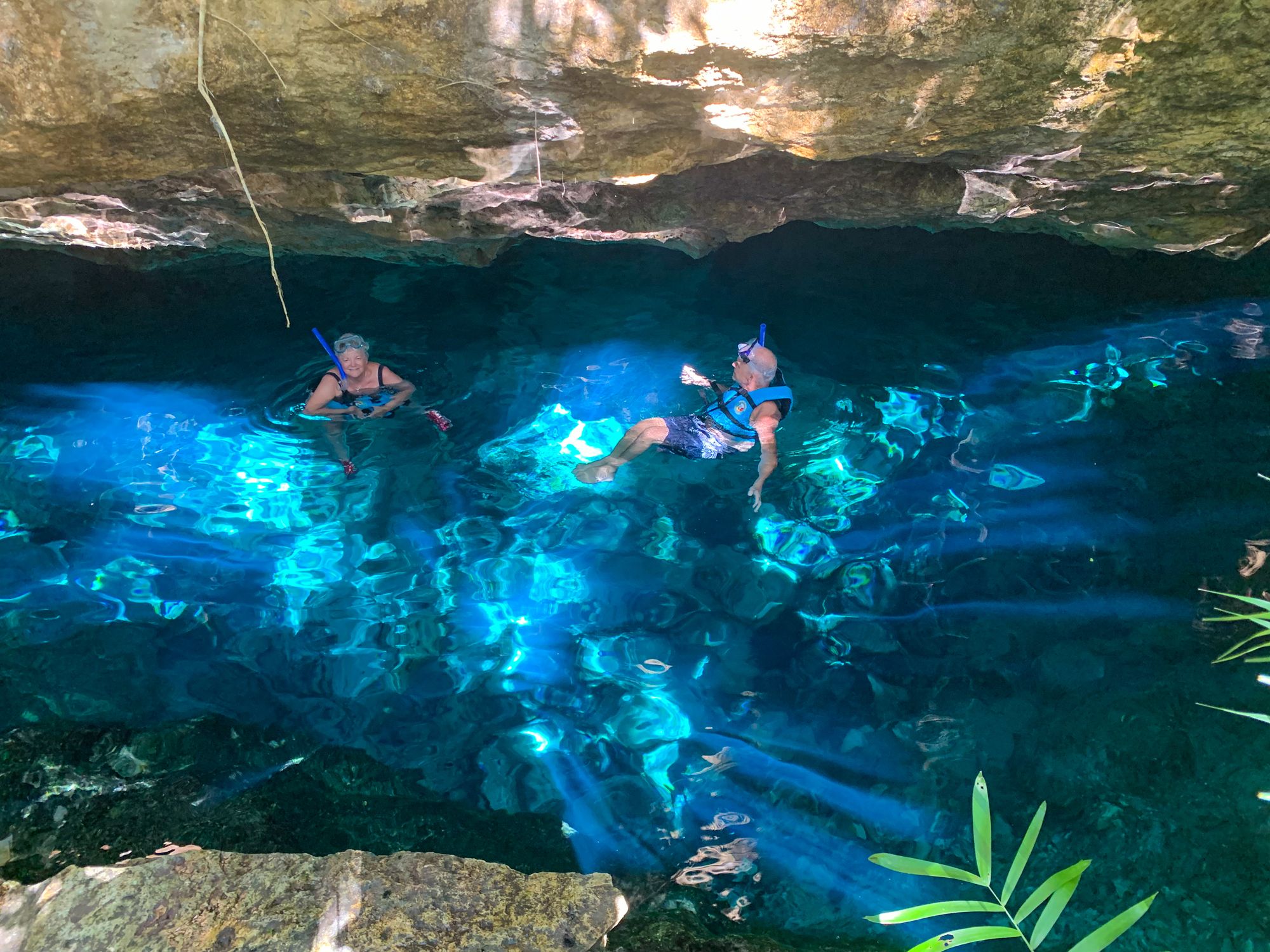 Our final tour was with Fabio to see five cenotes. You can book this through Airbnb Experiences for $162 USD per person. ($207 CAD). All you have to do is read the reviews to know that this adventure is well worth the price.
I will confess, at this point, we were paying far more money for these experiences than any local would, or perhaps, could.
We met Fabio at our cooking class, where he had brought the other people attending. He had been kind enough to give us a ride back to our condo at the end of the evening, and we had talked about his tour then. As we had wanted to see a cenote and our time was winding down in Playa, AND as Fabio was a bit of a character, we signed up. We were not disappointed!
I was happy that this tour started at the reasonable hour of 11:00 am. We drove to the cenotes, a short drive south of Playa. "A cenote is a natural pit, or sinkhole, resulting from the collapse of limestone bedrock that exposes groundwater. The regional term is specifically associated with the Yucatán Peninsula of Mexico, where cenotes were commonly used for water supplies by the ancient Maya, and occasionally for sacrificial offerings."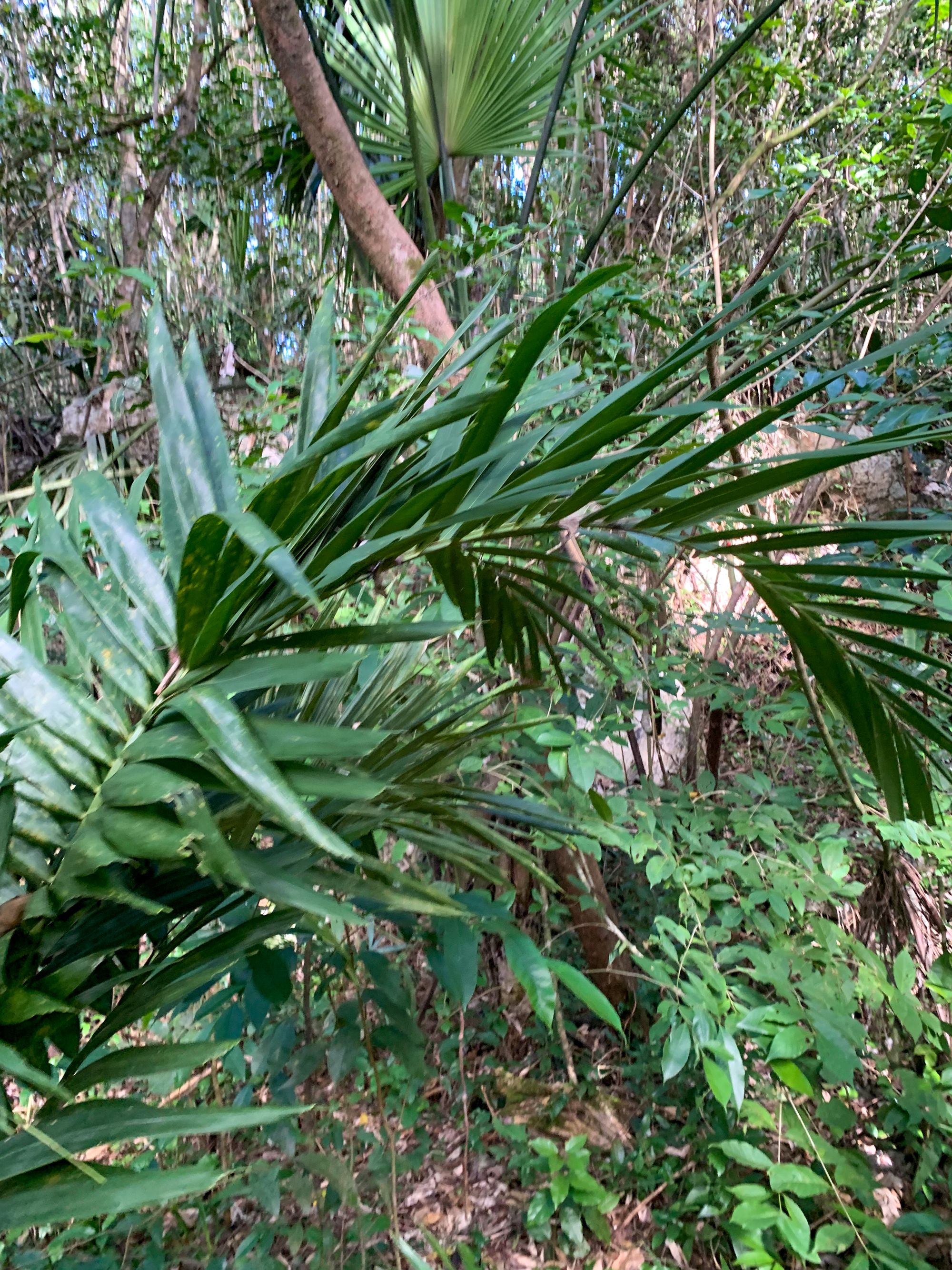 The complex we visited was owned by one family and was very well developed and maintained. While we were there, there was only one other group viewing the cenotes, so we had each of the cenotes to ourselves. We were able to swim in three of them. If you plan to swim in the cenotes, you must use reef-approved biodegradable sunscreen and insect repellant. You can buy these on arrival at the site if you don't have any with you. Fabio provided us with safety jackets and snorkelling masks with new mouthpieces (an additional charge for the masks and mouthpieces).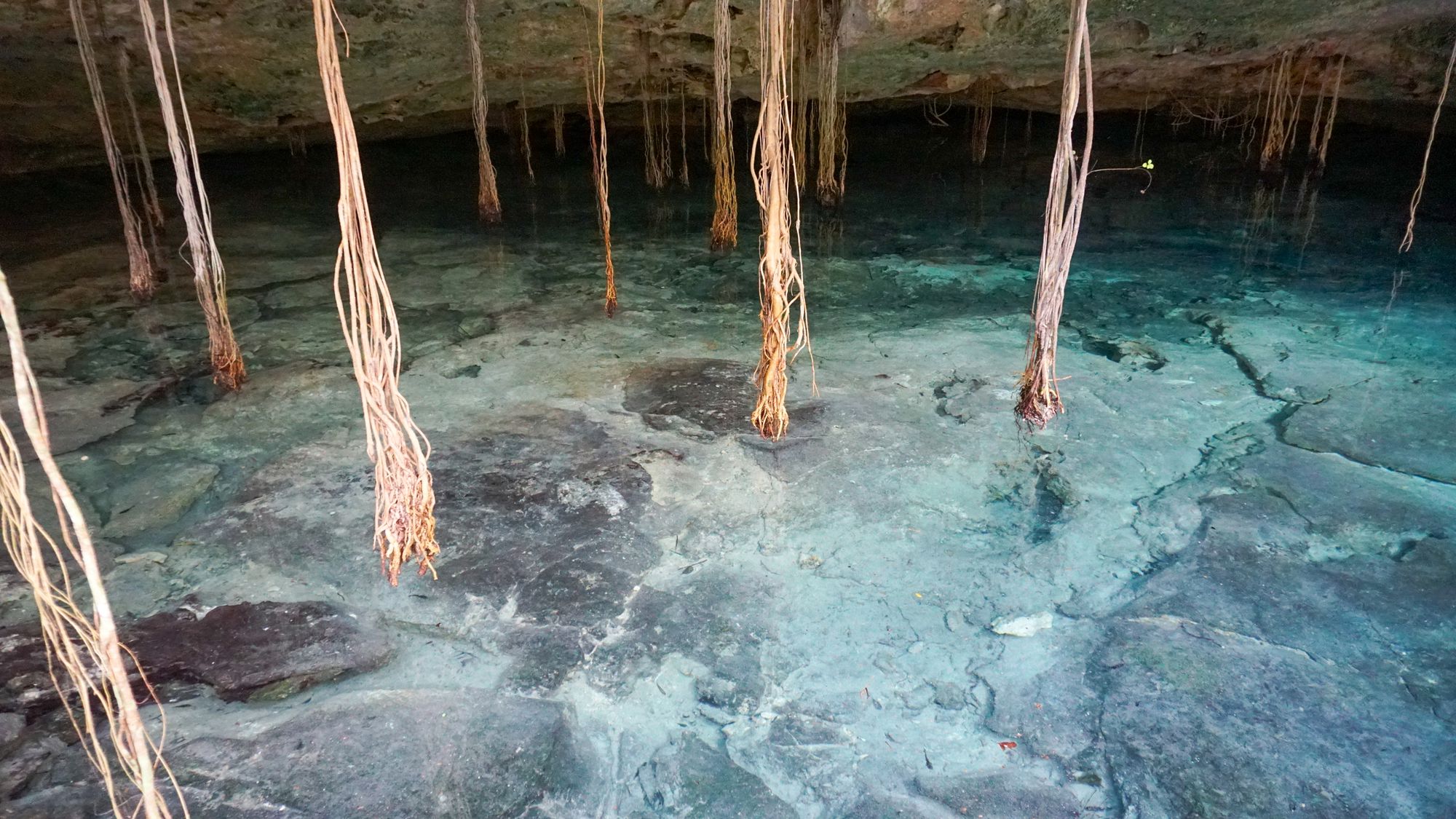 Each of the five cenotes is different in size and colour. Fabio provided us with information about each. They were all stunning. The exclusiveness of these cenotes is priceless. We had as much time in each as we desired; we were never rushed or encouraged to move on until we were all ready.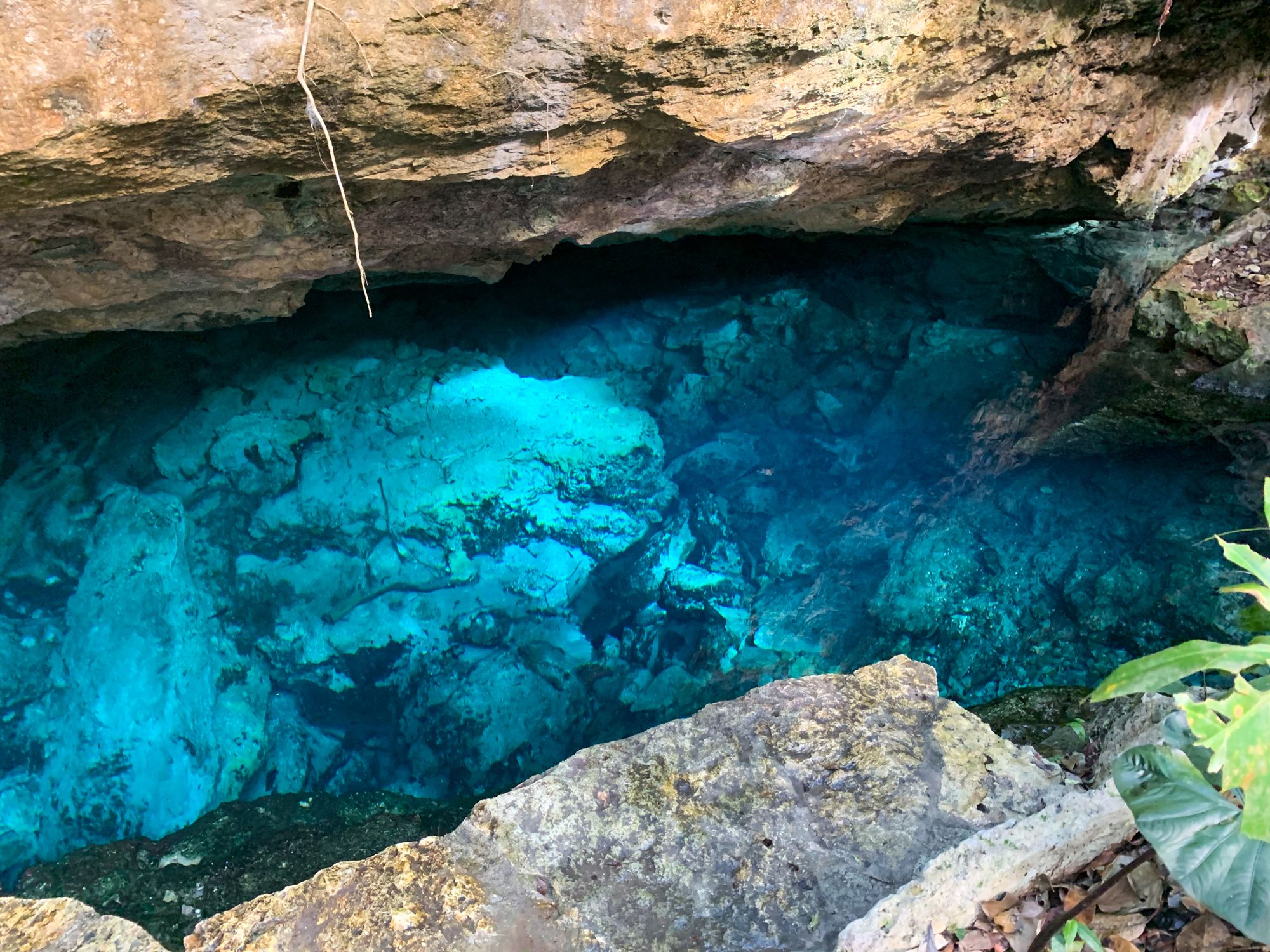 It felt like another very magical place, and I was delighted when two blue dragonflies settled on my snorkel tube and even more so when one decided to land on my arm and visit for a moment. I believe that dragonflies inhabit magical, mystical places. If a dragonfly visits you, it's considered a symbol of good luck in many cultures.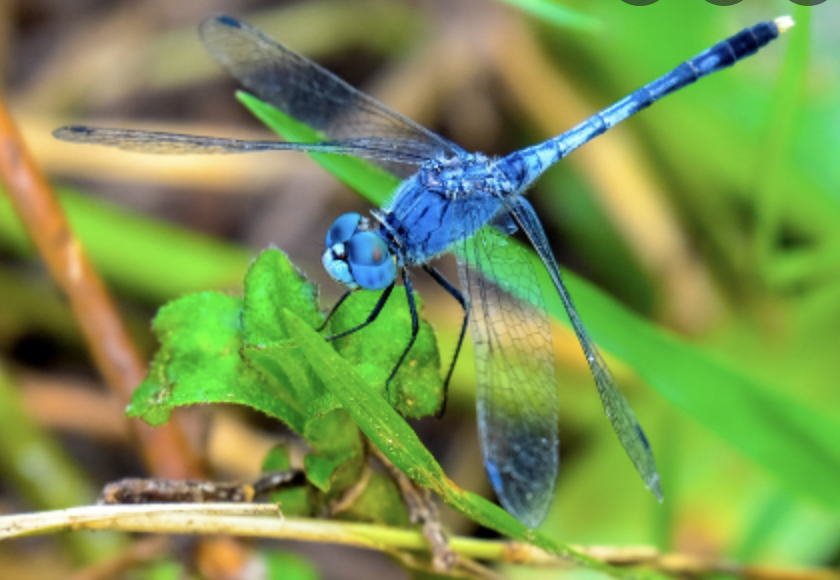 Fabio is also a certified diver, and if you are a strong swimmer, he has a surprise for you. Neither John nor I are solid swimmers, but we enjoyed watching one of our group take advantage of the extra experience. Enough said about that - you'll have to take the tour with Fabio to find out more.
Our group consisted of three other adults and a baby. The baby was not too impressed with the tour, but we were.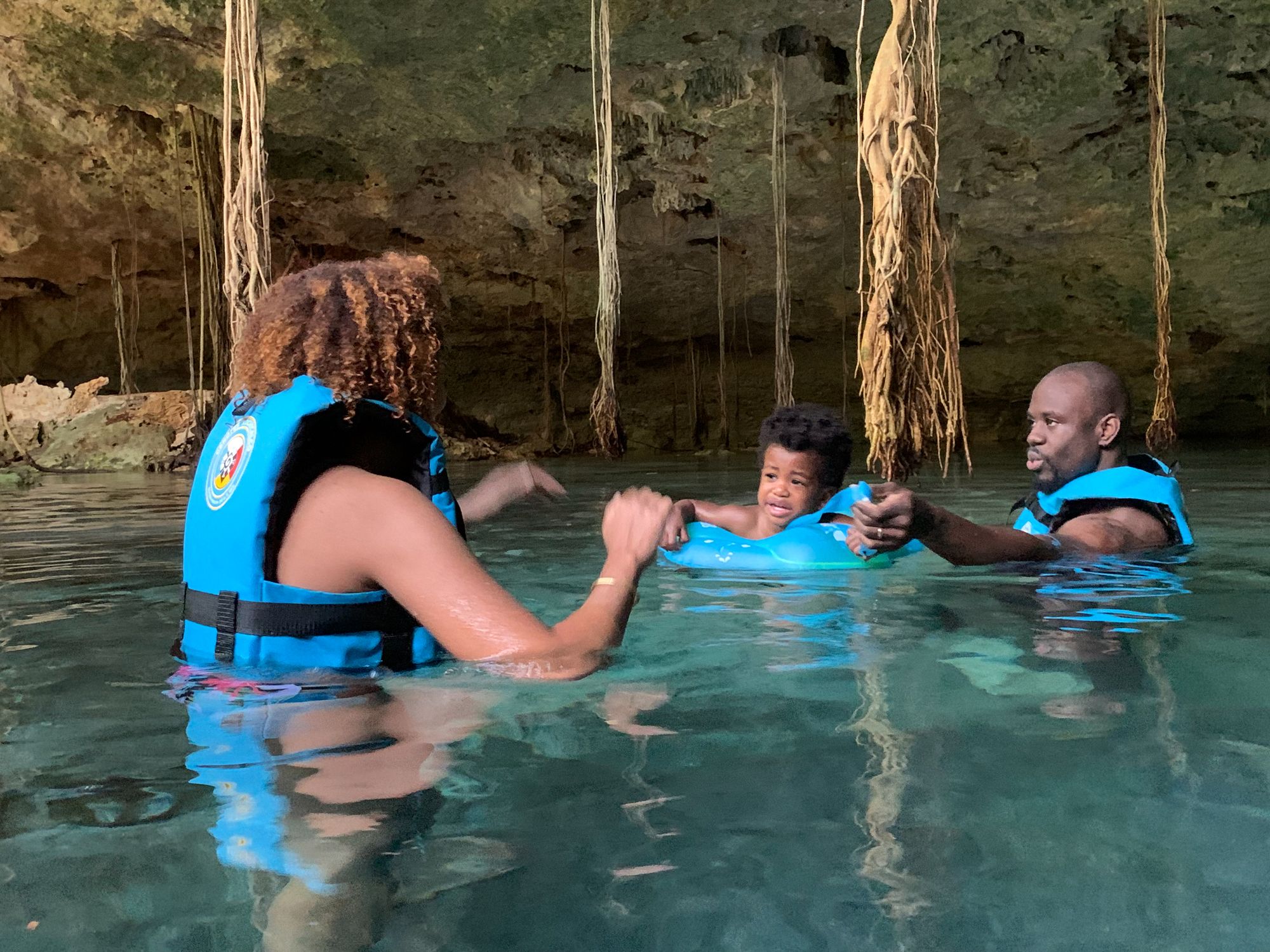 Once we had all had enough swimming, we got changed and headed back to a restaurant in Playa, where Fabio had arranged for a great late lunch/early dinner.
We highly recommend this tour. Although we didn't attend any of the public cenotes, we understand from reviews that it is a rare opportunity to have the privacy and luxury of having the cenotes to yourself.
So that wraps up the five "tours" that we did while visiting Playa del Carmen. I hope I have given you some ideas for what you might like to do while visiting this area of Mexico.
Check-in for the next blog to find out what restaurants we enjoyed in Playa del Carmen - and maybe a couple that we didn't.
Until next time........