It was time to travel from Pinhao to Porto, our last Portuguese stop. We had to get OLF into the city by noon or get stuck with massive additional costs. Suddenly, ViaMichelin was telling us it was going to take more time than we had. It's a good thing I like driving fast!
It was frustrating for this photographer not to stop and take pictures of the incredible views of the Douro Valley with its mirror-like images. For someone who isn't "into" landscape photography Portugal has made it very hard not to be.

We arrived, sweating, in the city just in the nick of time, then had to hunt for someone to check us in. Ultimately, they did bill us for more money because we were "late," which I disputed and got returned.
We found our way to our Airbnb and climbed beautiful stairs to our apartment on the 4th floor while looking at the awesome skylight. It appears the apartment is not currently for rent on Airbnb, but you can still see it at the link. It was very comfortable with a Juliet balcony where I watched people below. It was kind of a funny layout, though. It looked like they had plopped a box in the middle of the apartment, making two narrow hallways from the bedroom to the other end of the apartment, with a kitchen on one side and storage on the other. It was a little weird but OK for three days.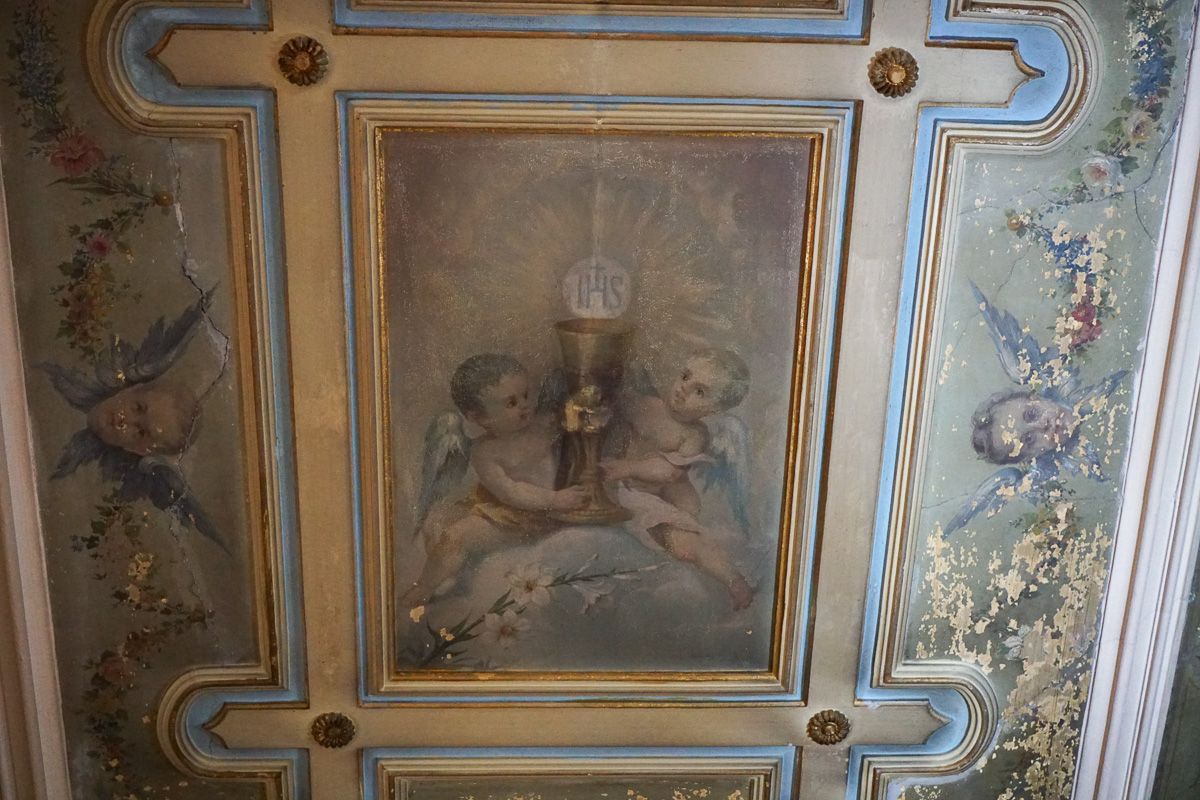 We were famished, so we asked our host for a suggestion on where to go for lunch. She suggested Cafe Santiago and encouraged us to try Porto's famous "francesinha" sandwich. Many restaurants offer this sandwich on their menu, but Cafe Santiago has a reputation for being the best. You can see how they make it at https://cafesantiago.pt/#section1.
This sandwich is a heart attack waiting to happen. The literal translation is "French Woman."  It "is a loaf of bread, mortadella, fresh sausage, sausage, veal steak, ham, cheese and francesinha sauce."  The cheese covers the sandwich, and then hot tomato/beer sauce is poured over it to melt the cheese. It was delicious, and it was good that we shared one!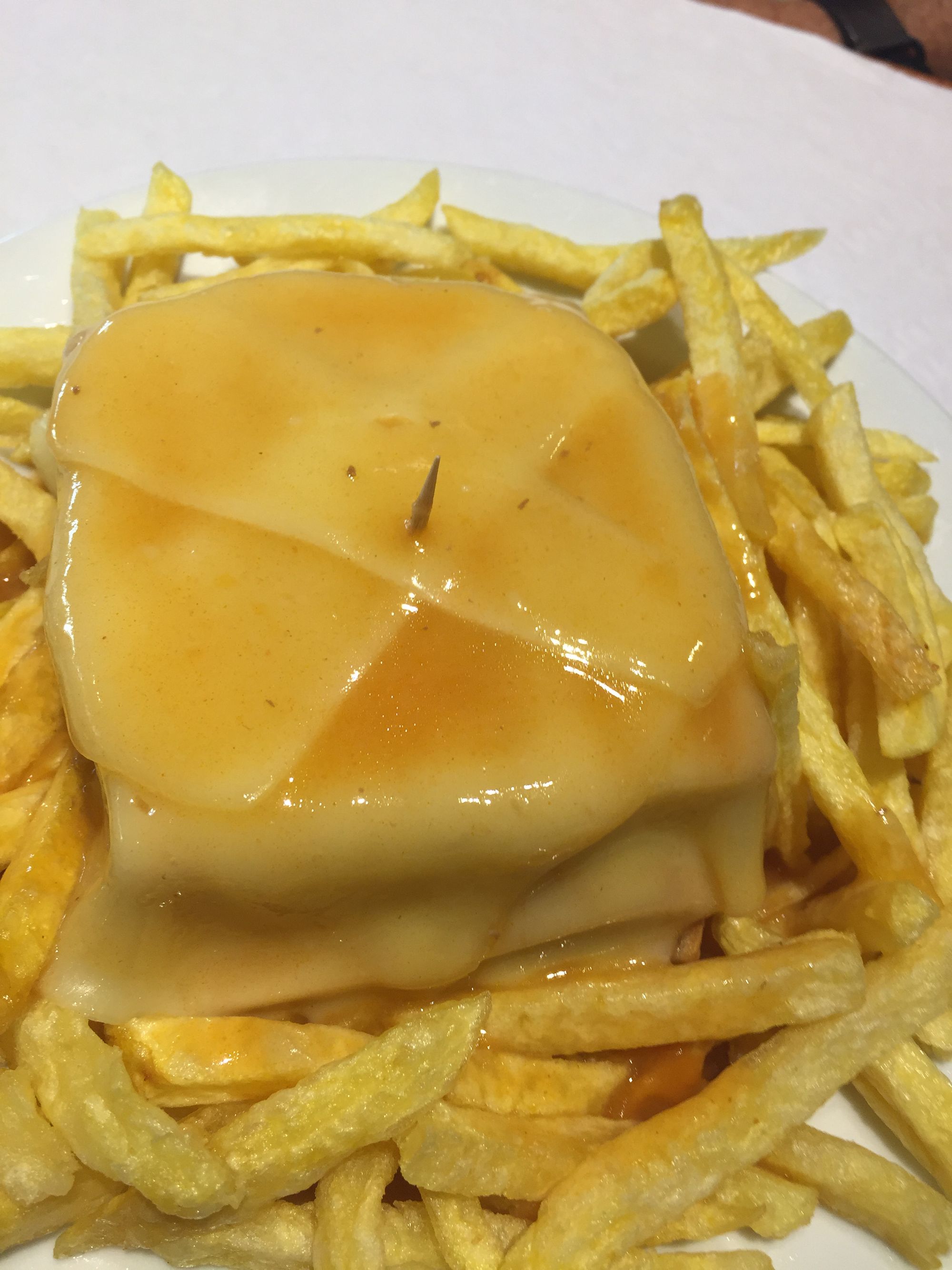 We spent the rest of the day wandering around this fabulous city. Our apartment's location was ideal for this.
We walked down to the river to the Dom Luis Bridge. "The Dom Luís I Bridge, or Luís I Bridge, is a double-deck metal arch bridge that spans the River Douro between Porto and Vila Nova de Gaia in Portugal. At its construction, its 172 metres span was the longest of its type in the World." It's awe-inspiring! Cars travel below you and trolley cars beside you. There is no protected pedestrian area, and tourists tend to wander back and forth across the tracks. This is NOT a good idea. The poor trolley drivers!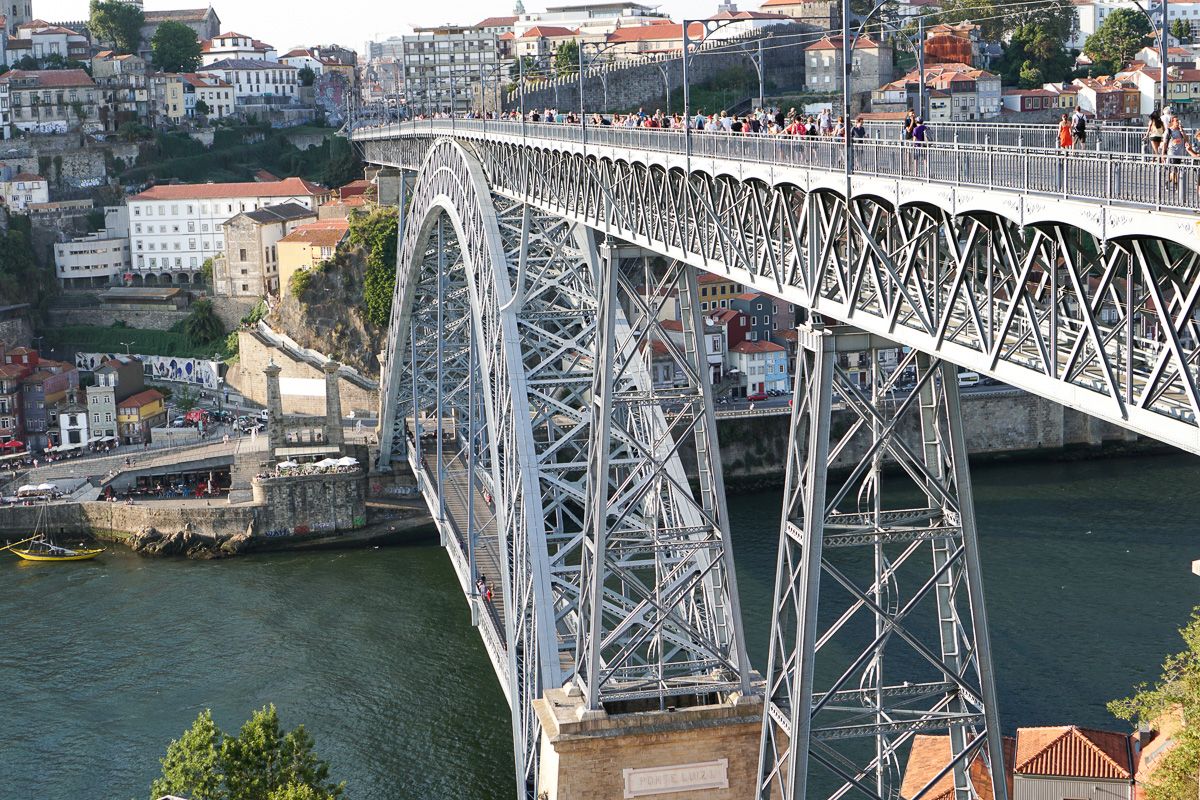 From Vila Nova de Gaia port and wine is shipped to the rest of the World. You can see the names of the large port wine houses on the roofs of the building on the Gaia side. There is a Gondola on that side called the Teleferico de Gaia, which takes you down that side of the river. But there were long line-ups, and our stomachs reminded us that it had been a long time since lunch. So it was time to find a restaurant.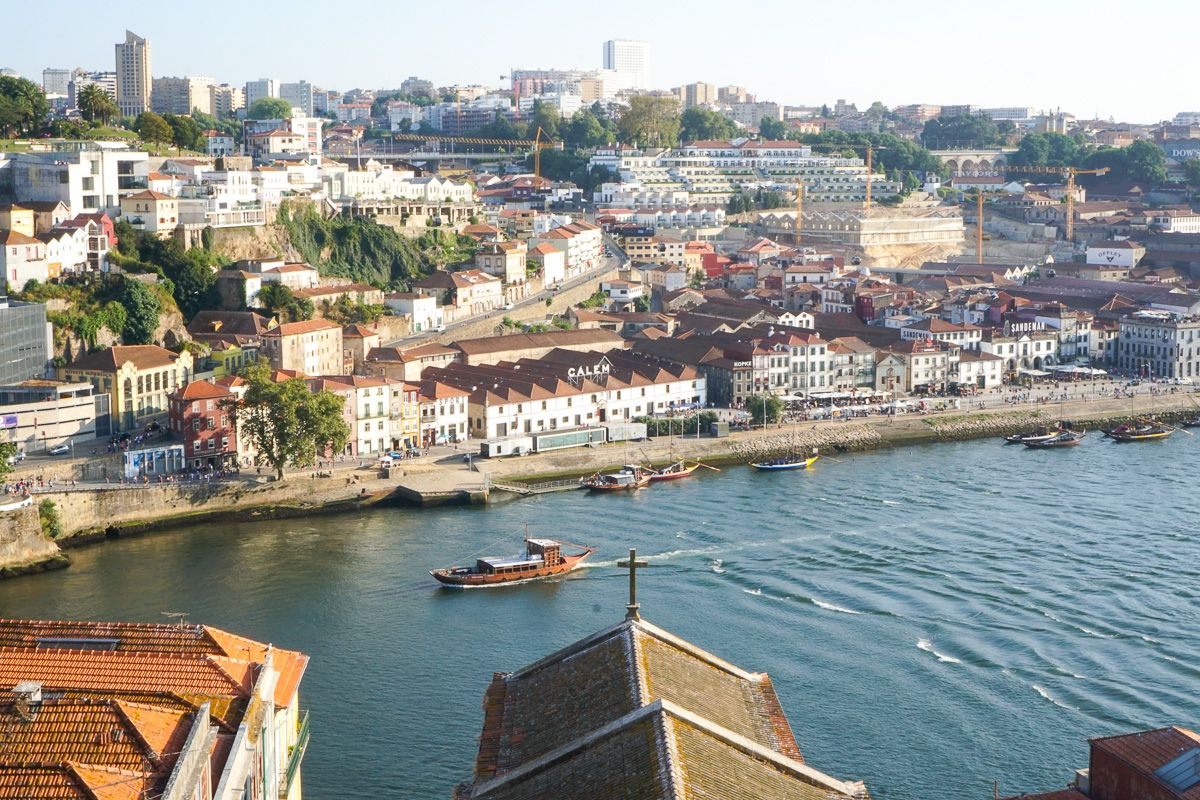 We went to Tapabento S.Bento,  near the São Bento train station, another Tripadvisor recommendation. We had the best meal of the trip!  We'd had several delicious meals, but this one topped everything. The restaurant was slammed, but the lovely hostess promised to get us in. We were very fortunate and grateful when she did. From the back of the restaurant, in a very tiny kitchen, the four chefs made magic. I have forgotten what we ate; however, I remember that it was fabulous.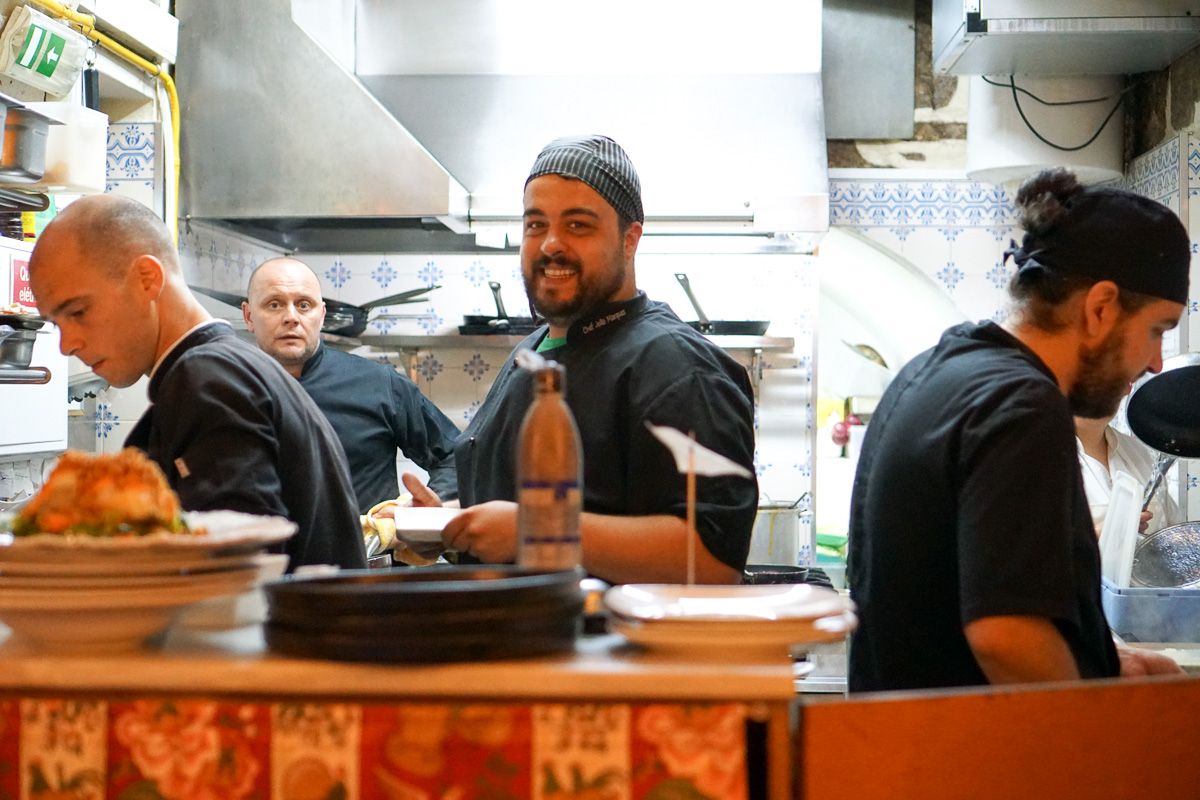 The next day we did a four-hour walking tour with Free Tours. This type of tour is available worldwide, and we have availed ourselves of them frequently. You pay your guide what you feel the walking tour is worth. There are many companies out there now supplying them.
We covered a lot of the same area that we had been the previous day. We saw the Majestic Café, considered one of the most beautiful cafés in the World. Built in 1921, it is renowned for its stunning interior. In the '90s, the café was restored to its original glamour. The McDonald's nearby started life as the Imperial Café in the '30s and still has the giant eagle that inspired the name out the front. When McDonald's acquired the location, I believe they had to maintain the historical integrity of the building. Why would you want to change it? It is gorgeous inside.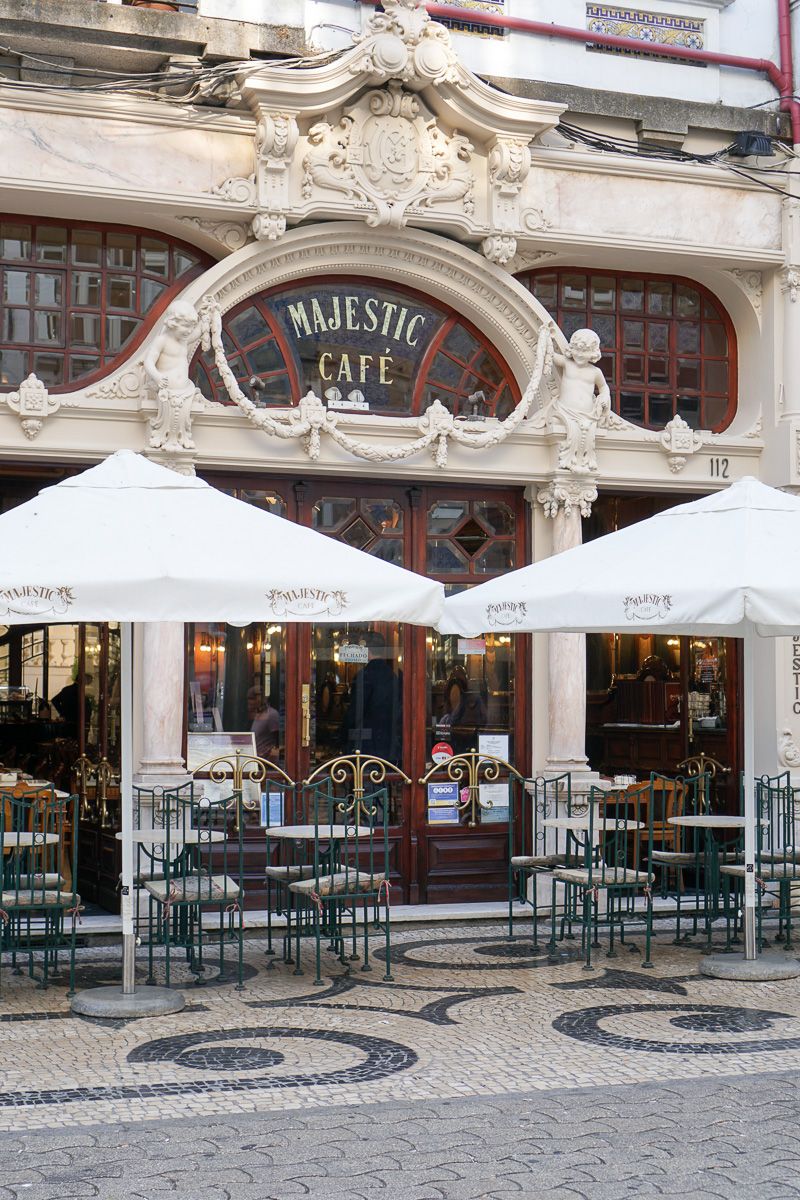 And what can I say about the São Bento Train Station? Fabulous, don't miss it, incredible! It is a Unesco World Heritage Site. "The vestibule is covered in azulejo tile, framed by pilasters. There are approximately 20,000 azulejo tiles, dating from 1905–1916, that were composed by Jorge Colaço, an important painter of azulejo....The upper parts of the frieze are lined with polychromatic (multicoloured) azulejos depicting a chronology of some forms of transport used by people in various areas of Portugal. The lower and upper frame of the frieze consists of a line of tile in blue, browns and yellow in a stylized geometric pattern." For more information, please check out Wikipedia. It is a work of art and challenging to describe in a paragraph or show in a photograph.
Our guide also pointed out the signs on various streets and alleys for the Camino de Santiago, consisting of numerous trails from Portugal, Spain, France, Germany and other countries. The walk from Porto to Santiago takes between 10-12 days and is approximately 240 kilometres. The yellow arrows and clamshell signs (looks more like a star here) point the way. You can see how narrow the streets are in this part of Porto. We also saw the high watermarks on the wall from the previous flooding in the area.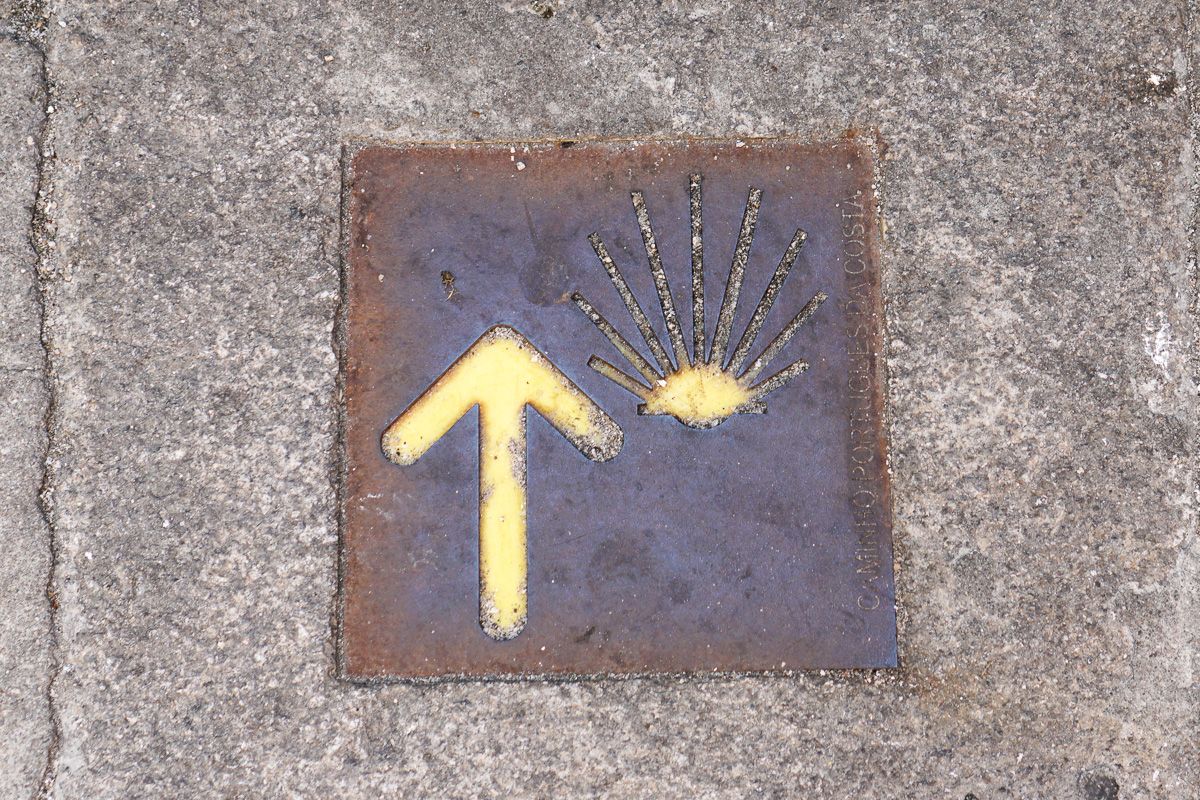 We didn't attend any Fado performances in Portugal as we were much too happy and hot to feel sad and melancholy; however, we did visit a music store. We learned about Fado's instruments: the 12 string guitars called Guitarra Portuguesa and a smaller guitar named violao. There are two distinct models of the Guitarra, the Lisboa and the Coimbra, with different tuning standards. Entirely unexpected and fascinating to John!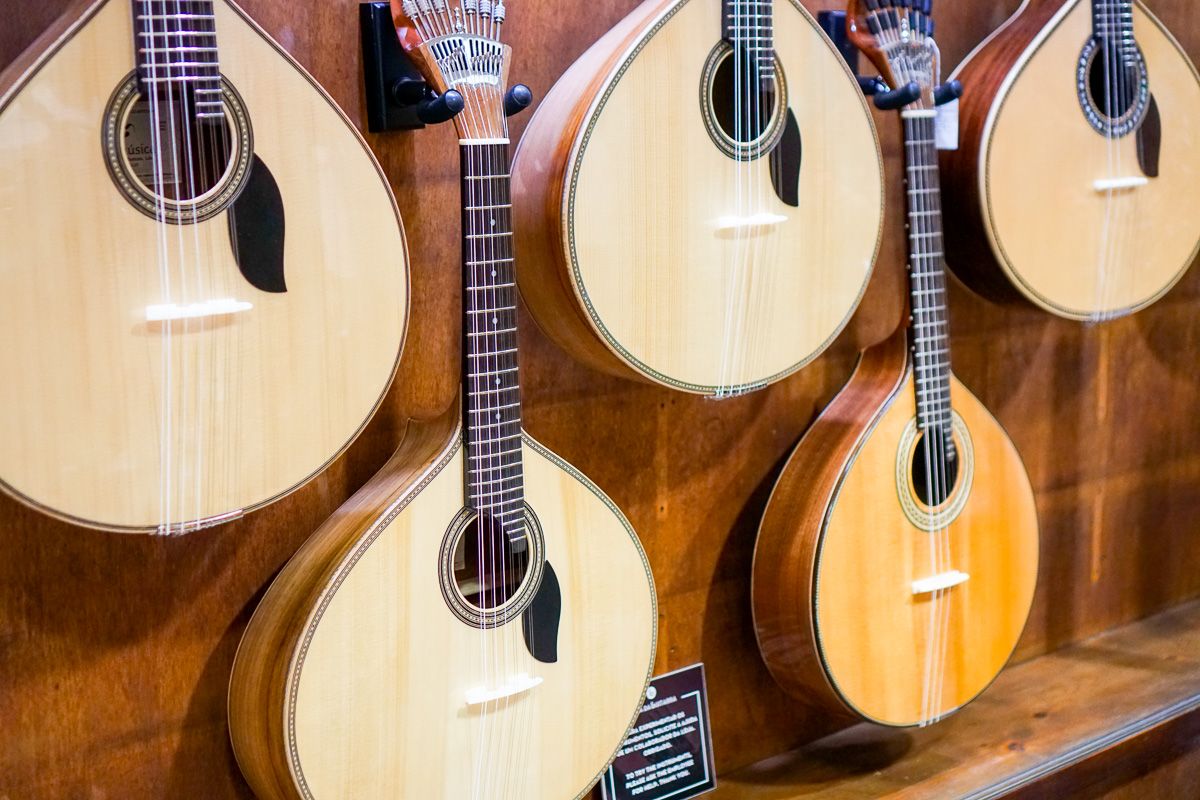 Our guide expressed concern that stealing wall tile had become a significant problem in Porto. People tear it off the walls and sell it to tourists. Tripeiros, people of Porto, ask that tourists be aware of this before purchasing any tile by ensuring that there is no debris on the back of any tiles they buy. I believe that this issue exists throughout Portugal.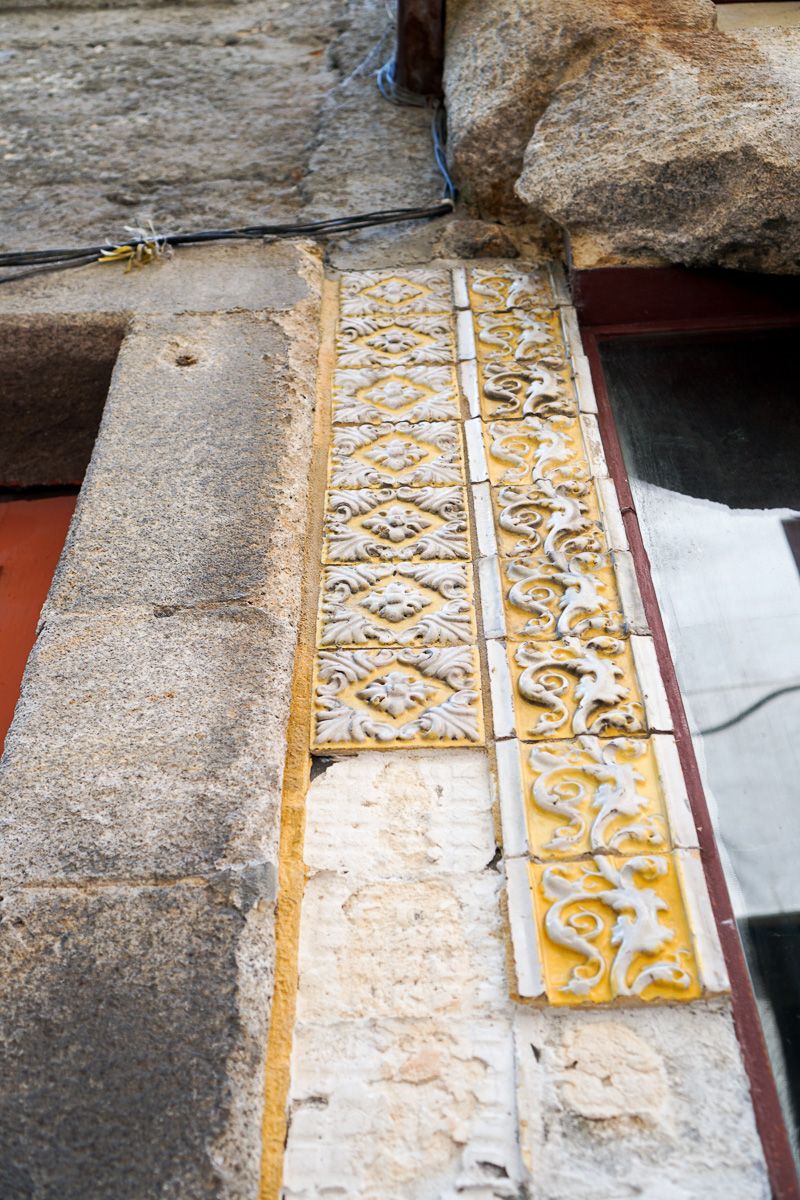 And, as always, we saw several churches.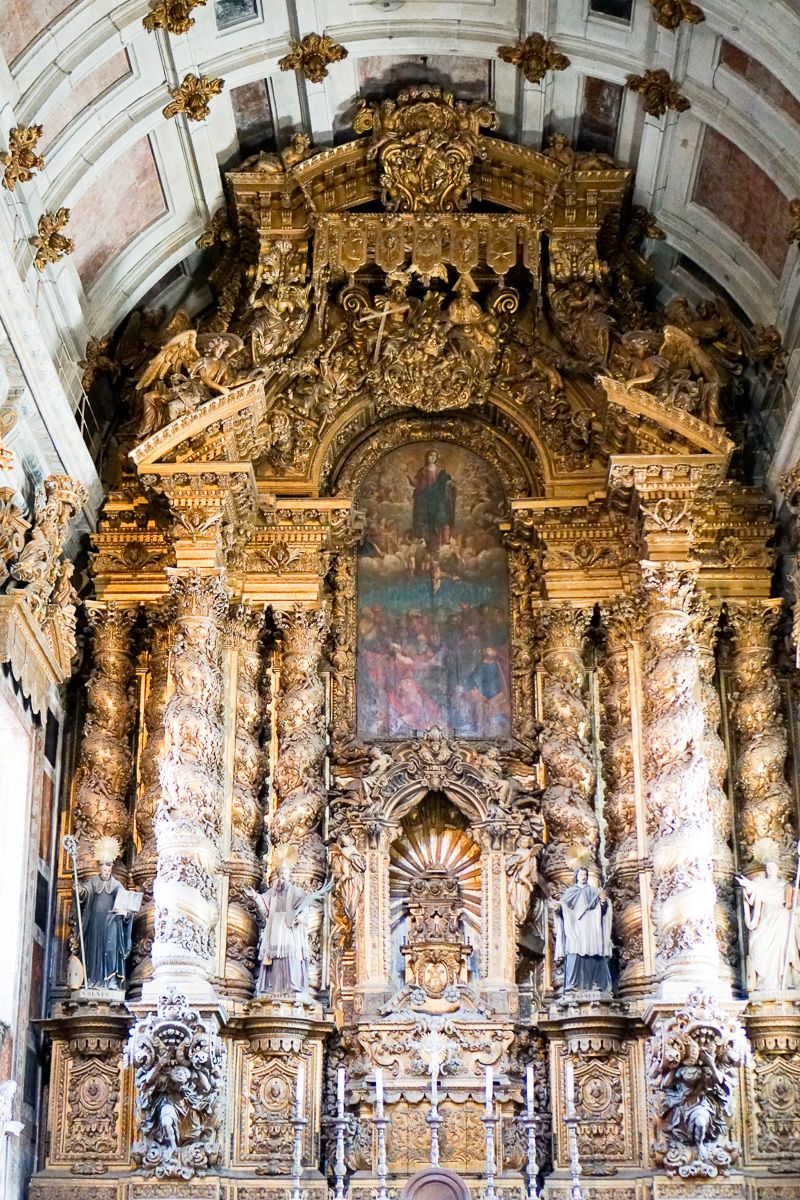 And street art.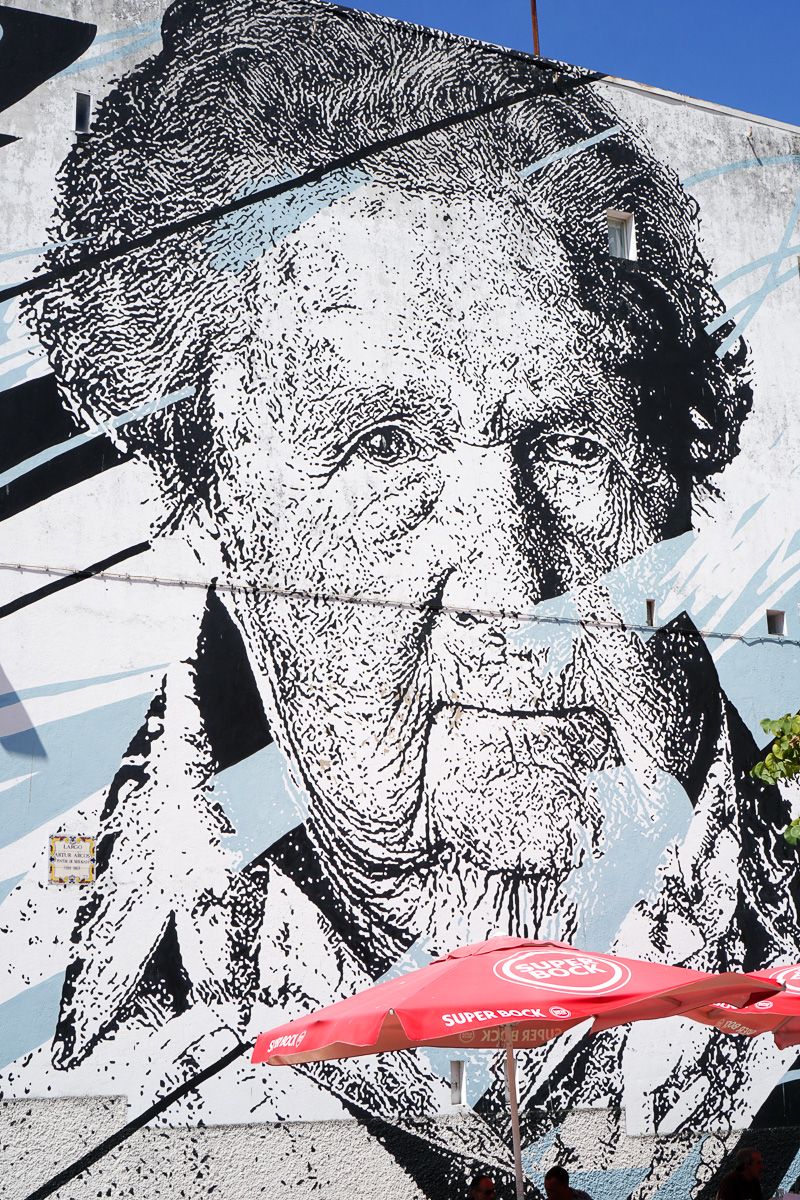 By the time we finished the tour, we were very hungry and very hot. Our guide suggested a restaurant that she advised was close by down the riverside. WRONG! After walking for another scorching 45 minutes without finding a restaurant, we headed back to the nearest restaurant we could find and had lunch.
Then we headed to the Livraria Lello bookstore, one of the oldest bookstores in the World and certainly one of the most beautiful. The Lello brothers had another bookstore nearby in the late 1800s, then had this building constructed in 1906. It is renowned for its twisting red staircase and the stain-glassed window ceiling with the central motto Decus in Labore (dignity at work) and monogram of the owners. It became more of a tourist attraction when it was rumoured that JK Rowlings was inspired by the bookstore's interior when she imagined Harry Potter's World. They charge a small fee to enter, which they apply against any purchases. On the day we were there, we had to wait in a line-up, and it was very crowded inside. It was impossible to get a clear picture of the staircase without someone on it.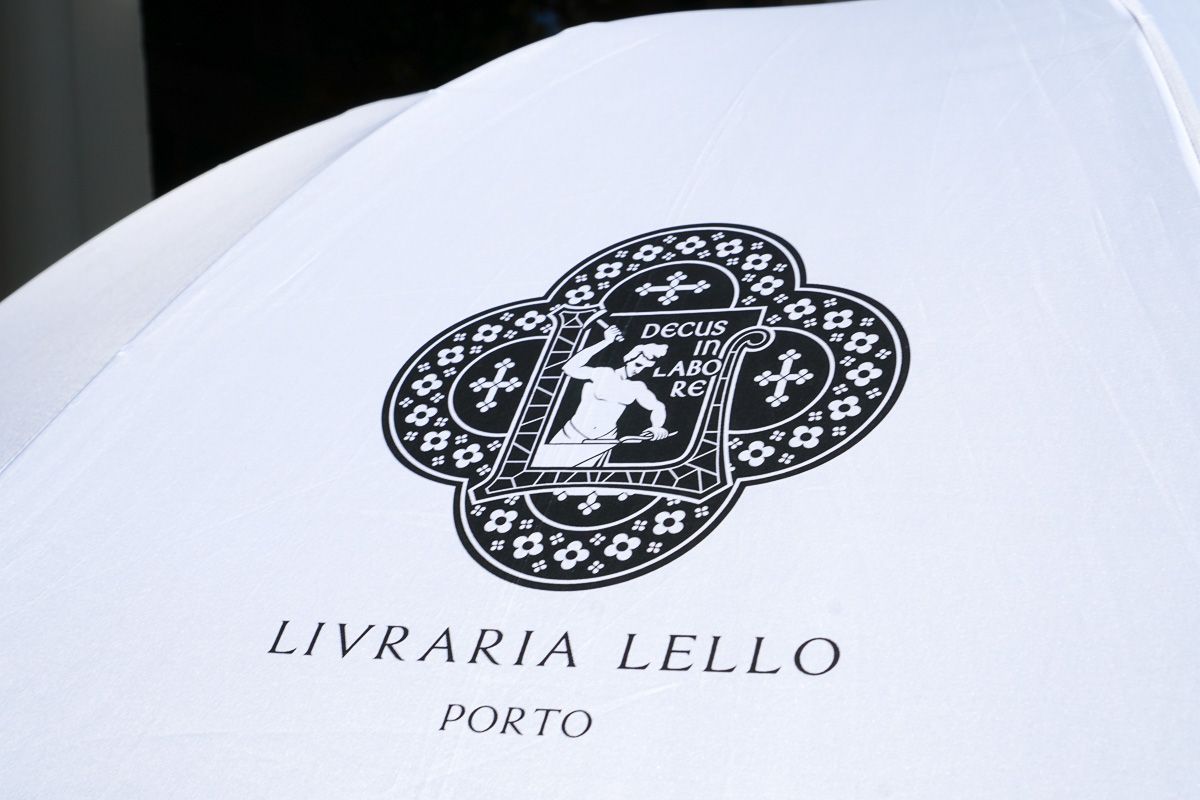 We had an unremarkable dinner and then headed home.
On our last day in Porto, we wandered around, still in awe, and realized that we needed to return and spend more time in Porto.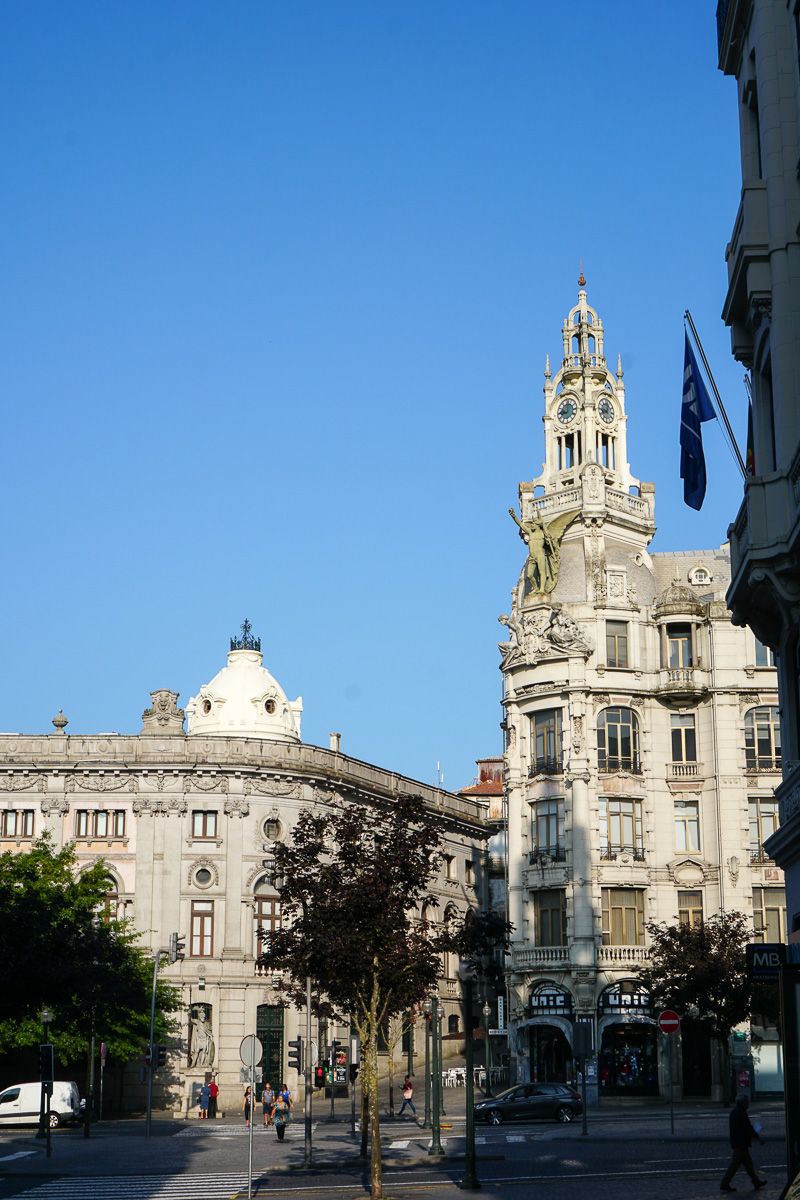 We spent our last afternoon at the Centro Português de Fotografia, going through the Frida Kahlo - Her Photos exhibit and the other displays in the Portuguese Photography Center. For anyone interested in photography, it is a fascinating museum. And the building is impressive as well. It is called the Old Chain of Relation building and has an illustrious background starting in 1582, serving as a prison/jail and courthouse and more.
For those Frida Kahlo lovers out there. this tour is currently in Prague and moves to Chicago in April of 2022.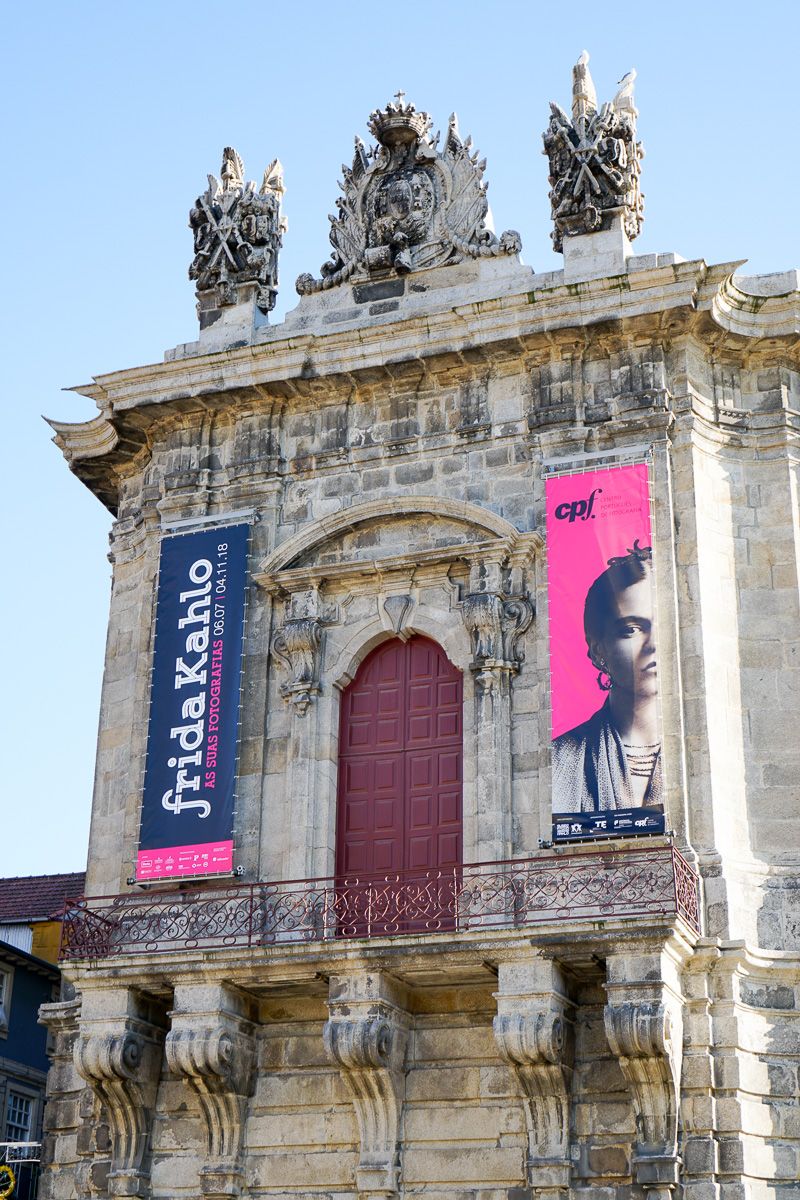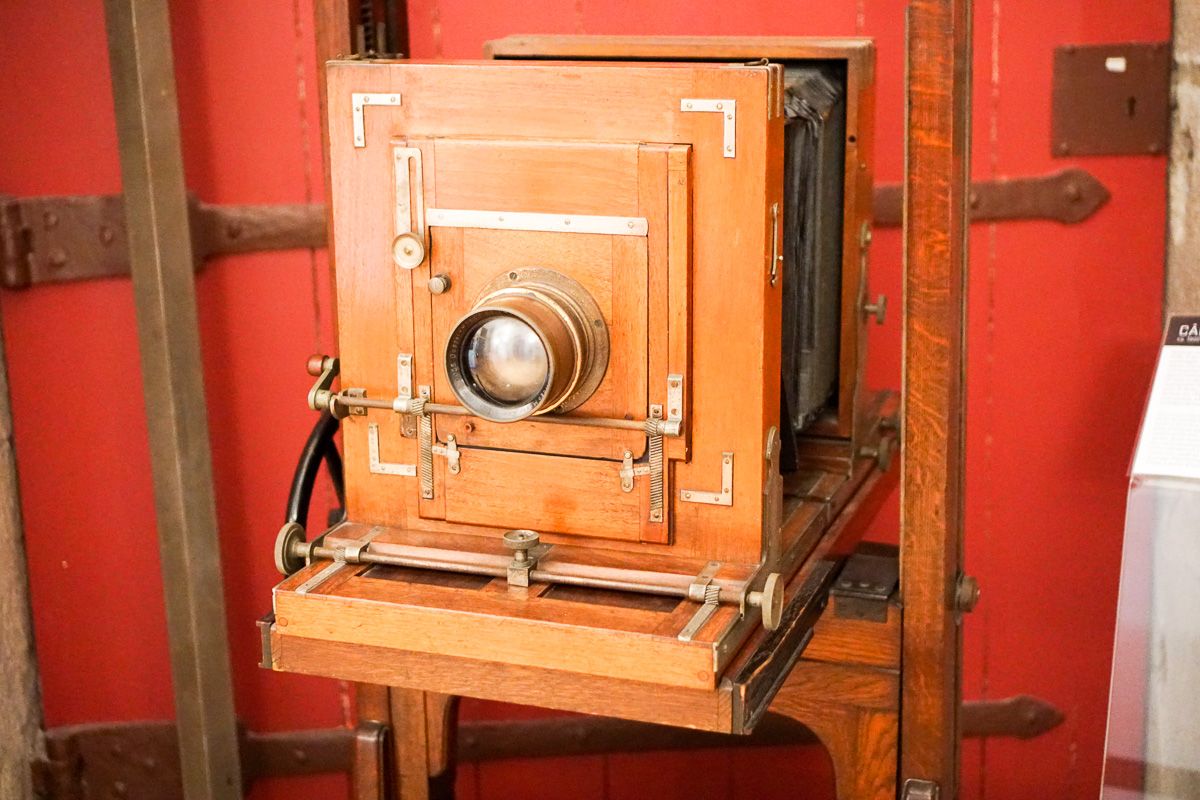 In the evening we had dinner at éLeBê Centro, where, once again we had a fabulous meal. There are at least two restaurants that we are anxious to try again when we g0 back to Porto!
My final thoughts about Portugal after 2,500 kilometres and 23 days: the people are absolutely wonderful but have a very unhappy-looking resting face. I can talk because I have the same issue! Portuguese wine is fabulous no matter which area it's from. It is an incredibly hilly country with windy roads. It's immensely diverse, and every region is different. The language is not Spanish, nor like it - be prepared to learn a working Portuguese vocabulary. Our most important recommendation - with climate change - don't go in August!
Would we go back to Portugal?
IN A HEARTBEAT! I would love to live in Porto for a while.
Who knows what the future will bring?
Until next time......