And then we ARRIVED in Marrakesh, Morocco. We thought we had arranged for transit to our hotel - our Riad - but no one arrived to pick us up. So we grabbed a cab.
Did we think we had trouble in Paris finding our hotel?! In the medina, there are not really street addresses or street signs. Medinas are the old town of many North African cities, often walled with gates. The cab driver dropped us off at the appropriate Gate and told us to ask a kid to take us to our Riad. ANY KID!
Surprisingly, we did find a kid who could take us to our Riad. For a price. Fair enough. More about THAT later.
Our Riad was lovely. In Morocco, in the medinas, houses were built with the outside fortress-like so that people couldn't see in. Doors often had a small opening, barely people size, and a more massive outer door that could be opened to allow furniture in. This was to ensure that enemies who arrived at your door on horseback couldn't barge their way in.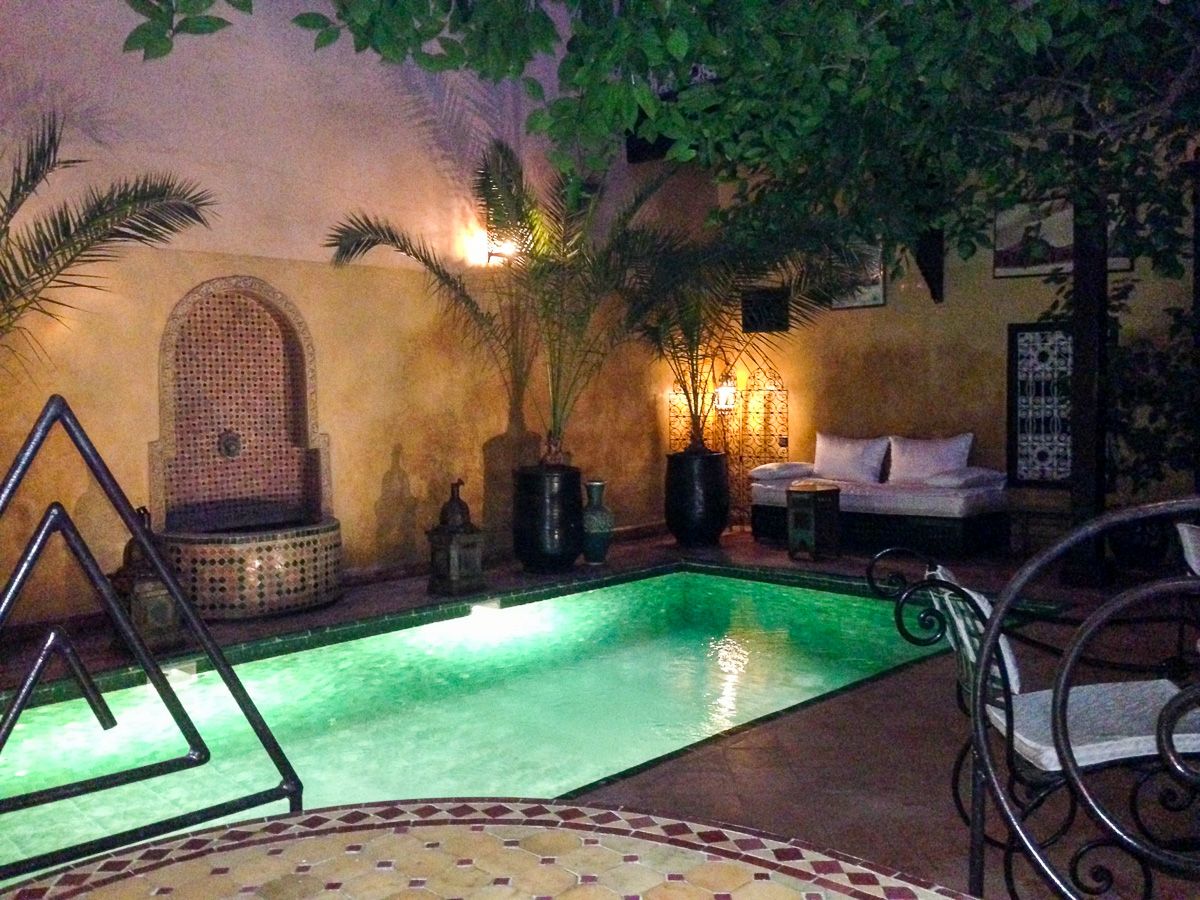 The courtyards inside often have pools on the ground floor to encourage the women, especially, to stay in the Riad. We stayed at Riad du Petit Prince, which we recommend. They have a lovely pool in the courtyard area - although we never saw anyone in it. We ate dinner in the Riad when we arrived, which was great as we were tired and not wanting to try to find our way around outside. We were surprised that we were able to get wine with our meal, as we had always thought of Morocco as a dry country.
We had arranged a 3 night and 4-day tour from Marrakech with Camel Safaries. Before we left on the journey, we wanted to see more of medina in Marrakesh. We were able to arrange tour guides in Marrakesh and Fez through them. In the cities, you must use licensed guides - otherwise, there can be issues with the local police.
Mohammed, our primary contact for Camel Safaris, arranged for someone, but there was a family issue for that person, and we ended up with Omar.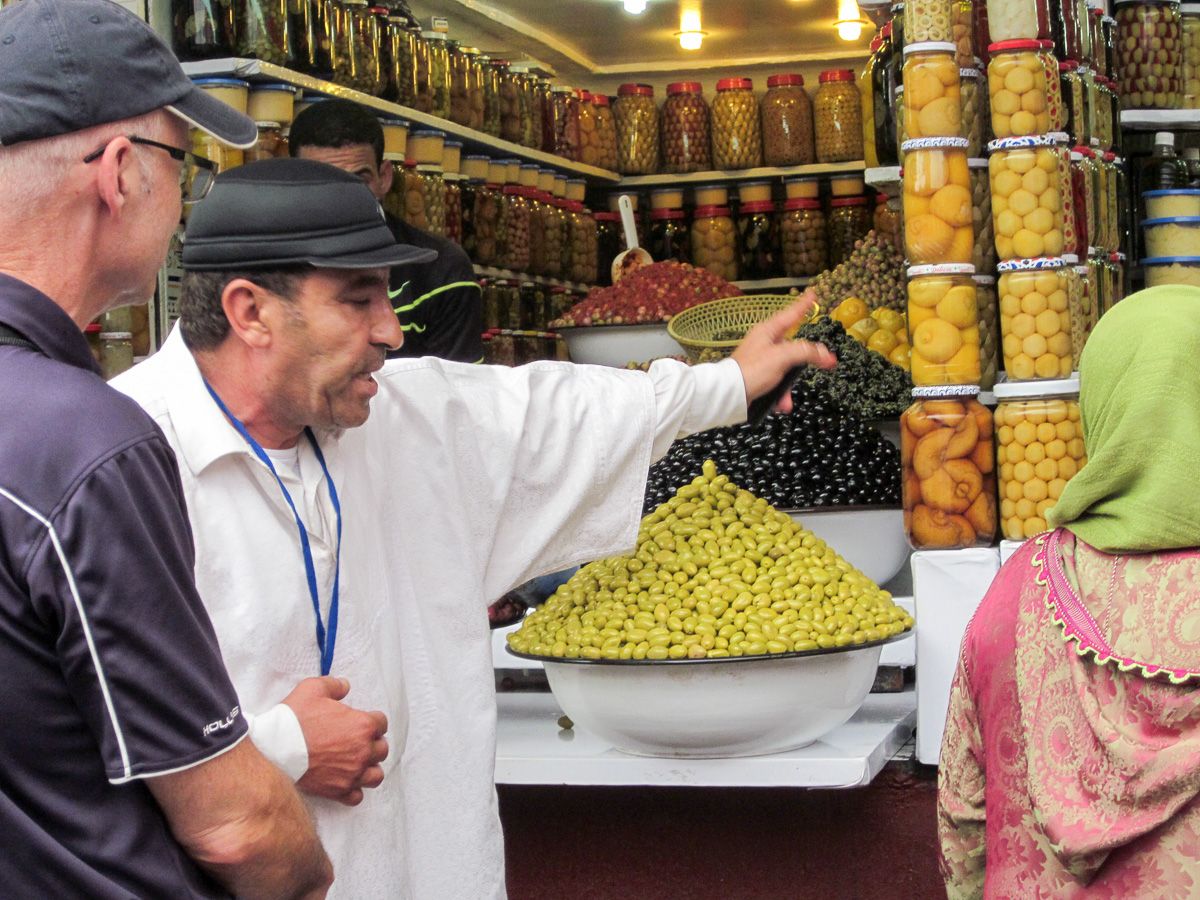 Omar was a character. He seemed old; however, he was probably our age. We spent a very long day with him walking around the medina - he was actually with us for about 11 hours!
I love to take photographs, and Omar would get frustrated with me stopping to set up a shot. He then started to point out things to me and say, "Gaye, photo"! I think Omar was hoping to move us along faster! That didn't work as I took the pictures he suggested, as well as all the others I wanted.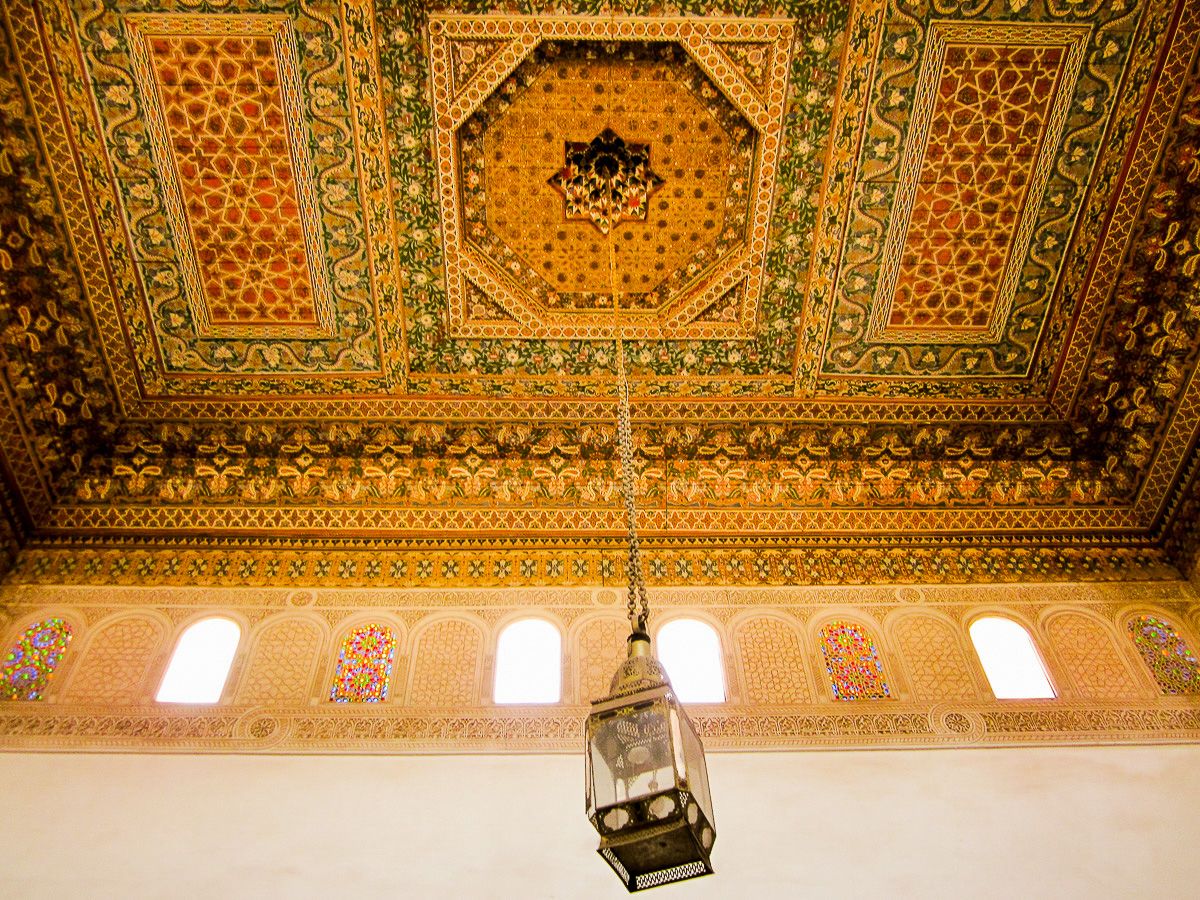 Omar insisted on returning us to our Riad, despite his being, obviously, very tired. We ran into the Kid, who had directed us from the cab to our Riad. Omar and the Kid got into a very loud, verbal argument. The Kid wanted money again to help us find our Riad now. Omar stepped in, telling him that he would take us back. We got back to the Riad with them still arguing, and the manager at the Riad also got involved. We went into the Riad and let them sort it out as we had no idea what was being said.

We figured it would be best if we just disappeared.

The next day Mohammed and Mohammed (our driver) picked us up right on time. Mohammed had contacted us the day before to make sure that we had arrived safely and would be ready to go. Over the next four days, we learned a lot about Morocco. Mohammed was always willing and able to answer any questions and to make fabulous suggestions.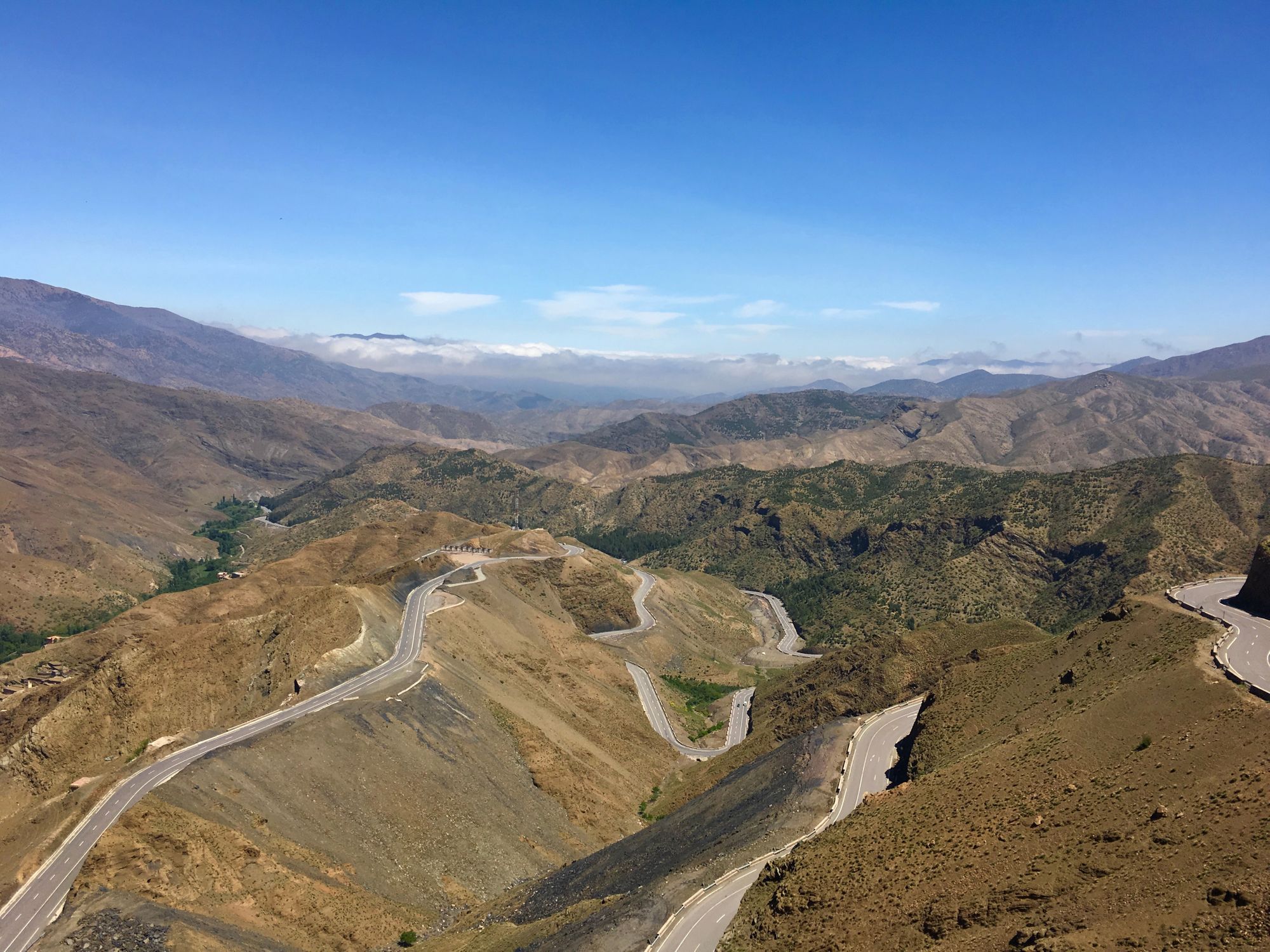 On that first day we travelled to Dades Valley going thru the Tizin'tichka pass with dramatic landscapes of the High Atlas mountains, which peak at 2260m.
We stopped at Ait Ben Haddou Kasbah, which is famous for Hollywood movies filmed there like Sodom and Gomorrah, The Jewel of the Nile, Gladiator, and many more. It is also a Unesco Heritage site.
Then on to Kalaat M'Gouna, the roses valley and finally Boumalen Dades, where we stayed at Kabash Chez Pierre. We had a lovely room and the best dinner of our trip. It was fantastic!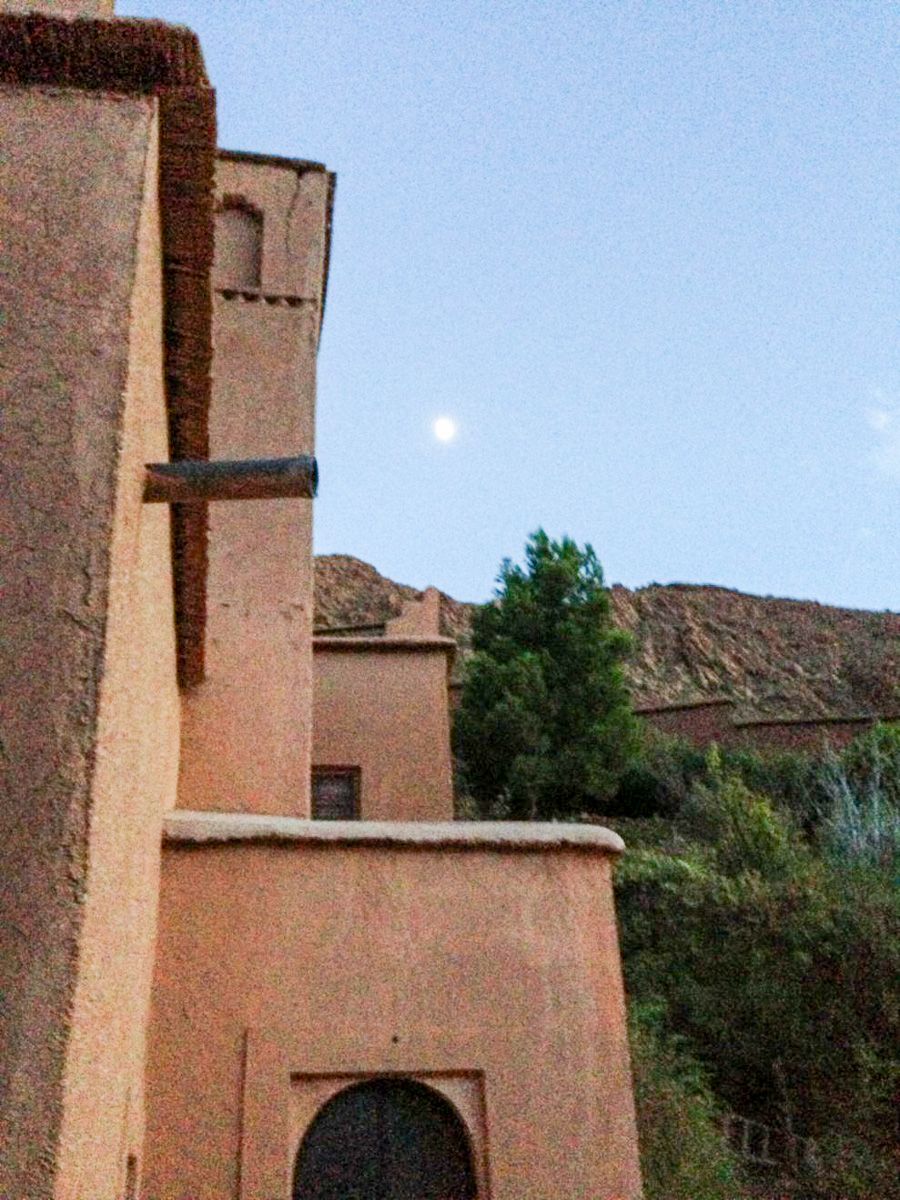 There was a glowing full moon that evening, and I took some beautiful photos - at least I remember them as beautiful - I only have this i-phone picture above now. ( it was actually much darker than the picture shows - the building beside is the Kabash)
The next morning we departed early and travelled to Tinghir via Boumalen Dadès and visited an area lush with beautiful palm trees. The journey then continued on to Todra Gorges and to Merzouga, where we took a camel trek into the beautiful Erg Chebbi dunes.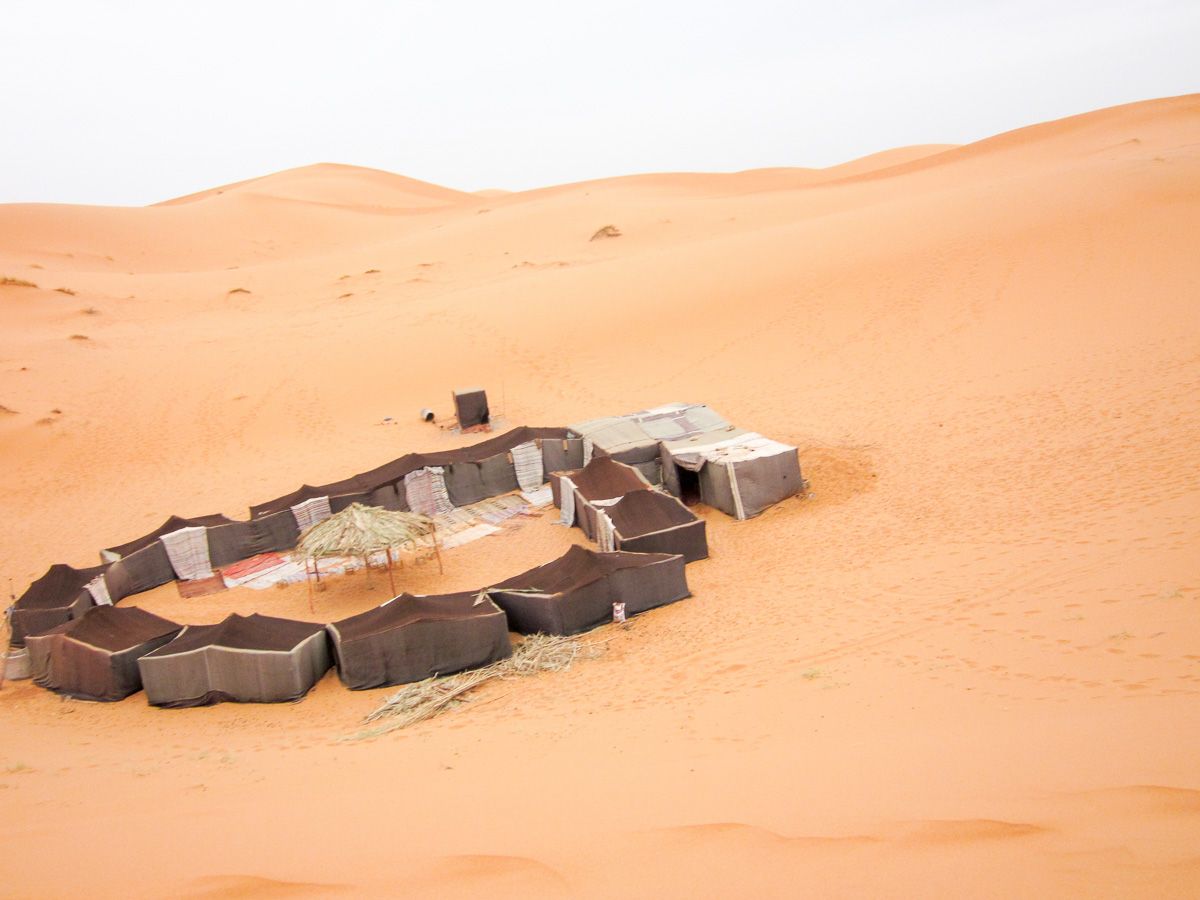 There, we spent our second night in the desert. We had a hotel room at the base where we started our camel trek from and were able to leave most of our belongings there. We rode camels out to our campsite at the Merzouga sand dunes. Each group of travellers had their own Berber tent, which had very comfortable regular beds. There was even a proper shared portable washroom with a toilet! Certainly not something I was expecting!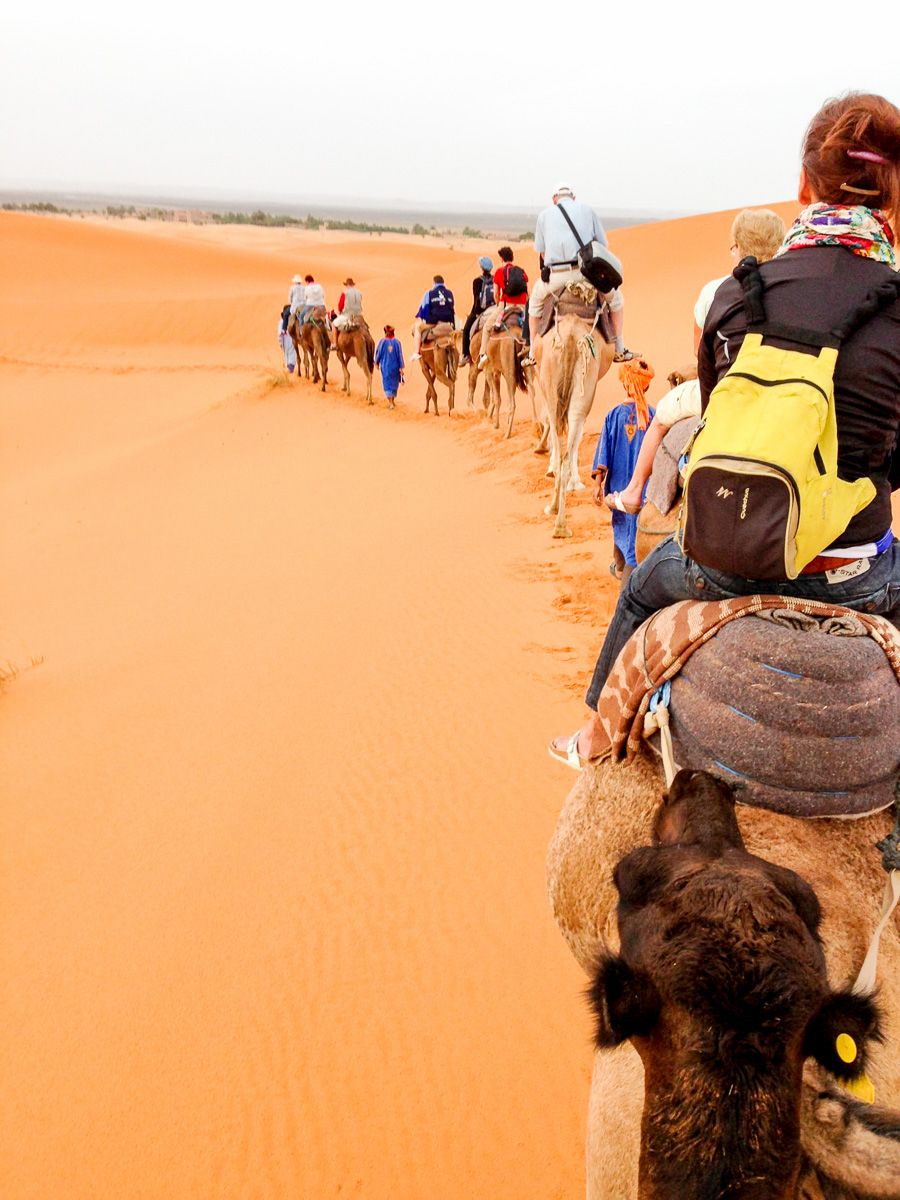 The other 9 guests with us were from Brussels, Mexico, Australia, and Britain. We had an excellent time with our new friends telling stories, eating tagine, and listening to the Berber music provided by our hosts.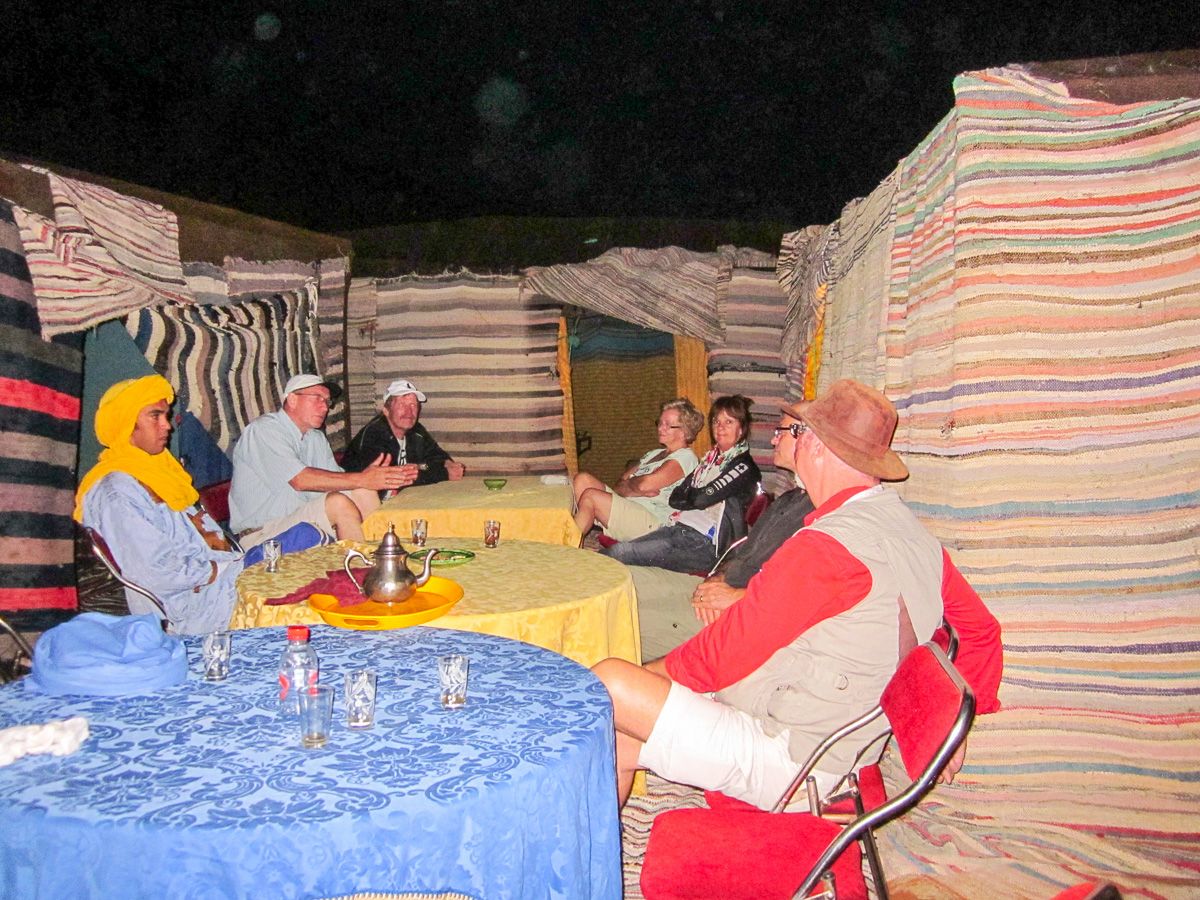 The camp had solar lighting. One of the guests left their lights on the whole time we were there, so by the time late evening came, the views were exhausted. It made for a challenge to go to the washroom in the middle of the night, as it is pitch black in the desert. Luckily, hubby had done his research on One bag.com, and we had our trusty headlamp. We really recommend you travel with one - it has come in handy several times!
I had been looking forward to a spectacular sunset and sunrise, and hubby was hoping for a bright, clear sky for stargazing. Nope, nada, none.
Unfortunately, it was overcast, and it actually rained. WHO GETS RAINED ON, HEAVILY, IN THE SAHARA DESERT? WE DO!
Still - it's two more items crossed off the bucket list. A camel ride and a night in a Berber tent in the Sahara!
The next day we headed back to the hotel for showers and breakfast before going through "Erfoud, Errachidia, the Ziz Valley, Meditlt, the cedar forests and monkey troupes of Azrou, and Ifrane."
As we were driving and getting hungry, Mohammed arranged for Berber pizza. It is quite the process to get this pizza. Mohammed called the butcher who cuts up the meat and takes it to the produce market where herbs and veggies are added, then it is taken to the baker, who bakes it! It is made in the shape of a calzone.

We picked it up and enjoyed it as a picnic in the middle of a beautiful field in the middle of nowhere. We actually had some leftover once the four of us were finished. We noticed a date picker across the area, and Mohammed made a trade of our leftover pizza for dates.

My husband said it was the best food he had had. (hmmm….. good thing he is the chief cook in our house; otherwise, there could have been trouble.)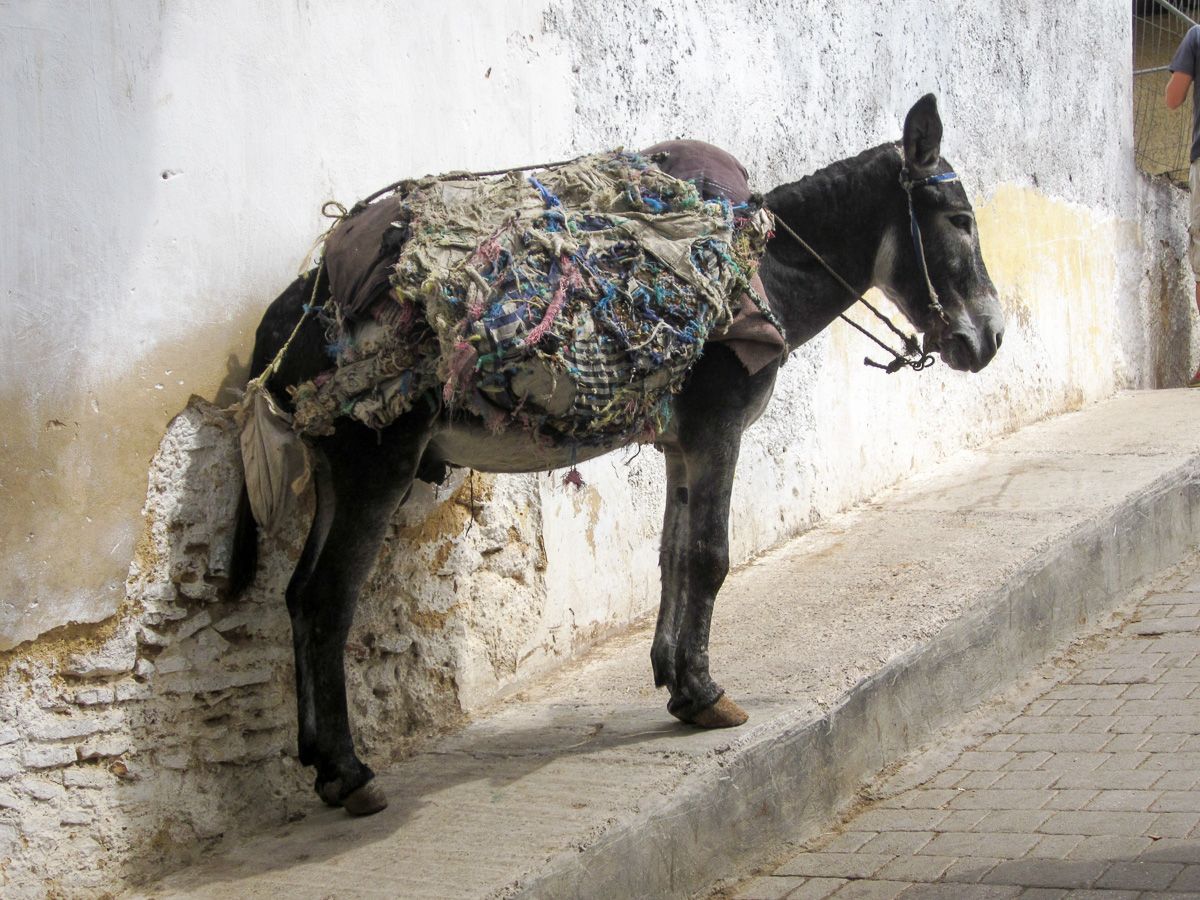 We were then dropped off at Riad Lyassmin in Fez. The hotel was a disappointment and not one we recommend. Mohammad had warned us that we might not like it. The bathroom floor was always wet, and we took to wearing flip-flops when we went in there. It was simply not that comfortable a room. We aren't fussy about accommodation, generally, so that tells you something.

Mohammed had arranged for Nabil, as a licensed guide, to tour us around Fez - and you absolutely need someone to give you a tour. Over 150,000 people are living right in the medina. Apparently, there are also over 9,500 roads or lanes or pathways -whatever you want to call them. No cars. A few motorbikes and donkeys are how people and products get around. As in most medinas.
We were disappointed with Nabil. We didn't get a lot of information from him during our tour. Once we went to a store he directed us to, so I could use a washroom (see Bathrooms I have loved), I then bought a bracelet, and he was quick to cut the tour short. We felt that he was only interested in any kickback that he got for the bracelet.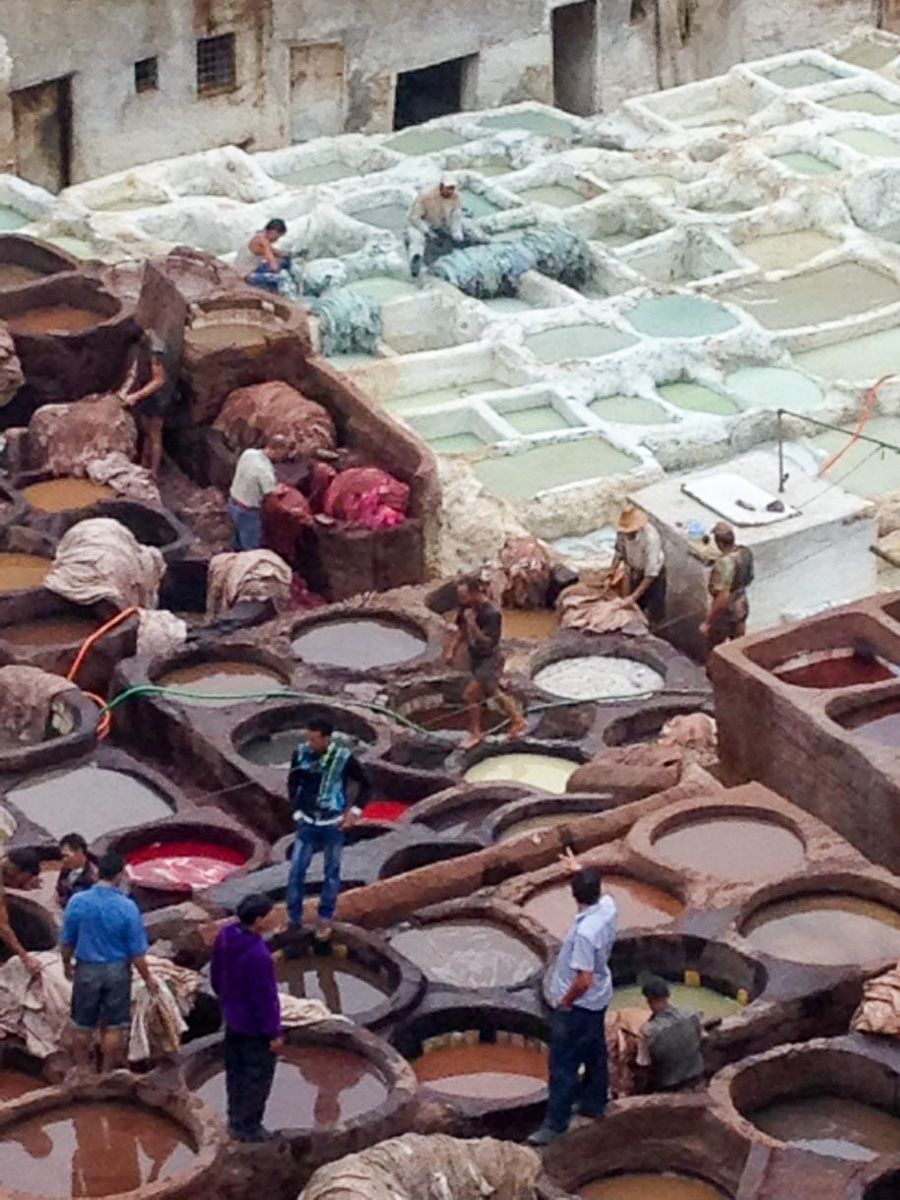 WHAT WE LOVED ABOUT MOROCCO:

The call to prayer - it is a beautiful sound, and even though the first call begins very early in the morning, we grew to love it. It is especially impressive when you have multiple mosques calling at the same time.

People's feelings of duty to help those less fortunate than themselves.

Adherence to their religious beliefs. Washing your hands, feet, and face 5 times a day to pray is a commitment.

The beauty of ceilings and walls and buildings.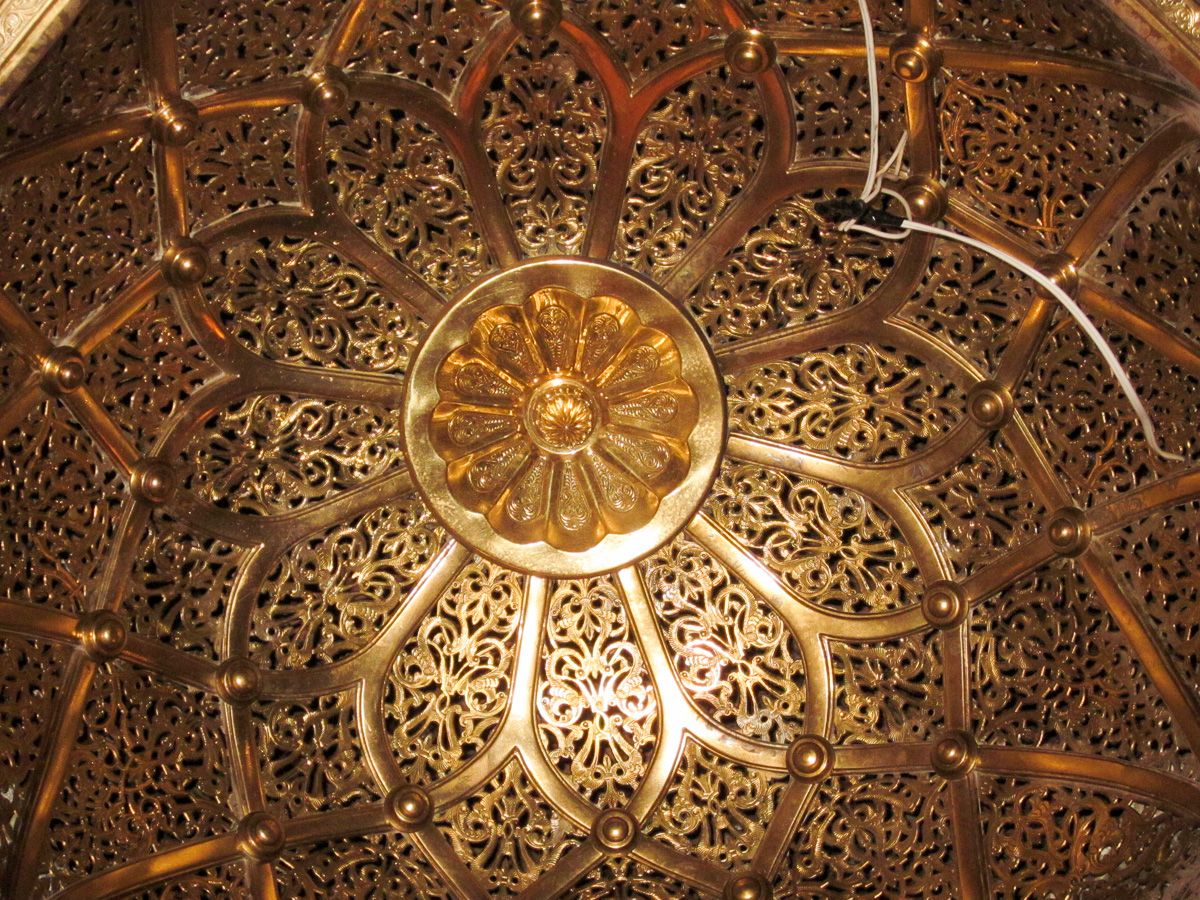 The feeling of going back in time to many centuries before. Seems simpler.
Mohammad, I adopted him as my son. I highly recommend Camel Safaris. They are professional, responsible, and reasonable.
WHAT WE DIDN'T LOVE SO MUCH: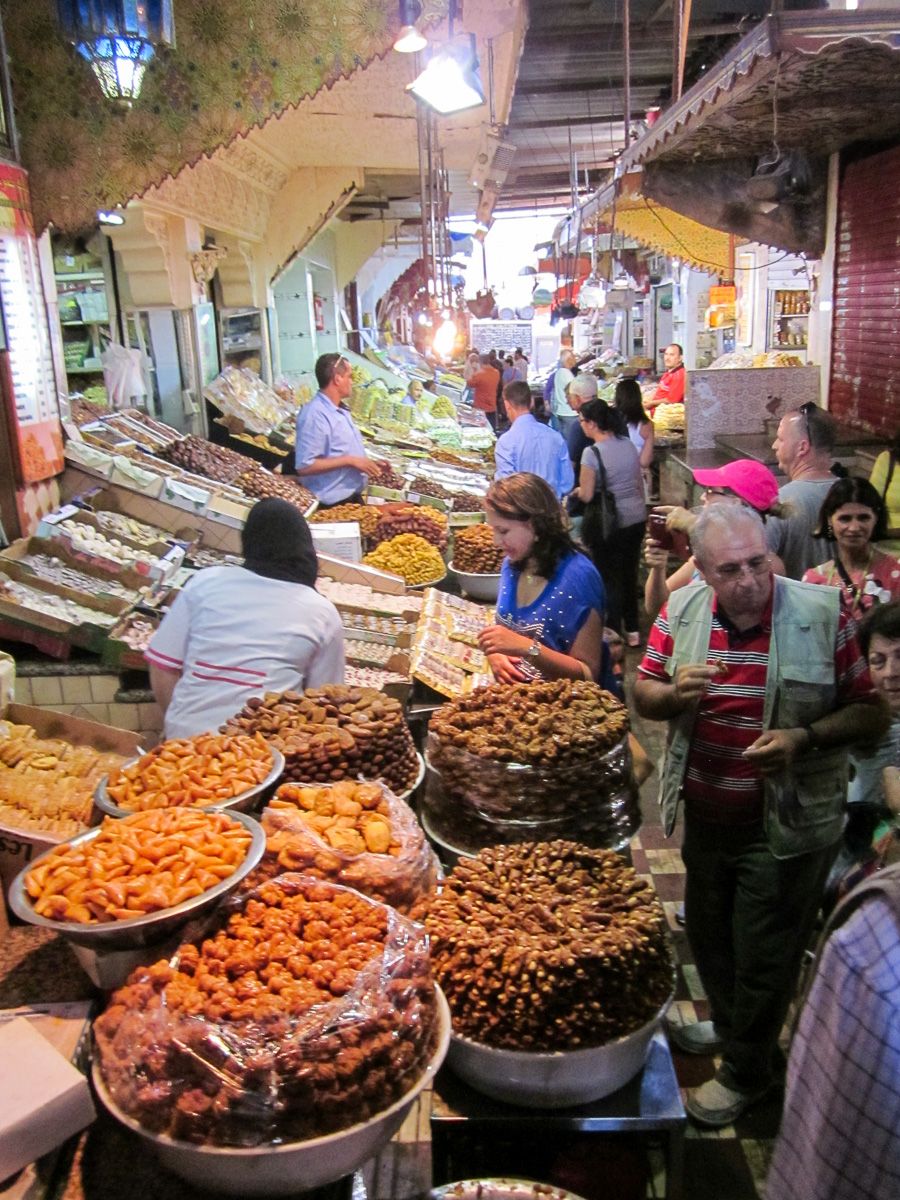 Hubby found it overwhelming at times - especially in the medinas with the numbers of people and the narrow lanes and pathways.

The touts - who are always on you to buy things.

Not having fast wifi and not being able to download our photos. (See Barcelona)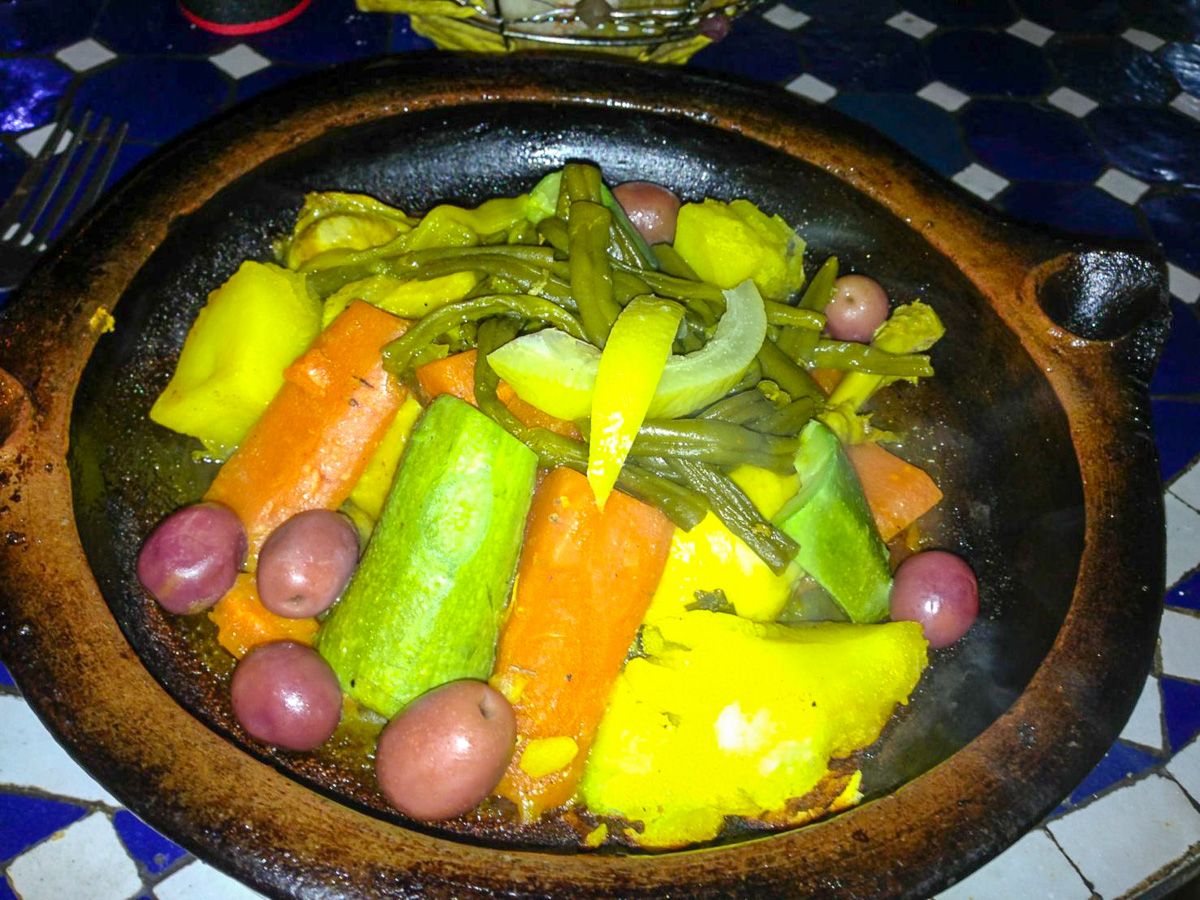 We found the food, overall quite bland. I think when it was being made for us, white tourists, they toned down all those lovely spices that we saw in the marketplace.
On leaving, we flew from Morocco to Barcelona by Ryan's Air. When I mentioned before that to fly Ryan's Air was an experience, I wasn't kidding! Getting on the flight from Fez, we felt like it was a cattle run. You do not get advance seating selection on Ryan's Air (that has changed somewhat), so it becomes a run to get on and get the seats you want.
On this flight, we had a lot of mothers with children, and it felt like there were farm animals as well. I'm sure there wasn't, but it sure felt like it! The flight attendants had great difficulty getting everyone settled, and the departure was delayed until they could gain control. When we were disembarking, we noticed that the child in the row in front of us had left a puddle of urine on the seat. We advised the attendant of that, and we also praised them for maintaining their sanity in dealing with the chaos. NB: Ryan's Air was just judged by the UK's dirtiest airline.
Would we go to Morocco again? I would.... absolutely! Hubby......well, I'm working on him.
AFTER ALL, I NEED TO GO BACK AND GET ALL THOSE LOVELY PHOTOS ...AGAIN!
(See: Barcelona to learn about the missing photos.)