I decided this year to figure out how to become a digital nomad or at least a nomad. I'm not quite ready to give up my job or my home, so I am planning on taking an extended leave to figure out how to do this long term and not break the bank.
I am hoping to keep costs down when travelling by house sitting! I signed up with Trusted Housesitters and paid the fee. We have friends who travelled around Europe this way. They said it was a good idea to get some references by doing some housesitting locally before going overseas. So that is what I'm doing.
I had one sit in Vancouver with a lovely talkative Norwegian Forest cat. That was a boisterous experience! In the creative community of Commercial Drive. But that is a story for another post!
For anyone who might be interested in trying this out, you can sign up with Trusted Housesitters with this link, you get 25% off the yearly fee, and I get a month free. Win-win! There are also similar sites like Housesitters Canada, Nomador and more.
This weekend I got a last-minute opportunity to go to Bowen Island and pet/housesit a Cavalier King Charles Spaniel. It's been a while since my dog passed on, so it sounded like it would be fun.
Bowen is an easy trip from Vancouver. You can catch a ferry at Horseshoe Bay, either by catching a bus downtown or by driving. Bowen Island is considered part of Metro Vancouver and many residents commute to Vancouver daily for work.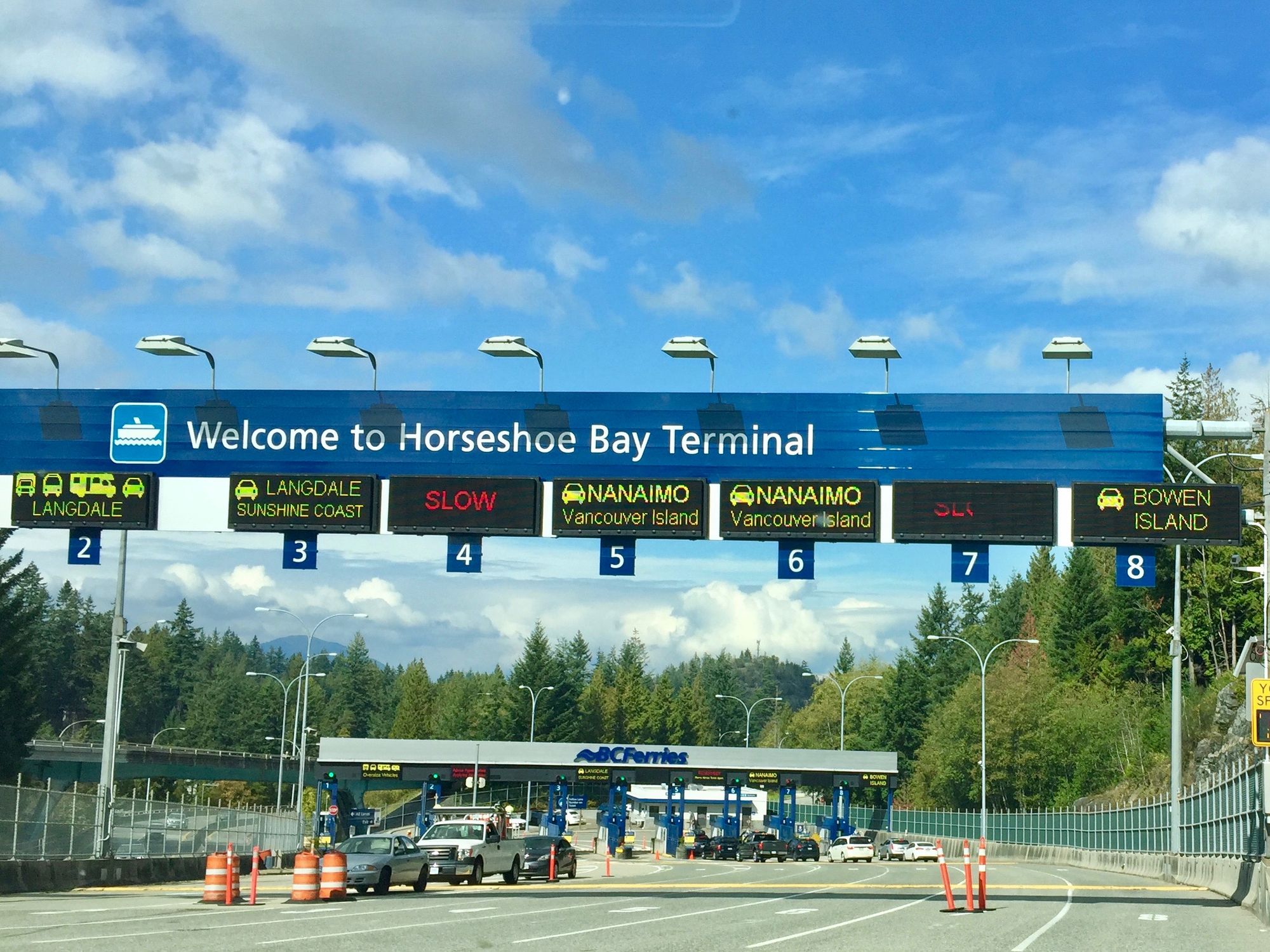 The ferry is only 20 minutes - and the drive from downtown is about 30 minutes. There are 15 sailing a day so you can pick your time to visit and commuters have lots of options.
The weather, which had been overcast, improved throughout the morning, and by the time hubby and I arrived on the island, we had terrific sunshine.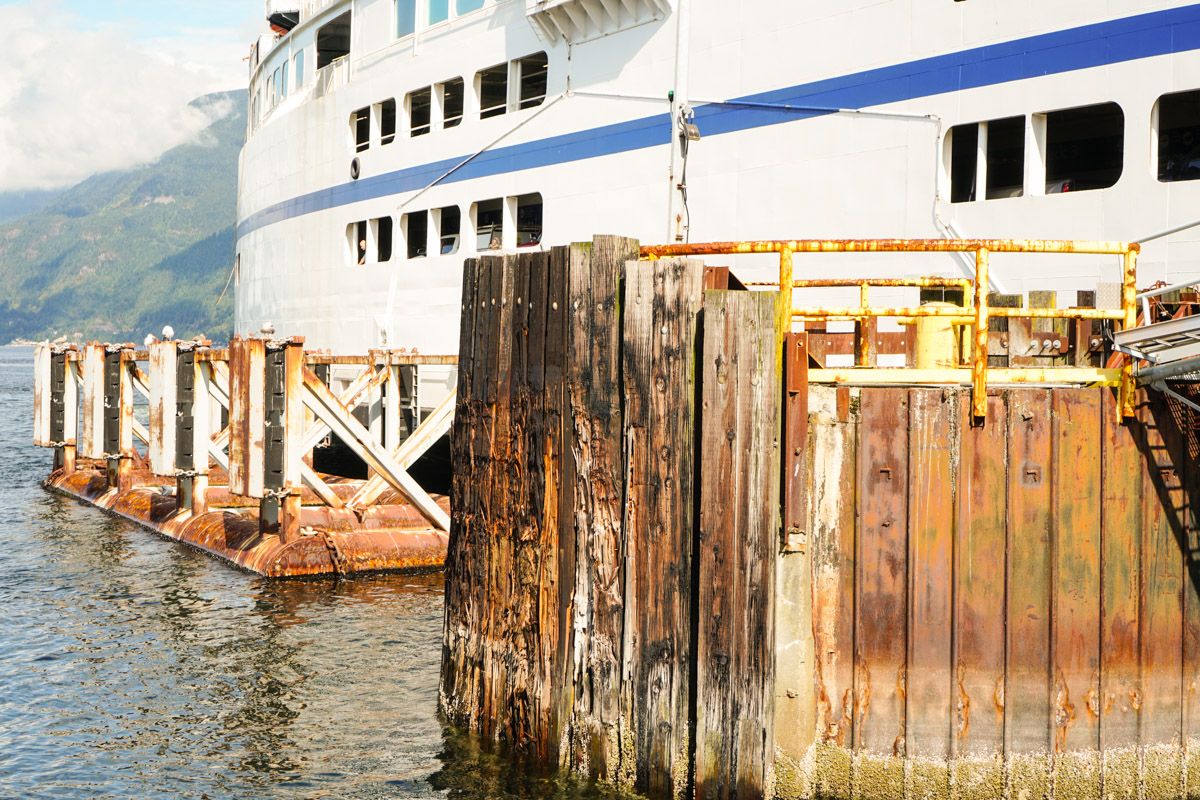 After arriving at our housesit, we took Clarence, the dog, for a walk around Uptown Bowen - Artisan Square. It is very familiar to him, as he lives on the Square. The Artisan Eats has excellent pastries that we just had to stop and partake in.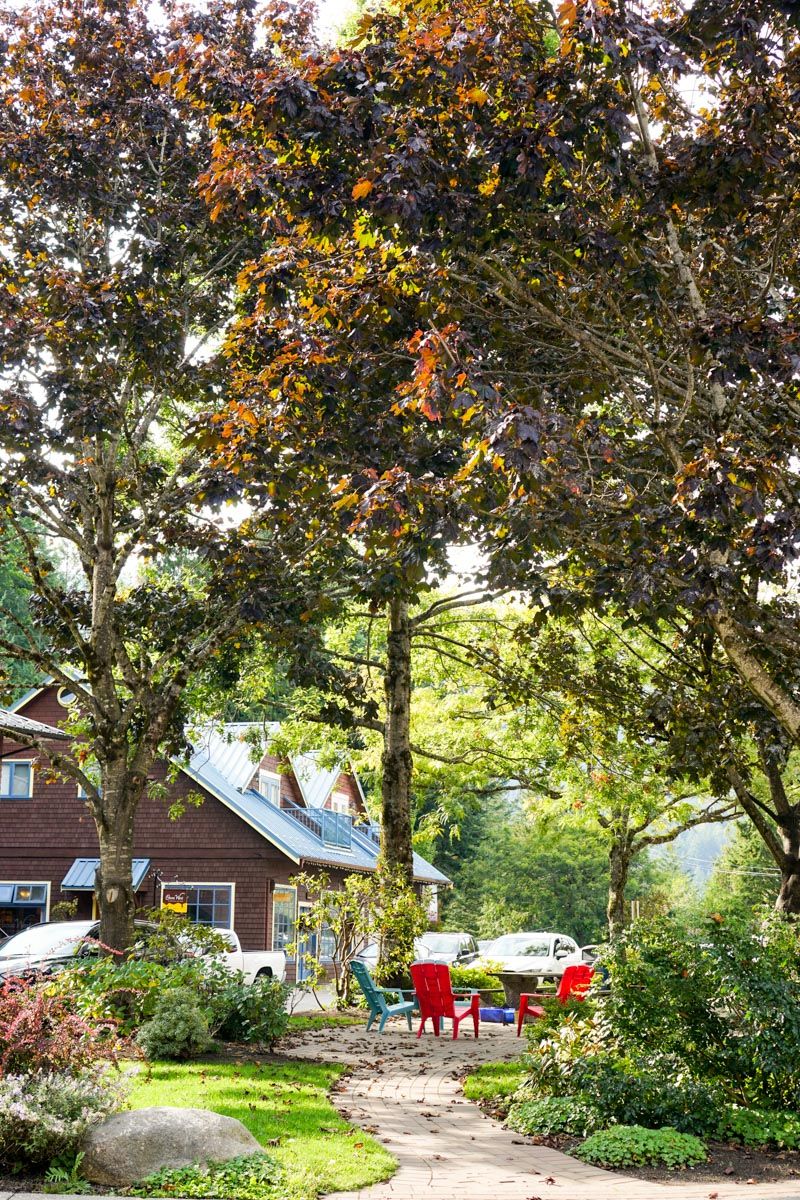 Then we headed down to Snug Cove, where the ferry docks. We drove down with Clarence yelping excitedly all the way. I'm not sure my eardrums have recovered!
We walked around the area and became familiar with some of the history of Bowen Island.
People from the Squamish Nation established a tiny village called Qole' laqom on the island in the early 1700s, where they hunted, fished and stopped over when travelling. The Spanish and British explorers came next and colonized. In 1860 Captain Richards renamed the island after Admiral James Bowen. Homesteaders built buildings and a brickworks that supplied bricks to Vancouver.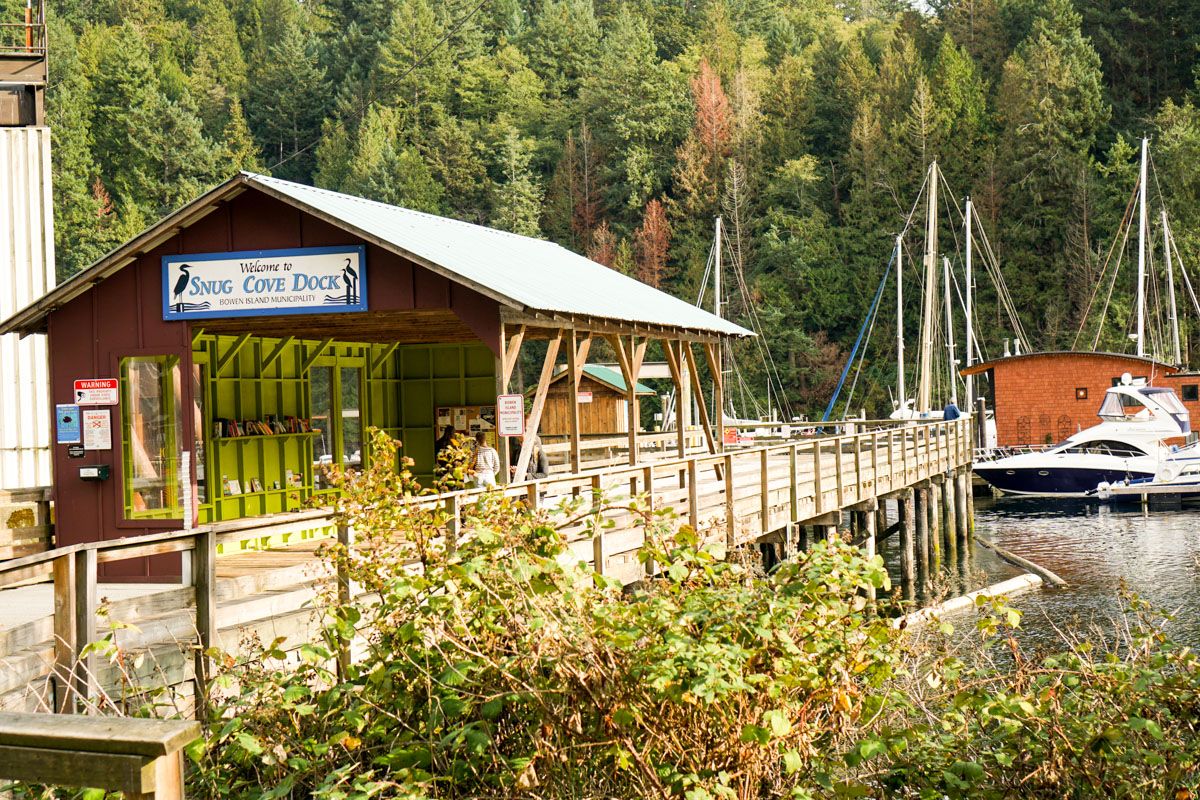 In the 1900's Terminal Steamship Company, which became Union Steamship Company, started a resort and Bowen Island became known as the "Happy Isle."
There are lots of signs around town talking about the history - of which they are very proud. Even today, when you see the Adirondack chairs and games on the lawn in front of the Union Steamship Co. Marina resort, you can imagine what it was like in the '30s when families came to play. At one point, there were more than 200 cottages in the area, and people from Vancouver came in droves.
The Davies Orchard Community Garden, which is in the centre of Snug Cove, has 6 original cabins from that time that are being renovated and restored. "The revitalization is slated to include orchard expansion, interpretive displays, a cottage themed picnic shelter, a nature experience program area, a nature trail, open space with views of both the marina and coast mountains and improvements to the 6 remaining cottages." The Orchard is beautiful, so it is fantastic that plans are underway to maintain it. I loved the trees and shoreline. I'm always taking pictures of trees and boats! If you follow me, you will find that it is a continuous theme. But who doesn't love trees and water?!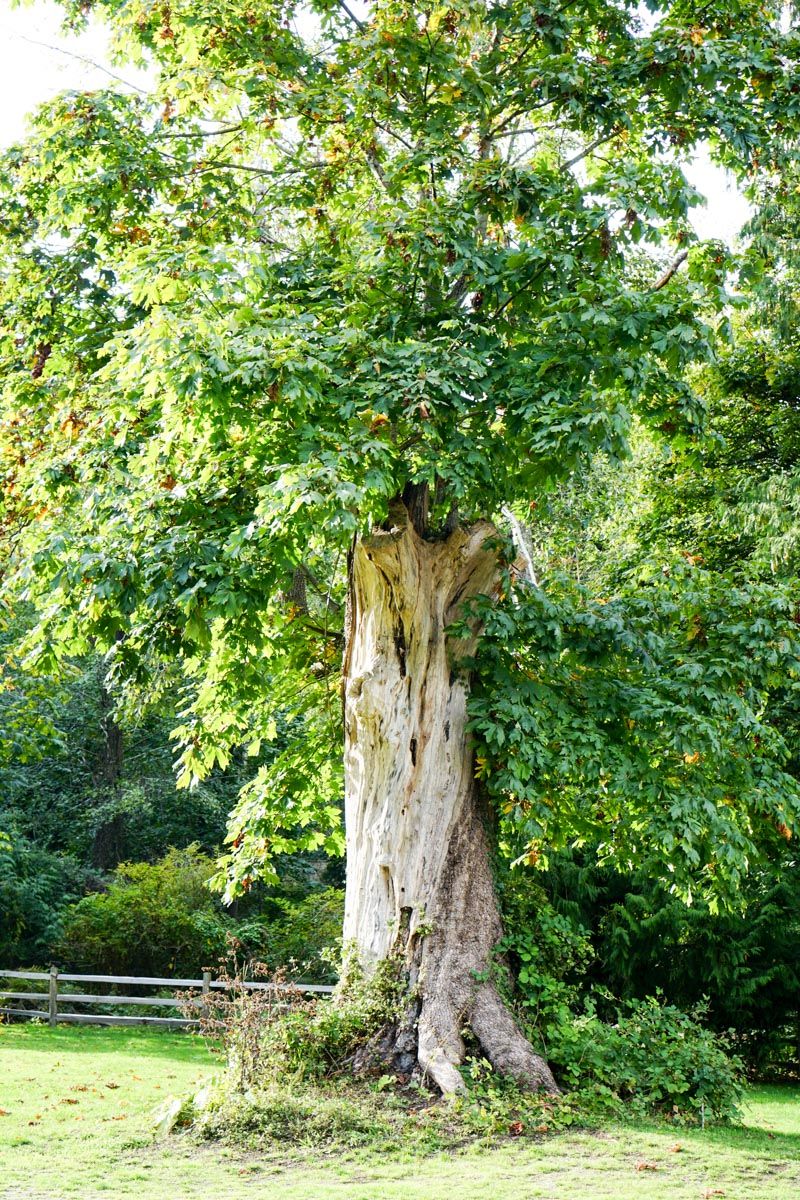 The harbour, boats and buildings.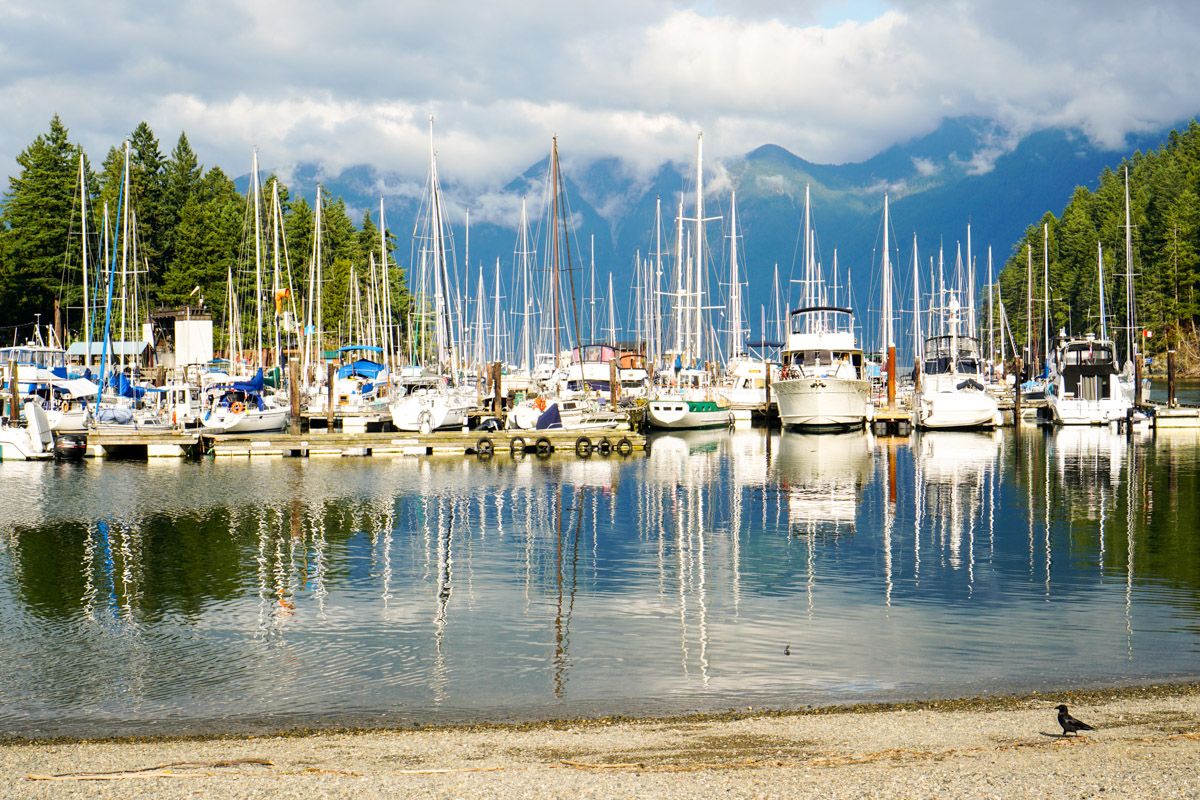 After returning Clarence home, we headed out for dinner. I do my research, especially when it comes to food, so we decided to go to Barcelona - a tapas and wine bar. I love tapas and wine is not bad, either!
It was a busy night. We waited outside and it started to rain just as we were given a table inside. Lucky indeed.
It was an excellent meal. Hubby and I started with Berenjena Con Miel - crispy fried eggplant with mint and honey . It looked kind of pale and not at all purple - but it was really delicious - I'm sure it was all that oil! We continued with Patatas Bravas - crispy potatoes with spiced tomato aioli. Always a favourite of ours and we weren't disappointed. Everything looked and smelled so fabulous that I didn't think to take pictures until our last two items and dessert.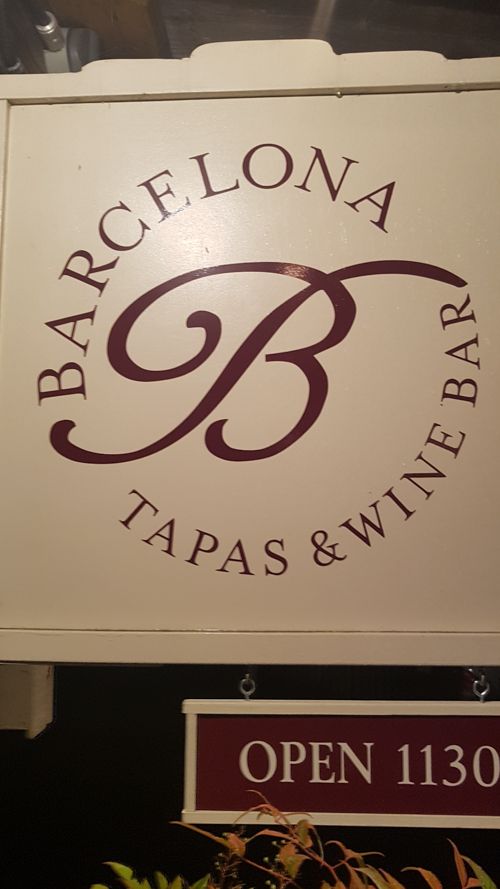 Gambas al Ajillo - sautéed prawns with garlic and chillies. Yum. And finally, other than the desert, was Merguez con Hummus - homemade spiced lamb sausage with roasted cauliflower and spinach, hummus, pine nuts and n' duma sauce - heavenly - especially the very cumin hummus. We finished with the flourless chocolate cake. It was ok but didn't stand up to the other dishes. The Spanish wine that we shared was absolutely delightful. We need to find that bottle at home!
We headed back to our house to sit in the rain and listened to it, pound the roof all night long. I may have grown up in Vancouver, but, contrary to frequent rumours, I do not have webbed feet.
Hubby got up with Clarence in the morning, and when they returned from their morning walk, they were completely soaked. We decided to have breakfast at Artisan Eats as we had only a few steps to go. It was a basic breakfast of eggs, hash browns and toast, but it was tasty.
The rest of the day, we stayed inside relaxing - we REALLY did not want to be out in the rain. Sometimes I forget that we live in a rainforest. I was reminded again by seeing the mist near the docks and in the trees.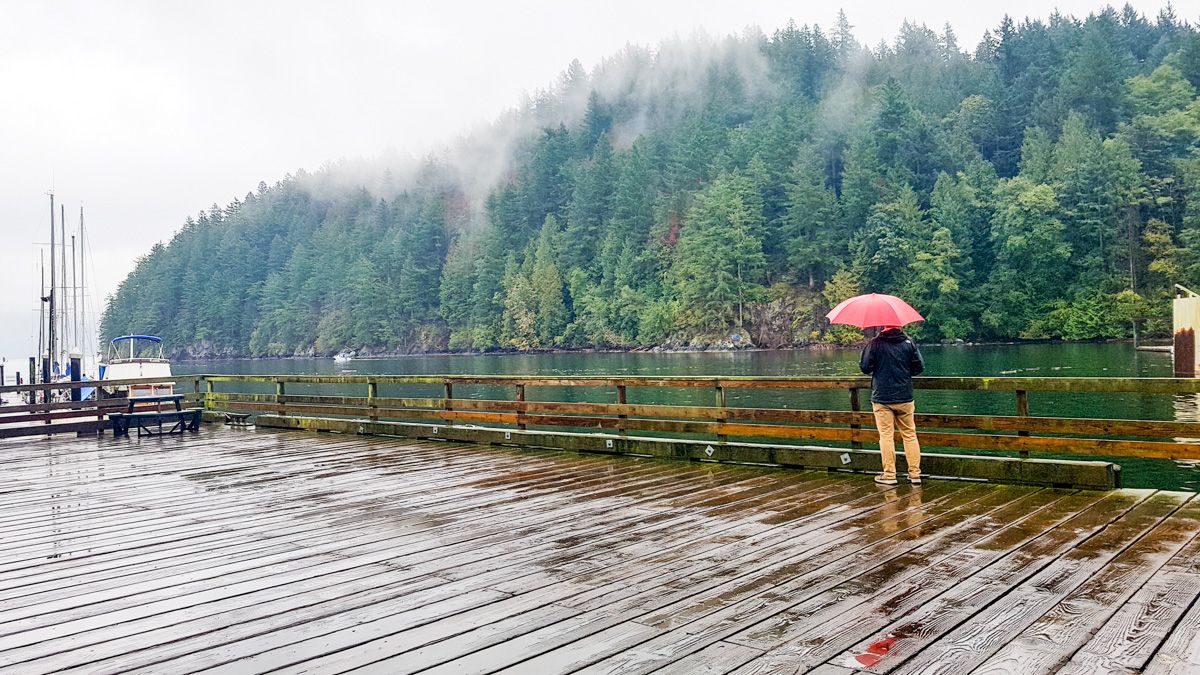 Bowen Island has many activities for you if you are an outdoorsy person - kayaking, hiking, biking…you name it. There are places to rent equipment if you don't have your own.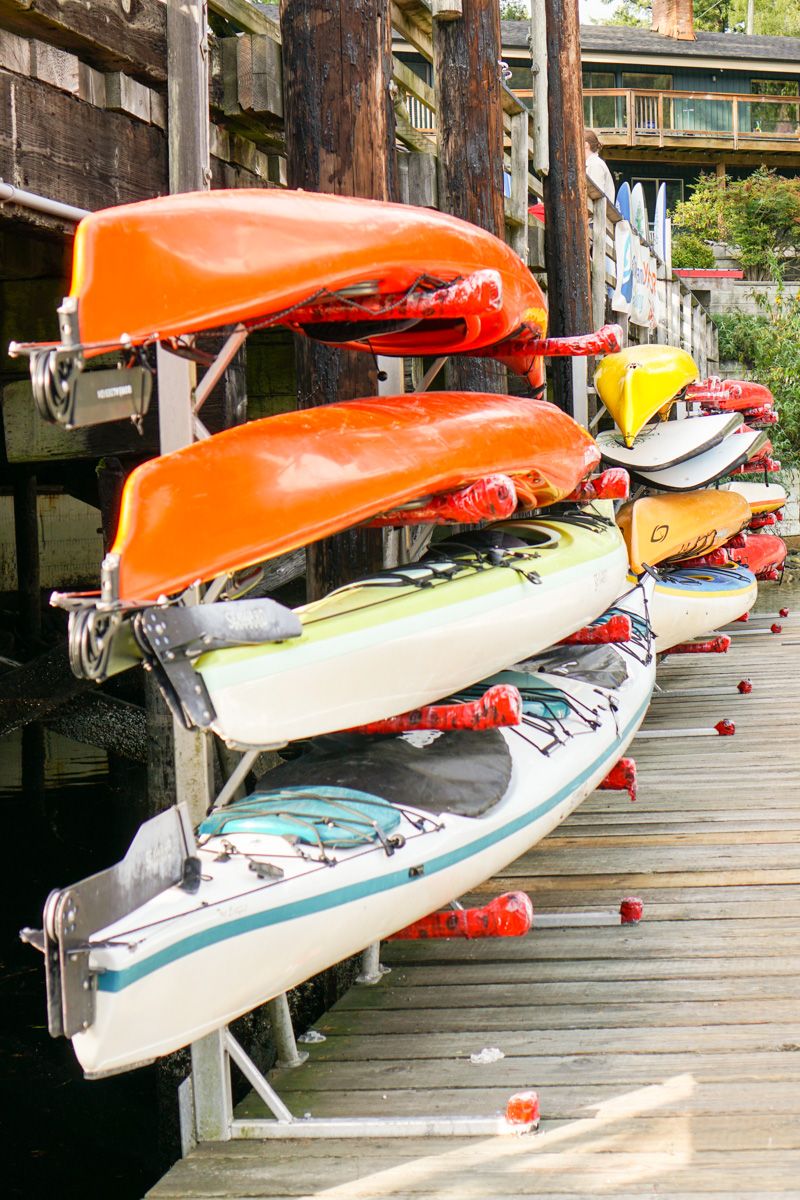 It is also known for its galleries, shops and crafters. There is the wholeness, healthy side to the island with yoga on the dock, wellness centres and spiritual arts.
Hippies settled here in the 60's and never left. It is still, very much, the HAPPY ISLE.