You're visiting Playa Del Carmen, you have to work, and your hotel room or AirBnB just isn't cutting it! Where can you go? What can you do?
You've probably heard about Coworker spaces, but have you ever looked into them?
In 1995 in Berlin, seventeen computer engineers started a "hackerspace". "The goal of this space was to act as a non-profit place that brought together computer enthusiasts and provided them with facilities, equipment, opportunities for collaboration, and knowledge."

The idea was coined Coworking in 2002  as it developed and evolved worldwide. The concept became the "freedom of working independently with the structure and community of working with others." "Coworking is an arrangement in which workers of different companies share an office space, allowing cost savings and convenience through the use of common infrastructures, such as equipment, utilities, and receptionist and custodial services, and in some cases refreshments and parcel acceptance services."
It caught on, and as of 2019, there were over 19,000 Coworking spaces worldwide. The perfect resource for the explosion of digital nomads worldwide in the last three years.
My partner, John, was still working 20 hours a week while we were in Playa del Carmen. The condo we rented had decent WiFi but it didn't have a designated workspace. It lacked a comfortable work chair, a dedicated desk area and privacy, for both of us. It's difficult when one of you is working hard, taking zoom calls, and the other is just hanging out.
So what do you do when you travel, need to work effectively, and avoid the loneliness that can be a major challenge for many? You look for a good Coworking space.

So that's what I did. I checked out three Coworking spaces for you in Playa, and I'll tell you what I learned. These are not the only ones or necessarily the most popular; they are just great examples of the range that is available. I have included a list of a few others at the end of this blog, if you're interested in researching further.

BUNKER COWORKING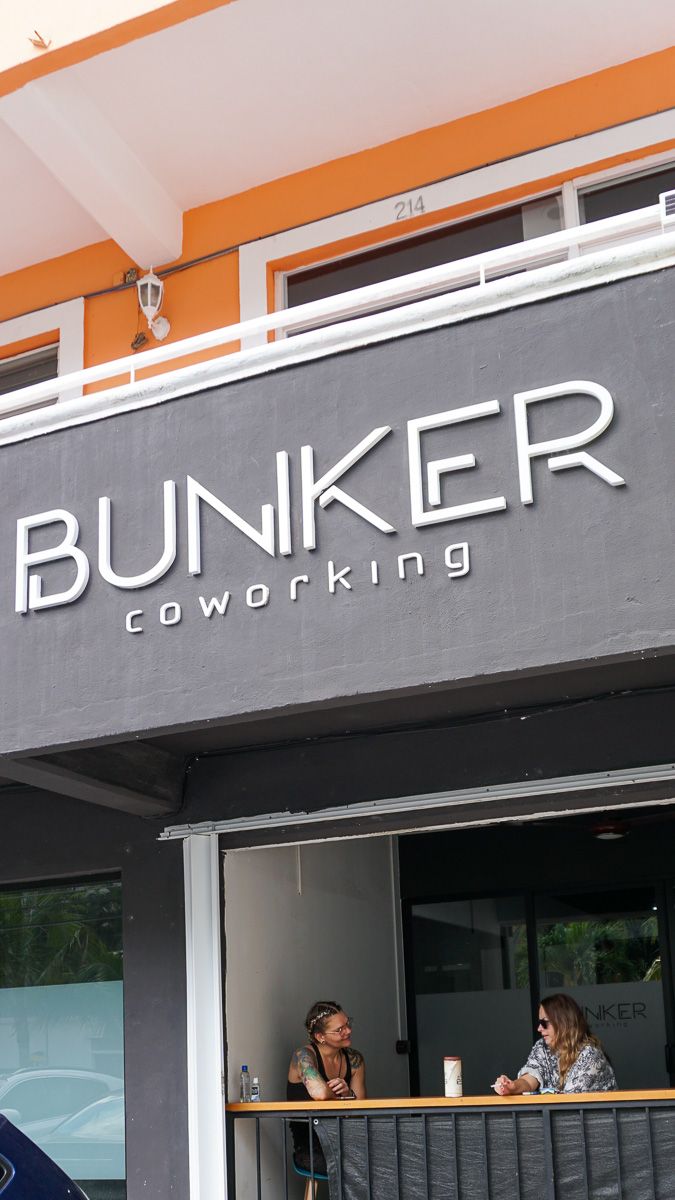 Bunker Coworking was my first stop on 10th Avenida Nte, between Calle 38 Nte and 40th Nte. Tel: 52-984-231-2963.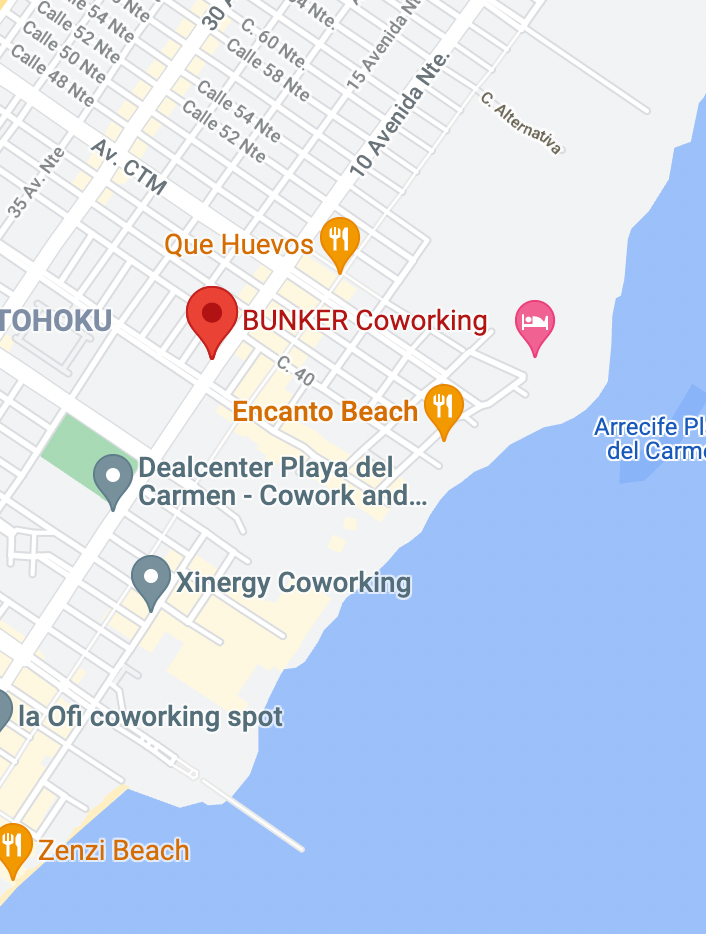 Bunker started about three years ago and is located in a strip mall with parking out front. It's a two-storey building with an outdoor patio area pointing towards the parking area. When I entered, I came into a room with a reception desk, two long tables on each side, a side table and "phone rooms" at the end of the room for private calls. Adjacent to this was a kitchen set up with a noisy blender and coffee machine, lockers, a large conference room, two private rooms, and another large room with some tables closed off by a glass door from the patio and the spiral staircase to upstairs.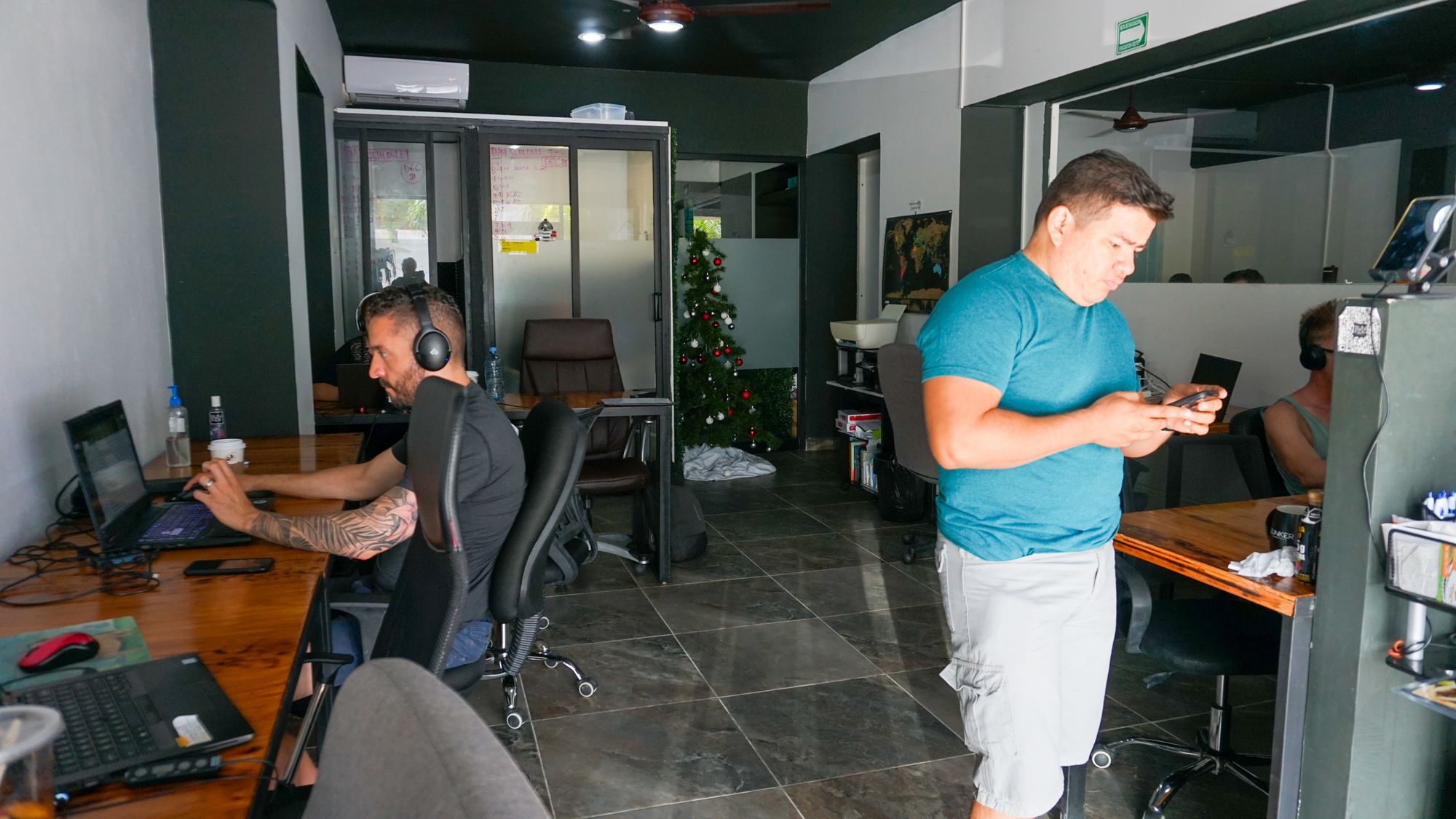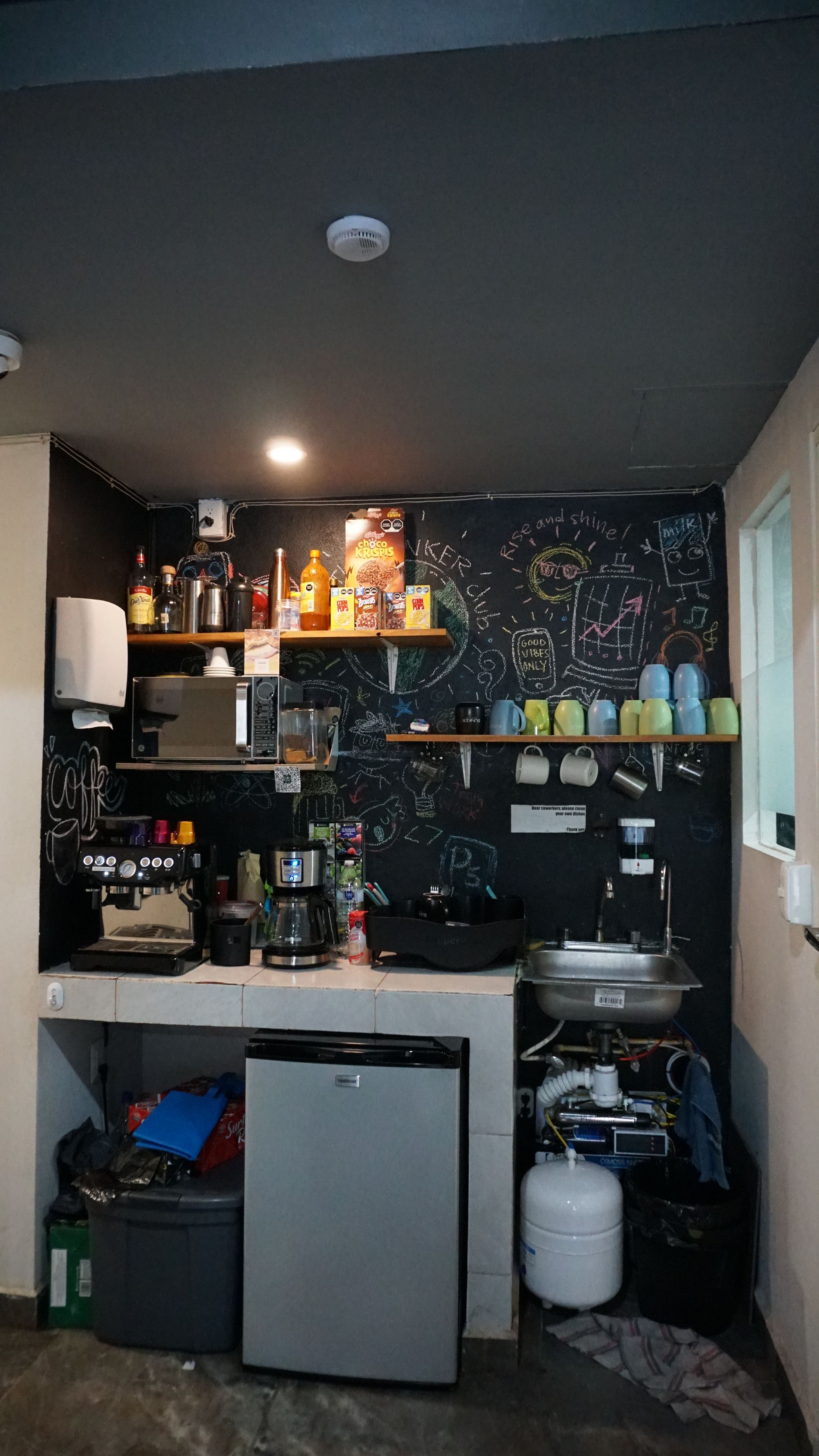 Upstairs was a large quiet room with tables, small private offices, and a washroom.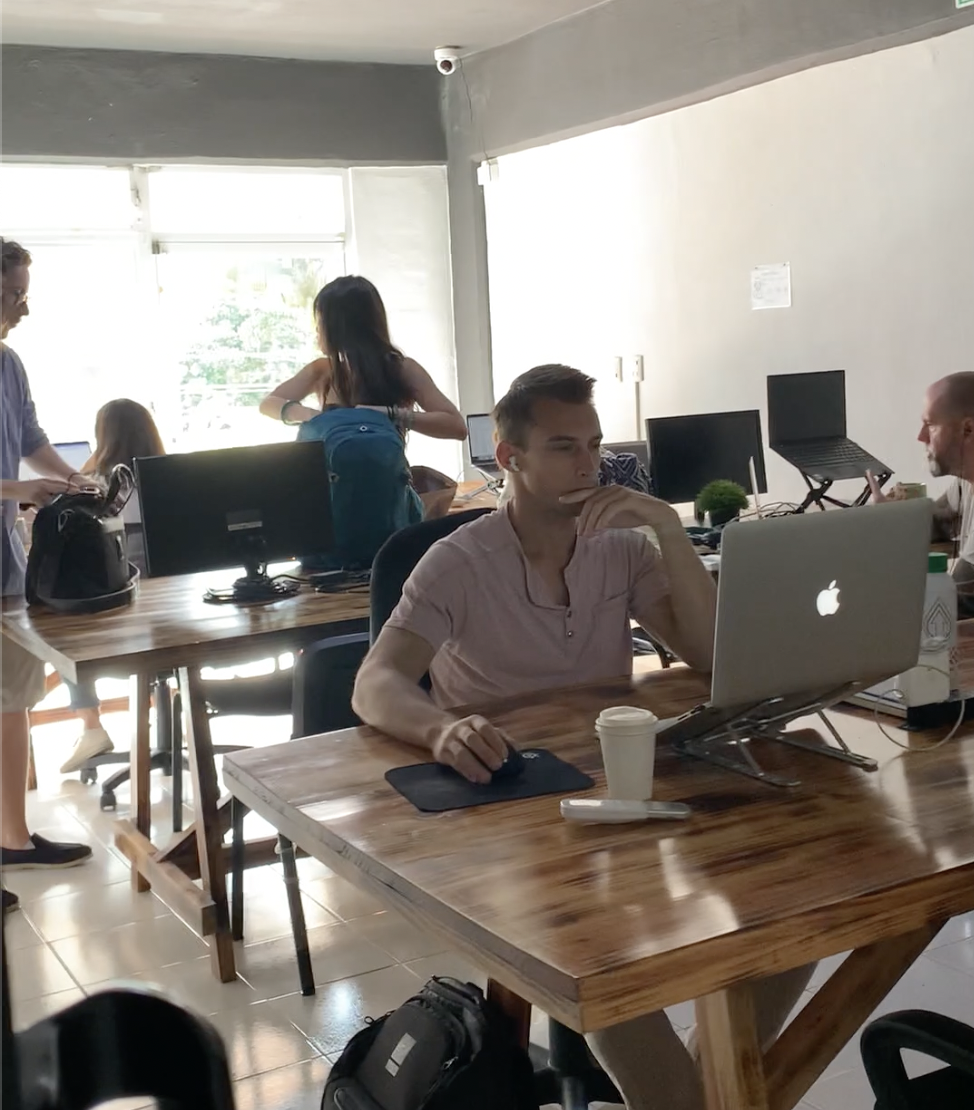 I was able to speak with one of the co-owners and one of the clients.
When I asked the client, "why a coworking space?" she said "coworking is really cool because I like to be able to focus, but I am also an extravert so being home all day every day is not the best and even just coming to a place a couple of times a week to be able to integrate, where you feel like you're part of a community helps". She also told me that she particularly liked Bunker because they have strong WiFi and a good secondary system as a backup. "If I have a meeting, my meeting can't stop; it's going on with or without me."
Bunker was quite busy while I was there. They are open to their clients 24 hours a day, provide towers, printing, package reception, private phone booths, meeting and conference rooms, coffee and snacks and are pet friendly.
Their fibre optic connection is 200 Mbps and there is AC - which can be important in a place like Playa del Carmen. It also has 24-hour access.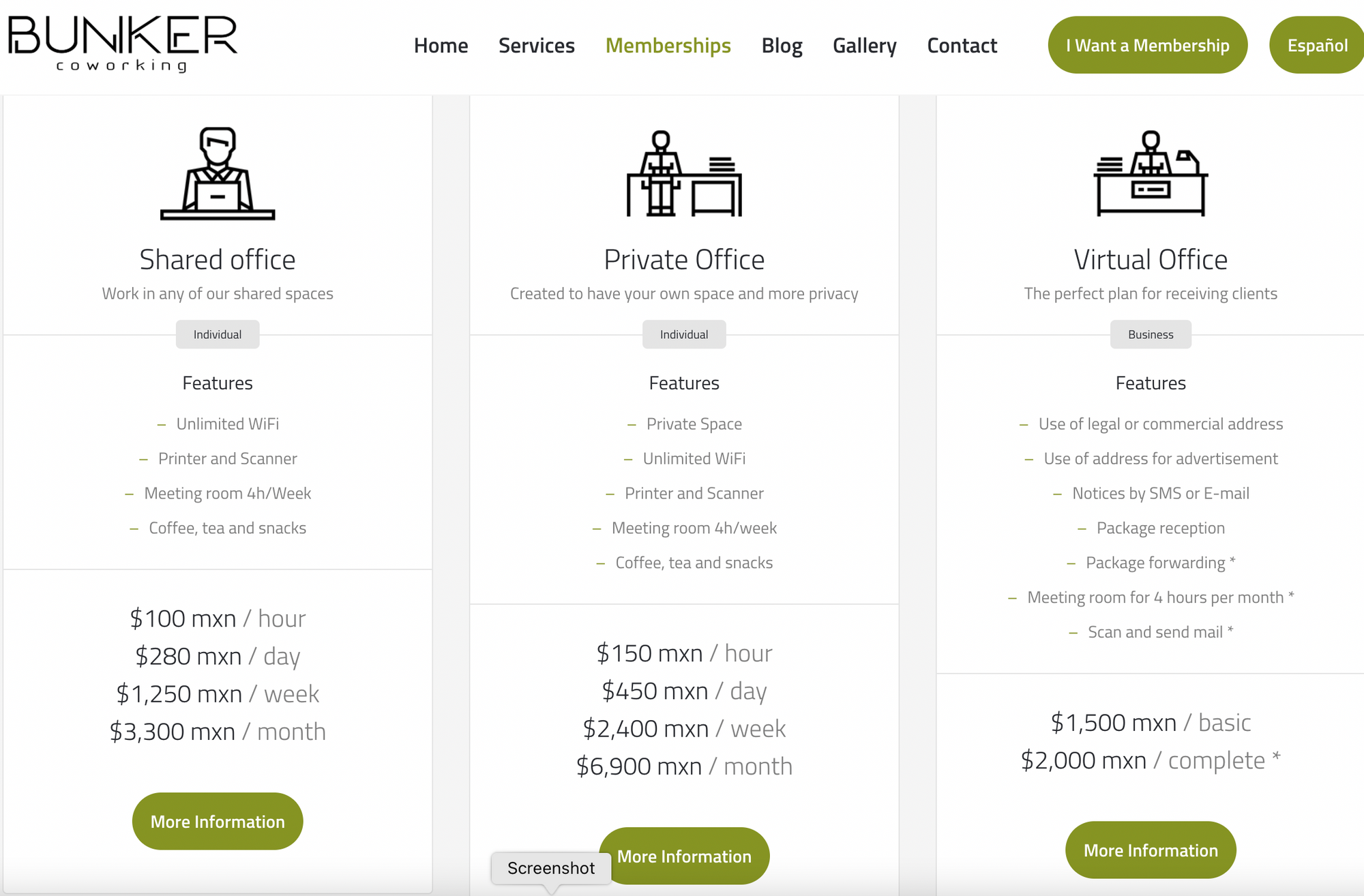 Fees range from $6.30 CAD, $4.95 USD an hour for the shared office to $434 CAD, $340 USD a month for a private office.
XINERGY COWORKING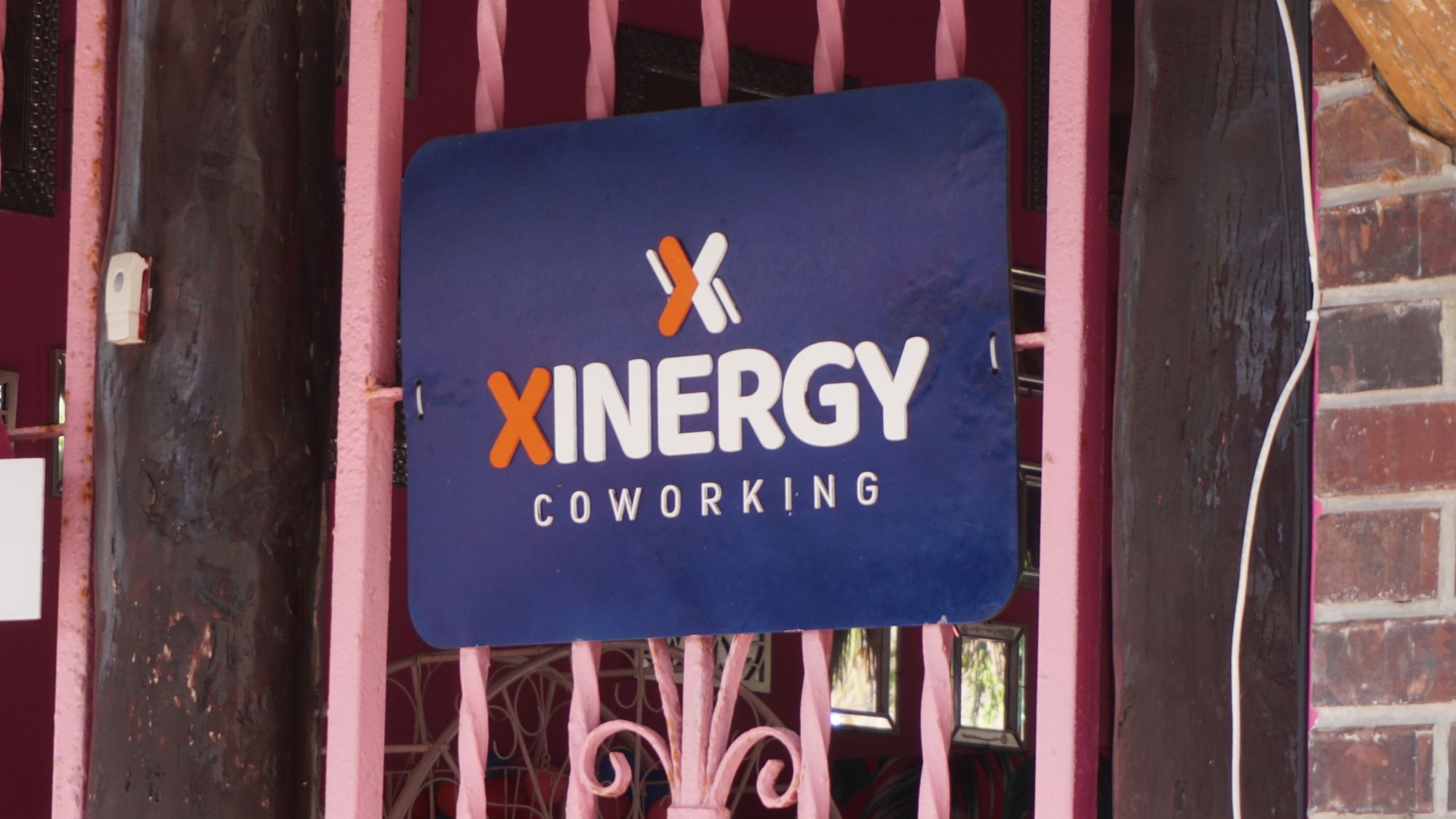 The second coworking space I went to was XINERGY Coworking located in the Beer Hotel at 1 Avenida Nte, between Calles 24 Nte and 26 Nte.    Tel: 52-984-311-0234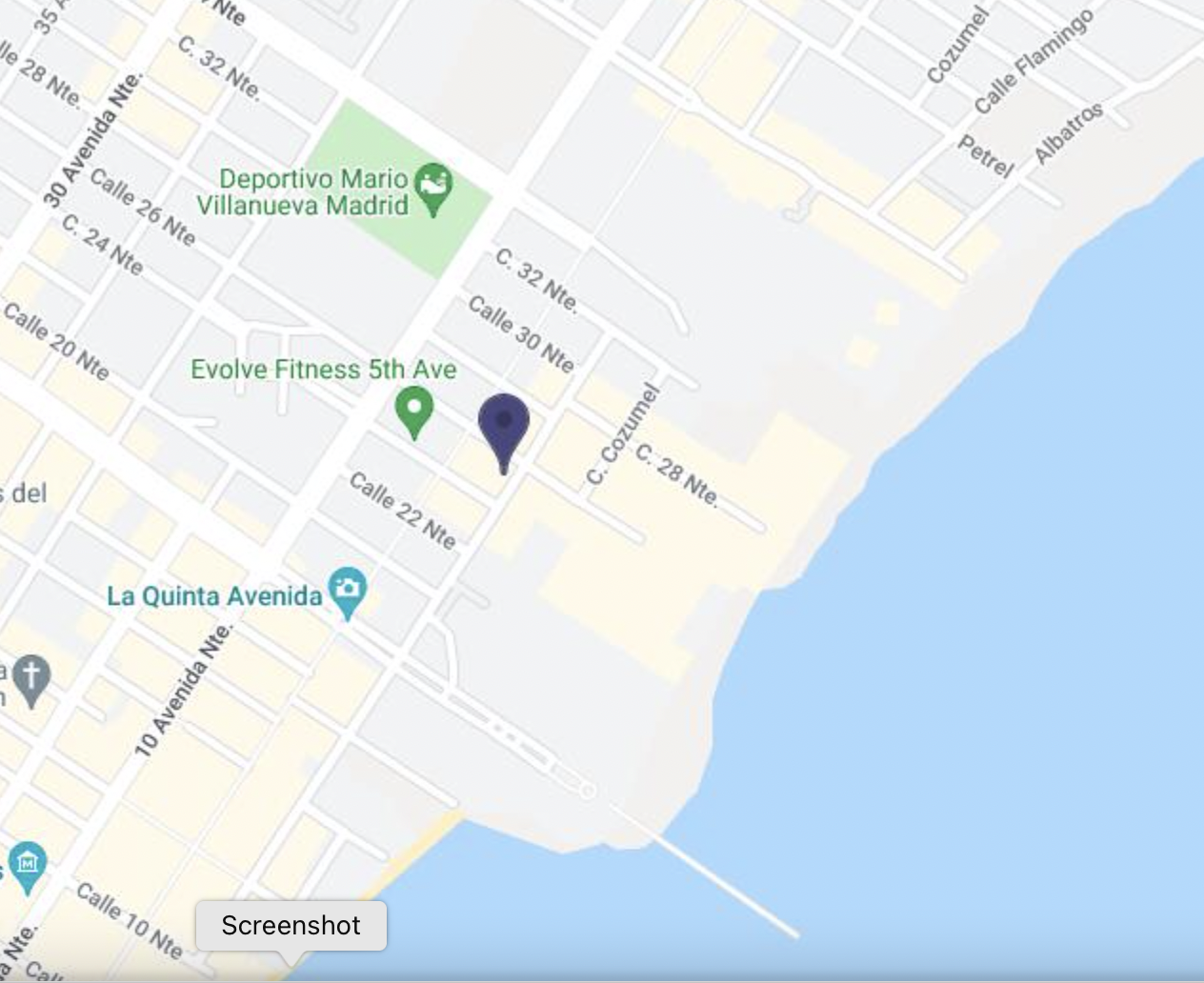 When you arrive at the hotel, go to the hotel reception desk where they will show you where to follow the steps to Xinergy.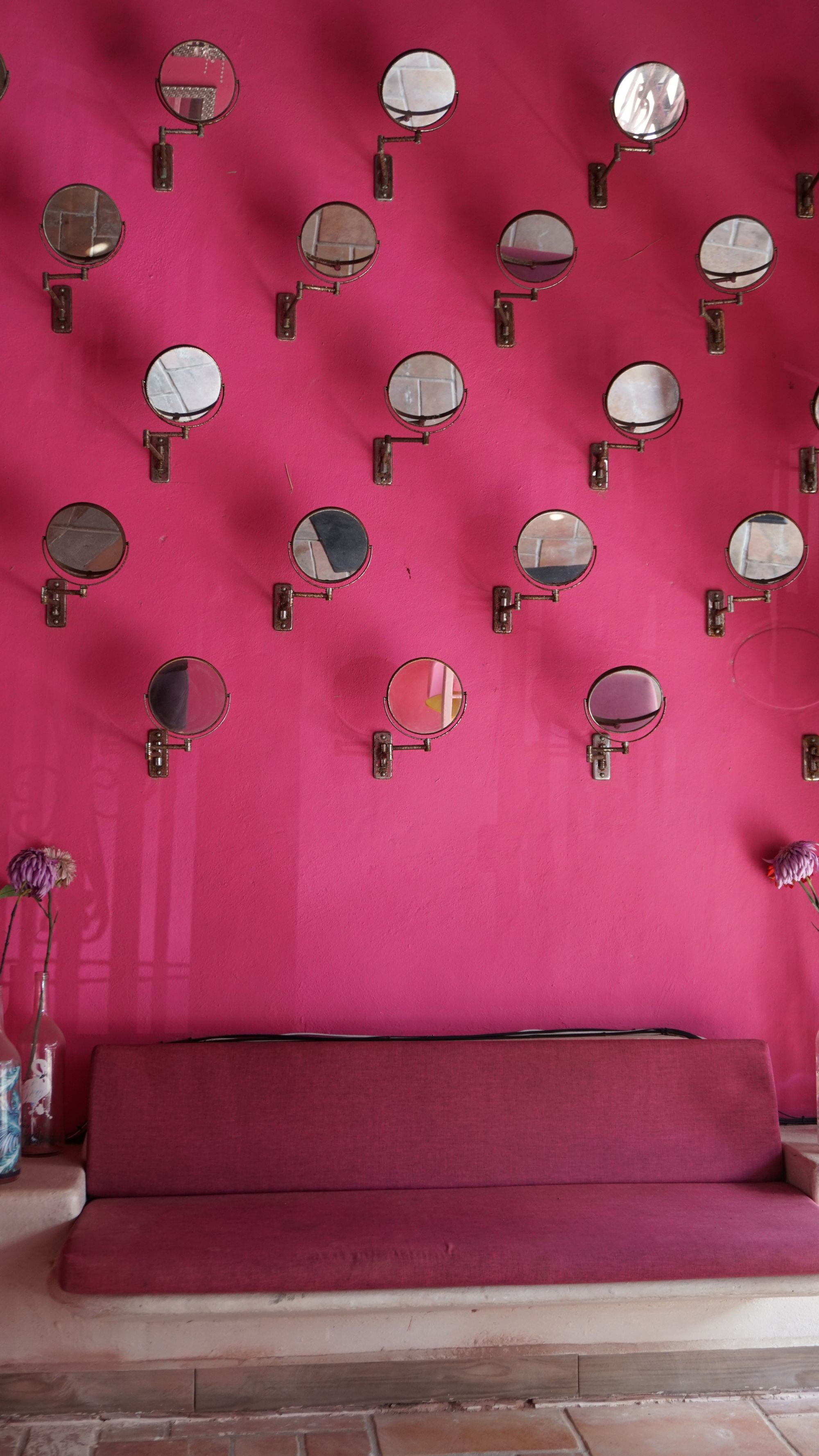 On the ground leading to the Cowork space were blue footsteps saying "Follow me" "Work" "welcome to the rest of your life"; directing me to the entrance doors of Xinergy.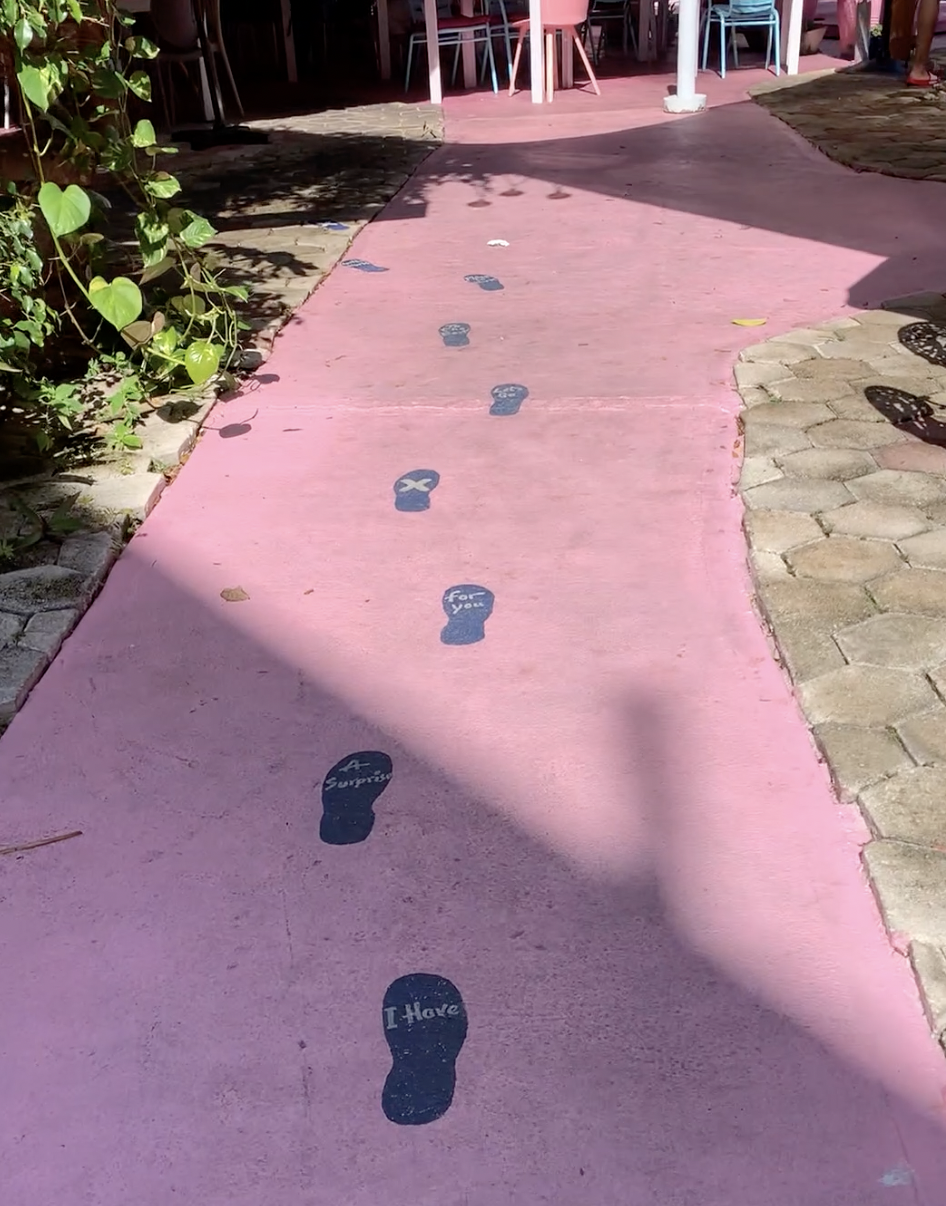 Inside was one large room, with a reception area, coffee/sink area, chessboard, and a row of tables and chairs. There was a separate boardroom but at the time of my visit it was being used as a private office. There are printers, AC, 24-hour access and parcel delivery.
I found the space inside bright and the chairs comfortable. They had printing and scanning equipment and they claimed to have the fastest WiFi in town at 500 Mbps.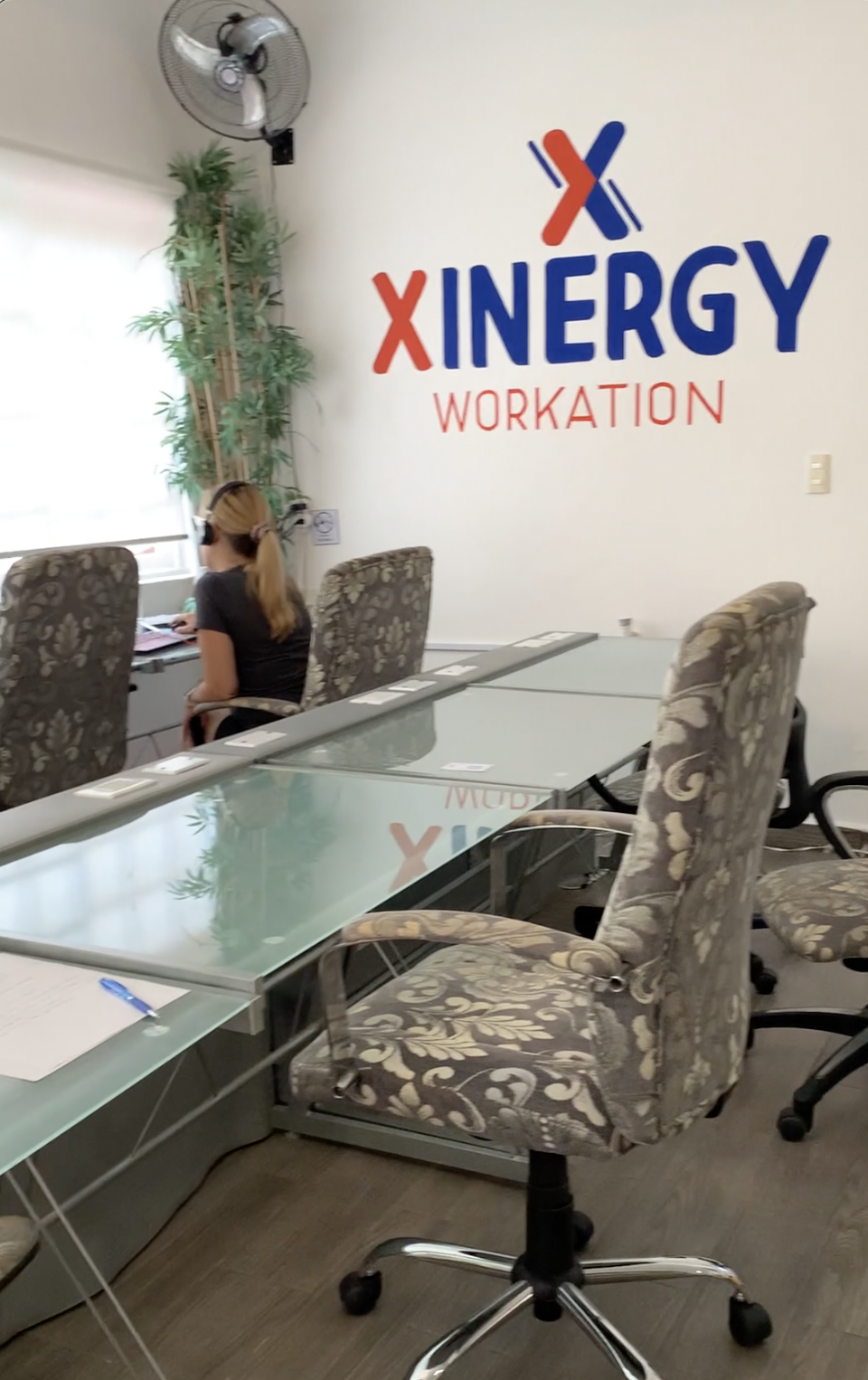 They also provide access to the hotel amenities. With a membership, you can use the hotel pool, outside chairs, loungers and there's a restaurant on site. Their other big claim to fame is their proximity to the beach. Though for me, that could be a BIG downside.
I was able to speak with the owner there. Xinergy is a relatively recent arrival on the scene, so their membership was not too large yet. Unfortunately, I did not get an opportunity to speak with any of their clients.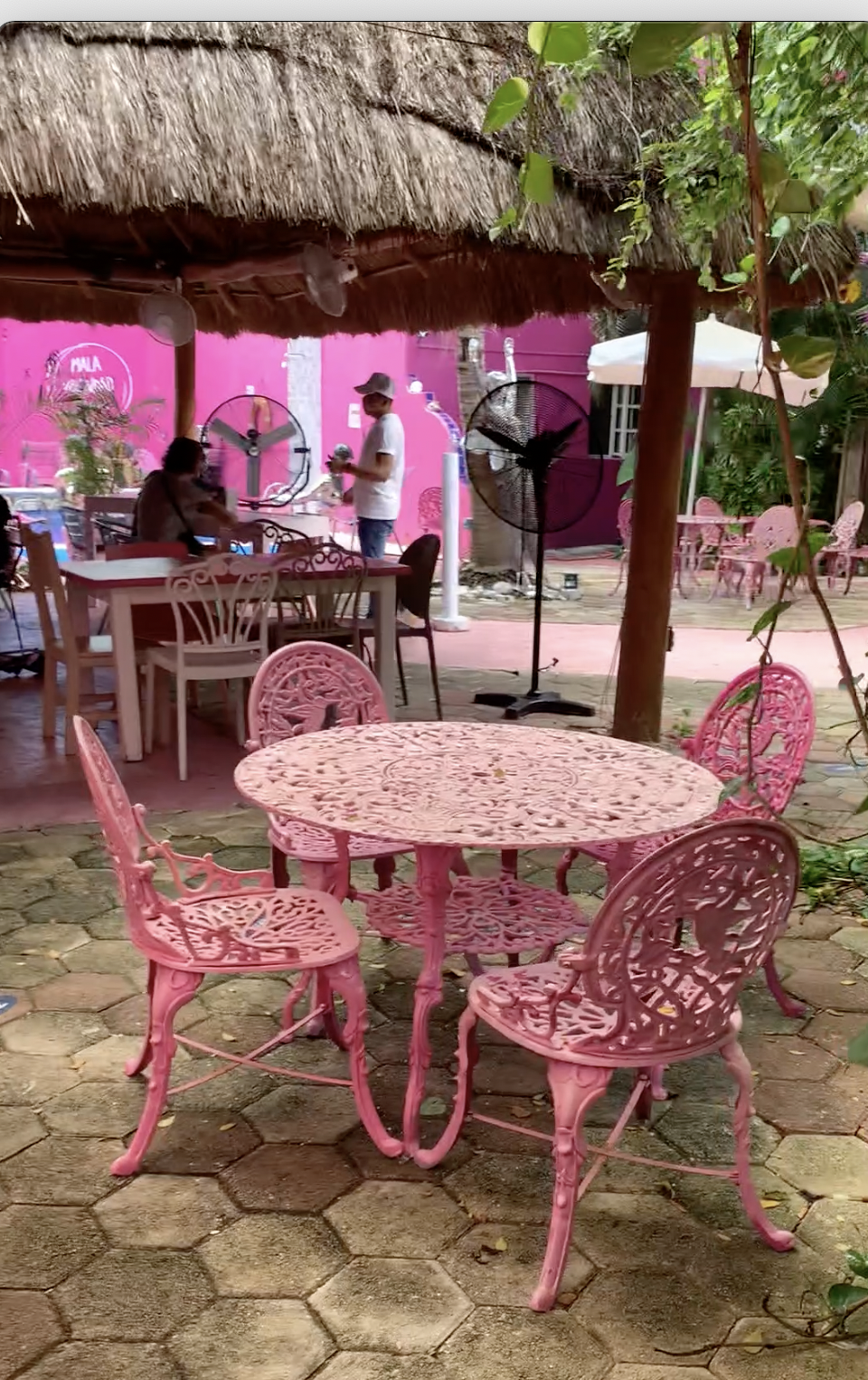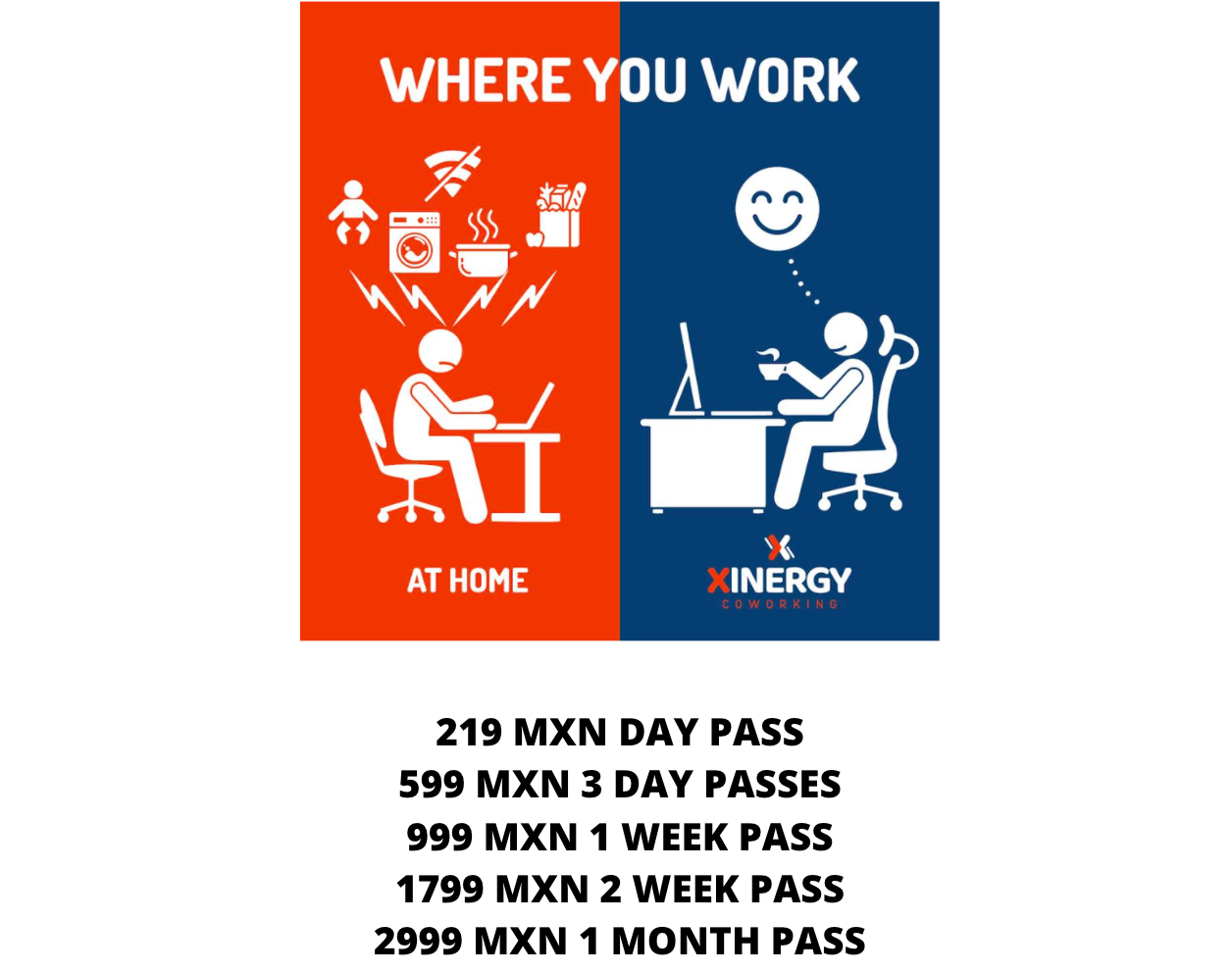 From $13.80 CAD, $10.80 USD for a day pass to $189 CAD, $148 USD for a monthly pass.
WORK - IT COWORK
The final Co-work space I attended was Work - It on 10 Avenida Nte between Calle 14 Nte and Calle 14 Nte bis. , INSIDE the Plaza Tendencia parking lot.
I was somewhat confused when I walked there, continually checking the location on Google. It was literally inside the parking lot.  Now that you know that, just enter from either side of the parking lot.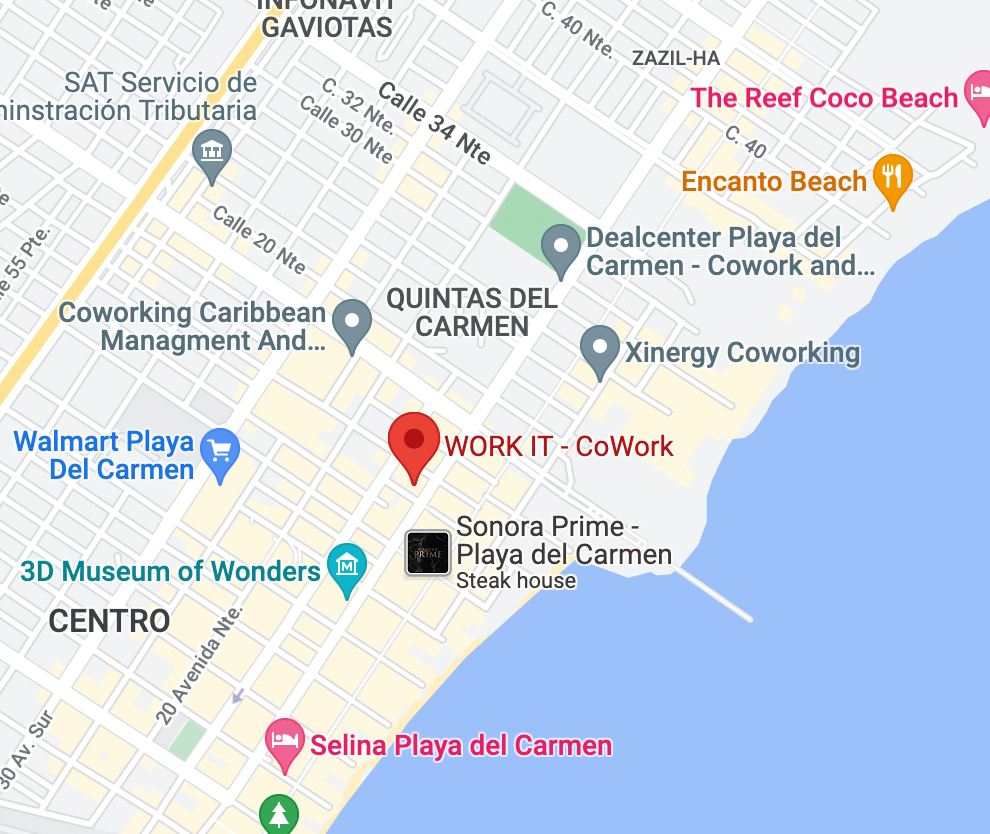 The colour theme was black and yellow. There are no external windows but the yellow walls brighten the room. The client I spoke to there commented that was one of the things that she like about Work - It: how bright it was. She also enjoyed the feeling of community.
There was one large room with two double large tables in the centre of the room and space along one wall for another working area. On the other wall were the coffee station and an area for staff to work and a printer. The back wall had one medium size boardroom, a phone booth room and a small private workroom with glass doors.
I question the desk chair that they chose. It doesn't look like you could sit in them comfortably for very long. The owner/manager was unavailable to talk so I couldn't get any clarity on some of my questions. They do have a package drop-off service which is nice and they have three networks. If you are interested you can always reach out to them for more answers.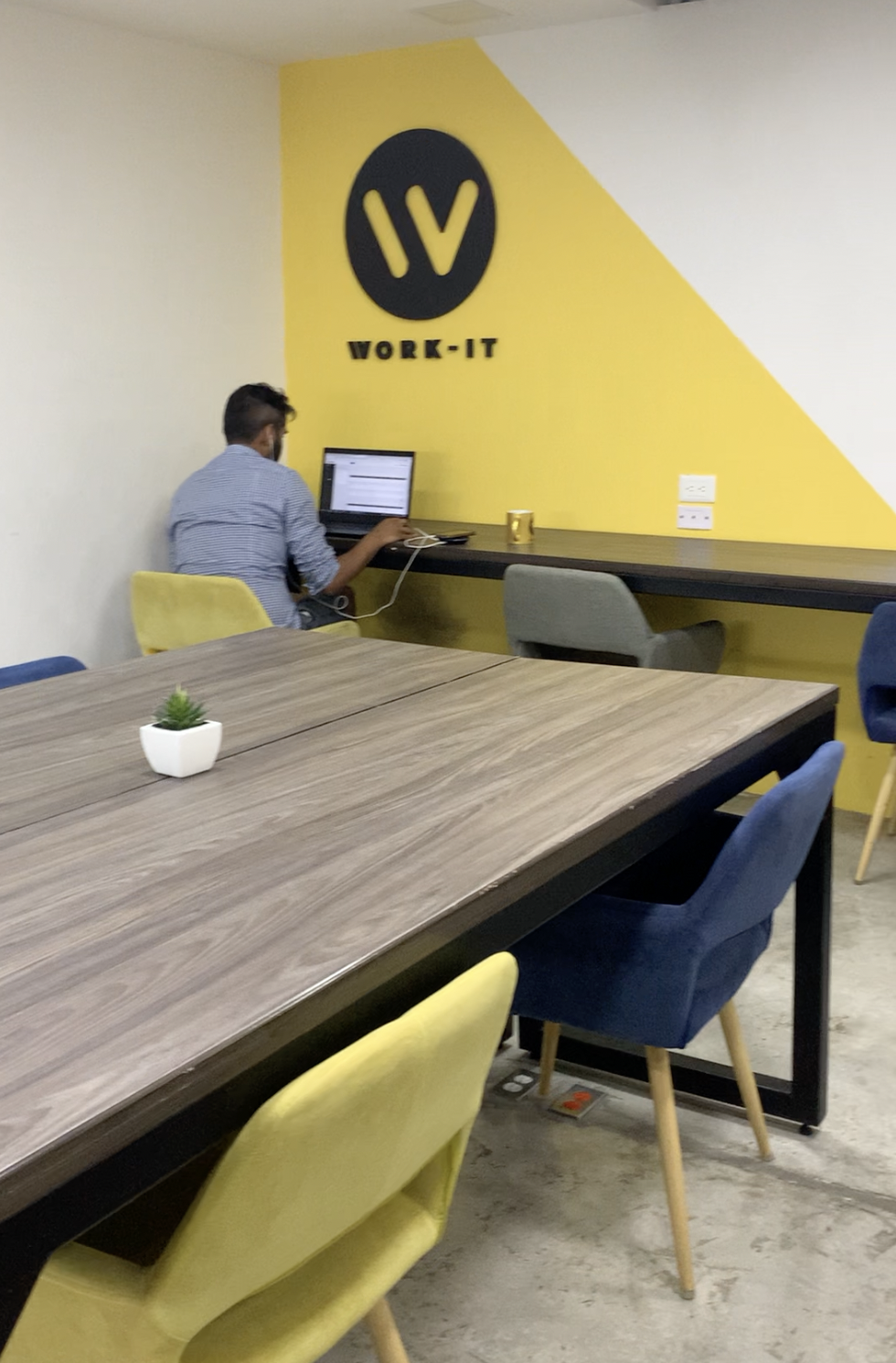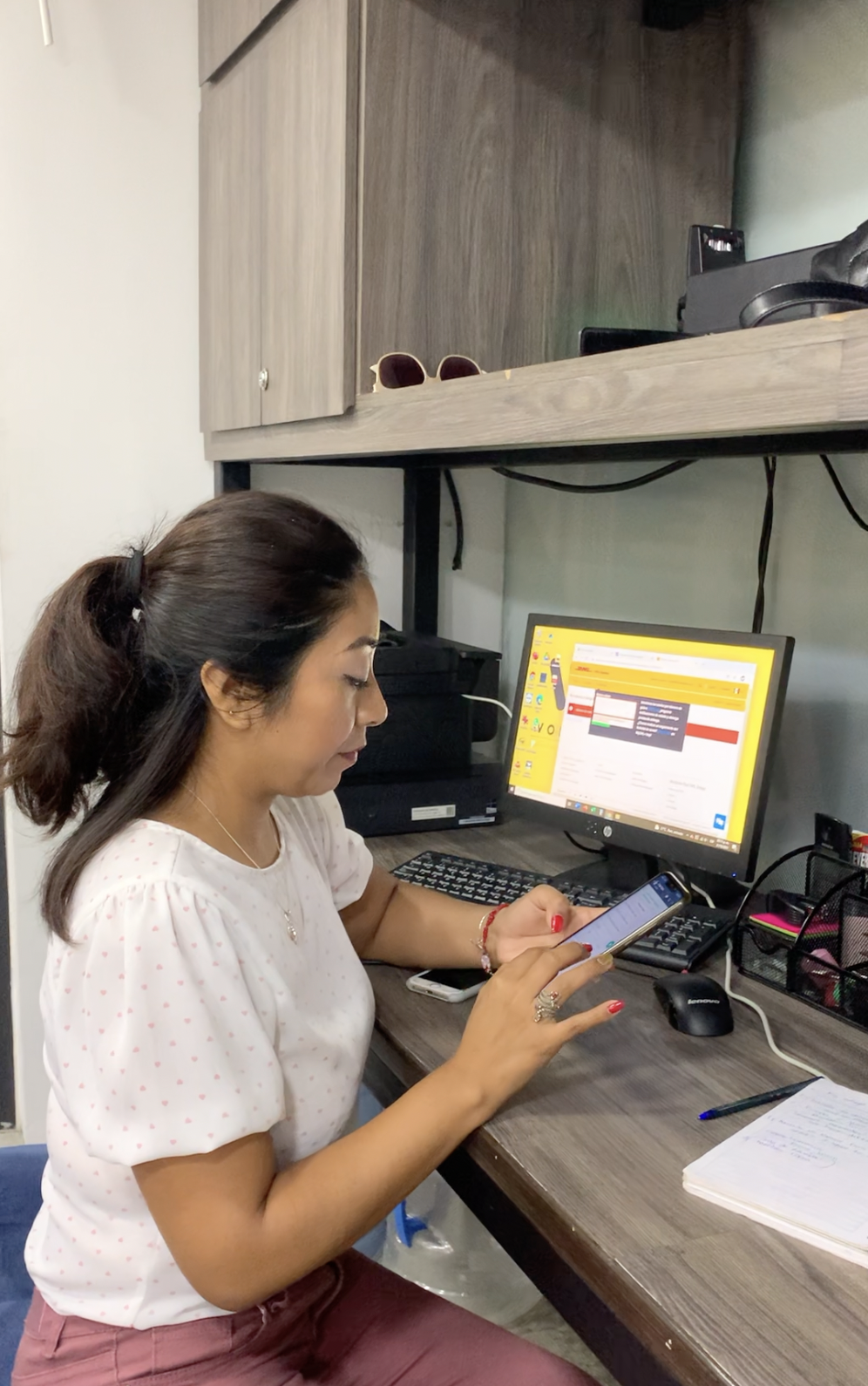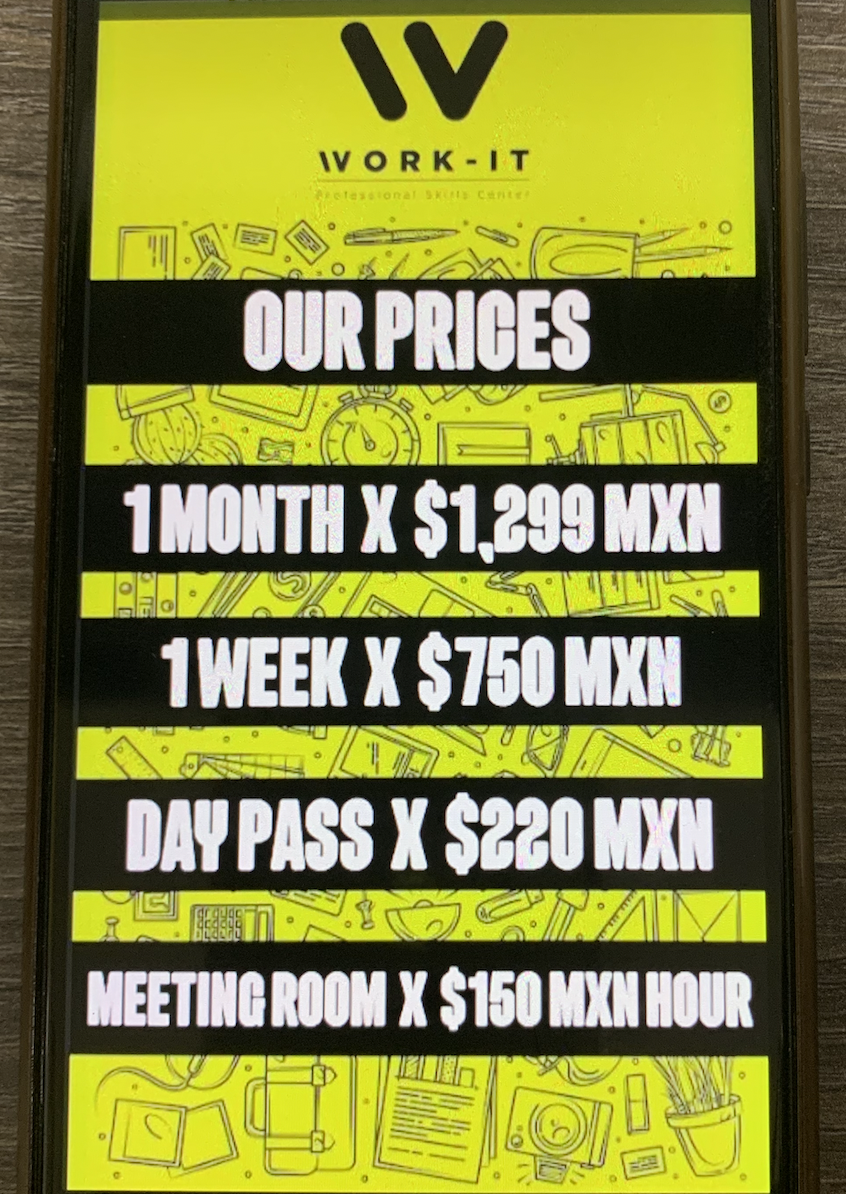 Rates run from $14 CAD, $11 USD for a day pass to $81.70 CAD, $64 USD per month.
To summarize, here are my findings: All three locations are very different in culture and feeling. If you like to have light and the ability to work outside, you might prefer Xinergy. If you want a dedicated private office Bunker might be best. And if a small quiet space is what you like, Work - It might fit the bill.
Big thank you to the owners at Bunker and Xinergy who took the time to set up an appointment and to meet with me!
My suggestion? ASK FOR A FREE DAY PASS and try them all out before you commit to a membership. Bunker offers a pass on their website. I'm sure the others would consider it too.
Here are some other Co-work locations in PDC:
NEST COWORKING - 10 Avenida Nte, Mza 31 Lot 6, Col. Centro
Between Calle 12 Nte and Calle 14 Nte
SELINA COWORKING -Calle 2 Nte. between 5th Avenida Nte & 10th Avenida Nte, Colonia Centro Solidaridad
WORK ZONE - Avedina  Colosio # 459, Mz 1 Lte 46, Santa Fe, Playa del Carmen. About 300 meters from the federal highway, close to the supermarket Bodega Aurrera.
ENLACES CORPORATIVOS - 77710 Calle 1 Sur, manzana 28, Lote 6, Centro, Playa del Carmen
COwork-in - Avenida Aviación, between 50 Avenida and 10 Avenida., Calle 7 Sur, Mza 29, lot 4, Fracc 26, local 1., Playacar phase II
There you have it! Let me know which ones you like!
Until next time.........